One swallow doesn't make a summer, as the old saying goes. And one opinion poll doesn't set the political weather either.
The sight of just a single poll recently, suggesting Labour might beat the SNP in a parliamentary election for the first time in almost a decade and a half, was enough to send some excitable commentators into raptures.
It was proof, they said, that the long, uninterrupted period of SNP dominance was drawing to a close.
Just hold on and it would all soon be over. Labour would be restored to its "rightful" place at the summit of Scottish politics. It would be like the last 16 years never happened.
Well, maybe not.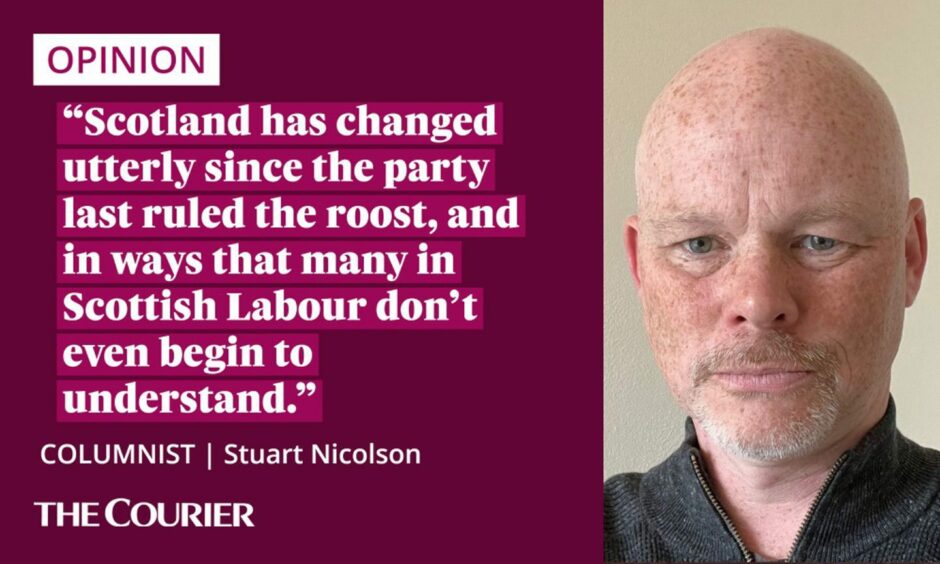 Interestingly, it is understood that Scottish Labour leader Anas Sarwar is personally a lot less bullish than many of his comrades about Labour's prospects in Scotland.
And it should not be too difficult to discern why.
For all the talk of a Labour revival north of the border, the hard political and electoral reality is that, notwithstanding the recent well-publicised difficulties for the SNP, the party continues to trail on almost all polling for Westminster and Holyrood, often by a significant margin.
And the reasons for that shouldn't be too hard to fathom.
Labour is consistently undermined by its own policy positions, snagged by a desire to win back Tory votes in England, and in doing so adopting stances that are unpalatable to huge swathes of the Scottish electorate.
How does Labour sell Brexit to Scottish voters?
Take Brexit.
Labour's elephant in the room simply won't budge off its circus stool, no matter how many diversionary props Sir Keir Starmer chucks its way.
Labour's mission, Sir Keir says, is to "make Brexit work".
Never mind that the Tories have been saying much the same thing for the best part of a decade now. And it's fair to say it isn't going fantastically well.
No matter, say Starmer and Sarwar.
But the pair will struggle, with a straight face, to say "make Brexit work" to the farmers left high and dry in recent years as they struggle to get workers to harvest their world-class produce, while crops are left rotting in the fields.
Or to the fishing communities, whose promised post-Brexit "sea of opportunity" has turned out to be nothing but a mirage on the horizon.
They will struggle to tell it to the hospitality bosses the length and breadth of Scotland who can no longer secure the staff they need to run profitable, or in some cases viable businesses.
And they will struggle to tell it to a generation of young people who have had a world of opportunity snatched from them, as their rights as European citizens, with all the benefits that confers, are stripped away.
Scottish Labour revival is far from a done deal
Scottish Labour is now asking for all of these people's votes, despite having become a pro-Brexit party.
It is virtually indistinguishable from the Conservatives in its commitment to a ruinous policy impacting everything from rampant inflation and soaring food prices to rising interest rates and unaffordable mortgages.
👇Labour have now u-turned on:

🇪🇺 Brexit
🎓 Tuition Fees
🏠 Rent Controls
🗳️ Electoral reform
🍎 Free School Meals
💷 Public Sector Pay

📢 @MhairiBlack: "Under Keir Starmer, the sad reality is, it's hard to distinguish Labour from the Tories." https://t.co/ucU2b1PEnL

— The SNP (@theSNP) June 28, 2023
And as it is with Brexit, so it is with the constitution.
Here, Labour also appears intent on outdoing the Conservatives when it comes to haughty diktat which has it that, regardless of how people in Scotland vote, they should never again be permitted a choice on the nation's future.
All of which means it's not difficult to understand why some of the more sober analysis casts at least a modicum of doubt on the prospects for a Labour revival in Scotland.
Polls don't reflect reality of changing Scottish society
We have been here before of course, in a manner of speaking.
In 2017, as the wave of Corbynmania washed a few ripples over the border, Labour managed to pick up a handful of Westminster seats.
The Tories also gained that night, as the SNP lost 21 seats but still – as is often forgotten or ignored – won the election in Scotland.
That election, it was also gleefully proclaimed by some at the time, spelled the end of SNP hegemony in Scotland. The only way was down, we were told.
Scotland's voters thought differently.
They went on to deliver the SNP's biggest ever European election win, secured the return of almost all of the lost Westminster seats in the 2019 Westminster contest and then returned the party with the biggest share of the vote in the history of devolution in the 2021 Holyrood poll.
Labour may or may not pick up seats in Scotland at the next UK election. But even if they do, their gains are unlikely to match the hopes of some of their more excitable followers.
And whatever the result, it will not change the fact that Scotland has changed utterly since the party last ruled the roost, and in ways that many in Scottish Labour don't even begin to understand.
---
Stuart Nicolson is a former political journalist and ex-adviser to Nicola Sturgeon and Alex Salmond.