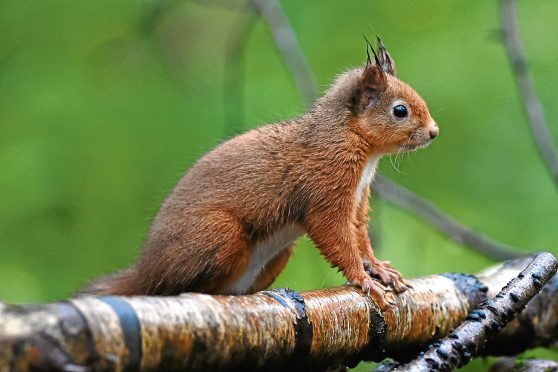 Sir, – I am astonished and disturbed at the disappearance of red squirrels from our neighbourhood in Blairgowrie.
For 17 years I enjoyed the antics of these delightful animals in my garden and I have inquired from our wildlife organisations if they had any explanation for their absence.
Also I have noticed that the rabbits locally have disappeared which will require the raptors to look for food elsewhere.
Friends and neighbours have commented similarly.
I can offer only the following possible suggestions, which are the increase in cat ownership, the raptors have become more agile, or the spreading of an imported Australian disease to control rabbits which has crossed over to affect another rodent species, particularly red squirrels.
I shall appreciate any comments from your interested readers before I forward my concerns about wildlife to the Scottish Government.
J. Patrick Garthwaite.
Ladeside House,
Ashgrove Road,
Rattray.
Prostitution is different
Sir, – Harvey Weinstein's implicit offer to some of his victims was wealth, fame and career advancement in exchange for acting and sexual favours.
I challenge those who argue that prostitution is just like any other type of employment to explain what is wrong with such a contract.
If it is morally acceptable to exchange sex for money, to seek to recruit women into sex work, and to combine different types of work within a single contract, what's the problem?
The women that he is said to have preyed on would have become aware of the tacit deal he was offering. One could object that he was not open about the terms of employment until the women were isolated and under pressure, but surely that doesn't capture the entirety of his transgression.
The reason we are appalled by his behaviour is that we know that providing sexual services in exchange for material gain or career advancement is wrong.
Our conscience screams that adding sexual services to an otherwise attractive contract is not a valid open market transaction, but exploitation.
Giving sexually is too high a price to demand or to pay in exchange for goods in a less than committed faithful, exclusive, reciprocal loving relationship.
Through its output, Hollywood preaches against this principle, routinely depicting sex as casual, inconsequential and cheap.
While it thus erodes the moral system of societies worldwide, the film industry reaps what it has sown within its own ranks.
Richard Lucas.
Scottish Family Party,
272 Bath Street,
Glasgow.
The SNP does have a mandate
Sir, – Once again the usual naysayers take to your letters pages to convince readers that the Scottish Government has no mandate for a second independence referendum. This display of wishful thinking runs contrary to the facts.
In spite of the unionist parties and media conducting every election along narrow constitutional lines, we have an independence supporting majority at Holyrood and Westminster.
The last Scottish election had an SNP manifesto promise of holding a second independence referendum should Scotland be removed from the EU against our wishes.
This year's general election was framed as a choice between union or independence. With all hands to the pumps, the unionist side encouraged supporters to drop party allegiances in order to stop the SNP.
In spite of this, the result was overwhelmingly pro-SNP. The mandate achieved is there for all to see, as is the democratic choice of the Scottish electorate.
The spurious argument that Theresa May, David Mundell and Ruth Davidson will deny Scots a say in their future only highlights their arrogant dismissal of Scottish sovereignty.
We are one part of a bipartite union, not a region, as others would have us believe. Nor are we, as Jeremy Corbyn states, one of England's nations.
Ken Clark.
335 King Street,
Broughty Ferry.
Lochside news sad to hear
Sir, – It was with great sadness that I read about the closure of the Lochside leisure centre, Forfar, earlier this year.
I was the manager of the centre when it first opened its doors in the autumn of 1975 and ran the centre for its first five years.
It was I who recommended to the council that it should change its name to the Lochside leisure centre, due to its impressive setting on the edge of Forfar Lough.
The construction of the centre was the brainchild of Provost Margaret Thorpe and during the late 1970s and '80s it was a thriving sporting and social hub for the Forfar community.
My wife and I spent five wonderful years in Forfar and both of our sons were born in the excellent Ninewells Hospital, Dundee.
I was an active member of Strathmore Rugby Club and Forfar Golf Club and still carry some great memories of my time there and the friends I met.
I sincerely hope that the building will not be demolished and that some further use can be made of it.
Cec Lowry.
60 Winchester Drive,
Heaton Norris,
Stockport.
What about the Kurds, Labour?
Sir, – Labour under Jeremy Corbyn is staunch in its support of the Palestinian cause and hostility to Israel.
At the same time the party has absolutely nothing to say about the 45 million Kurds, a much larger and more distinctive Middle Eastern minority.
The Kurds have long been the victims of persecution. In Turkey, Kurdish languages were banned for decades.
Saddam Hussain's genocidal campaign against the Iraqi Kurds in the late 1980s killed between 50,000 and 180,000.
More recently in 2014 so-called Islamic State set out to exterminate the Kurdish Yazidis.
Many thousands were murdered and several thousand were abducted as sexual slaves.
It has just been announced that Saudi Arabia is to allow women to drive. Contrast this with the Kurds, who allow women to fight on the frontline.
It seems that neither their suffering nor their achievements inspires the Labour Party or progressive opinion more generally to take an interest in the Kurds or their quest for statehood.
One has to ask why.
Otto Inglis.
6 Inveralmond Grove,
Edinburgh.