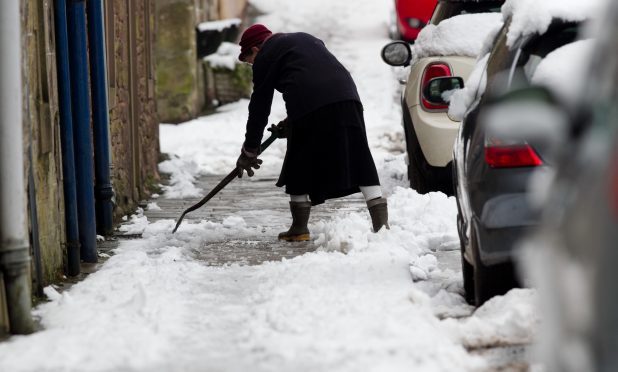 Get out there and clear some snow, people of Perth and Kinross.
It's early in the season, but a call has been made for volunteers to help clear paths and pavements when the white stuff becomes really bad. Perth and Kinross Council is offering to train and equip people who agree to donate their time and sweat to keeping P&K moving.
I say yes.
It may seem easy for me to say, because I don't live in Perth and Kinross. But I used to, for many years, and I dug a lot of snow. Beside the A93, between Perth and Blairgowrie, the ploughs stuck to the trunk roads and locals attacked the other parts.
It's common in the country, and not just because the local authority pays farmers to keep routes clear. If your community is rural and remote, you can wait all year for somebody to do the work for you.
So, if you're fit enough, you get off your backside and dig.
In snowier countries, it's common for bylaws to require people to clear the paths outside their property within a certain number of hours of a heavy snowfall. If you don't do it, or you do it poorly, you can be fined.
There's no such bylaw in the part of Canada where I live, but social convention suggests you do it anyway. And I do.
Every time it snows, I make sure passersby can walk near my home as safely as possible. It's just the right thing to do.
It strikes me that in a place like P&K, where snowfall hits less often but with more impact, there's an even greater need.
Yes, you pay your taxes but, with pressures on public finances, it's unreasonable to complain that the council doesn't do the job fast enough or well enough if you're not prepared to help.
So, when I read that the Taxpayers' Alliance was calling the plea for volunteers "a dangerous precedent," I disagreed.
The dangerous precedent has already been set: expecting the council to be everywhere at once, and complaining incessantly about public servants who are helping other people.
Put your breath to better use. Get out and dig.