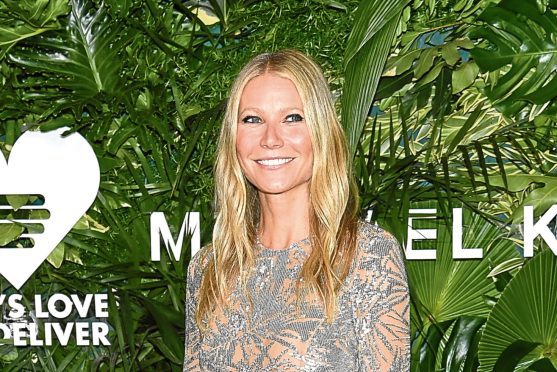 You've got to love Gwyneth Paltrow, haven't you? She always comes up with the goods. It's not enough for her to be content with getting engaged again. Although in the phraseology of the woman who called her previous divorce a "conscious uncoupling", she's not just getting engaged again. She's "pursuing the soul-stretching opportunities" offered by a second crack at wedded bliss. And this in a world where it's often claimed that unattached 45-year-old women are more likely to be hit by an asteroid than hit on (in a good way) by a man with his own hair, teeth and a pulse.
Now, it must be said that the woman looks wonderful – radiant, glowing, healthy, happy – so perhaps it's no wonder her less-than-euphoniously-named blog, Goop, has gone from being the random thoughts of Chairman Gwyn to becoming a "lifestyle brand", packed with advice about wellness, both inside and out.
I am sure that she has probably come up with some interesting ideas, if not always terribly practical ones, about how to get veg into kids and how to resist conforming to accepted norms of beauty. Although if you were being uncharitable, you might posit the theory that having a great deal of money and a large staff, plus being born good-looking and having lots of time to work on the basic gifts you were given by nature, might help more than somewhat.
But some things remain deeply strange, especially if you choose to "Shop Goop" for gadgets and gewgaws you never knew you needed to feel better about yourself. In the not-too-distant past, there has been advice on how to steam clean one's doonstairs dipartment, as they say in these, if you'll pardon the expression, parts. Or the use of jade balls or quartz eggs for purposes not suitable for elucidation in a family newspaper. She has also been known to host gatherings involving elements such as a collagen garden (eat your heart out, Alan Titchmarsh) and an oxygen bar. Somehow, an oxygen and tonic doesn't appeal, I can't think why…
And even if you were given to sitting around with other damsels in de-stress, consuming things like coconut water and kale ice cream – two, or maybe three, words which should never be juxtaposed by any right-thinking person – all this sounds positively normal, everyday and airily acceptable until you come to the most recent concept on offer.
Coffee enemas. That unholy suggestion is bound to be grounds for something, although I'm not quite sure what. I'll never be able look a packet of Kenco in the face again, let alone work out who put the ass in Tassimo. Heaven help you if you have a taste for mochachinos. With or without sprinkles.
Or maybe, especially at $135 a pop, which is what the rather scary-looking apparatus for this process costs, it utilises the incredibly expensive brew that's made from the droppings of civet cats. Aside from begging surely unanswerable questions about the notion of coals to Newcastle, perhaps Ms Paltrow should change the name of her blog from Goop to Poop.
All this is right up there, so to speak, with the sublime humorist Bob Newhart and his surreal sketch about Sir Walter Raleigh's sending of potatoes, tobacco ("You set fire to it, Walt? You stick it in your ear, Walt?") and coffee from the New World to the old one. Perhaps he was indeed the pioneer in putting the colon into colonies; in which case, he has much to answer for.
Coffee, of course, has claims to make as a health-giving beverage and serious medical research has revealed that a regular, moderate intake can lower the risk of many threatening conditions. Three cups a day is even claimed to make you live longer. This comes from no less an organ of note than the aptly named (in the circumstances of this discussion), Annals of Internal Medicine. Pick the semantic bones out of that one. But the well-informed experts in question do assume (at least that's what I glean from reading the recommendations) that you should be drinking the stuff, not absorbing it via other avenues, fundamental or farcical.
Going on the general medical principle that most doctors will tell you you shouldn't put anything smaller than your elbow into your ear, let alone any other available orifice, I fear they may take a dim view of the insertion, for no real scientific reason, of other foreign items where the sun don't shine. One may occasionally, especially after the excesses of the festive season, feel in general need of a re-bore and a de-coke but as long as they're treated properly most of the rest of the time, we have organs to do that for us that already come built in.
Here in Scotland, of course, we have always done things our own way. Now they've taken half the sugar out of Irn-Bru, heaven only knows what the range of possibilities might be for future health-giving practices featuring our other national drink.