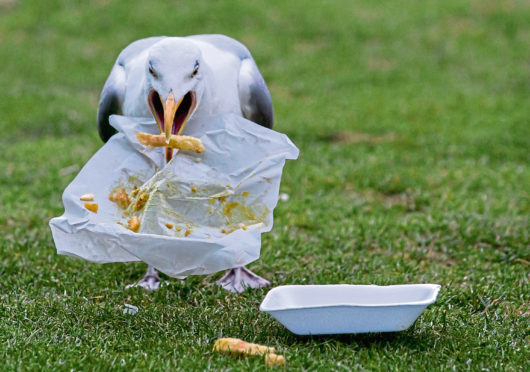 Sir, – After a truly rotten winter there has been much to enjoy of late weather-wise.
One of the great pleasures on a nice, sunny day is al fresco dining and it has been a pleasure indeed to be able to indulge in same on occasion over the last few weeks.
However, I have a warning for any motivated to enjoy a morsel outdoors in the centre of Dundee.
On Friday I decided to enjoy a takeaway burrito and, with the sun shining, chose to sat outside the MacManus Galleries in Dundee.
Sitting beside the Oor Wullie statue, it promised to be an entirely pleasant event.
Sadly, however, there was a menace in the area — and it wasn't the aforementioned Wullie.
In fact the danger lurked in the skies above — and swooped just as I was tucking into my much-anticipated luncheon treat.
No fewer than five gulls descended from the skies and began to fight over my lunch, with me cast in the role of little more than an innocent, not to mention helpless, bystander.
No doubt the spectacle may have looked amusing but it was actually a pretty unnerving experience.
I know there have been plenty of stories in the past of people being attacked by gulls but there is precious little evidence of the situation improving.
These urban gulls appear to be getting ever more confident and, unless some action is taken, there is a real danger they may spell the end for al fresco dining in our fine city.
Andrew Keating.
Rose Street,
Tayport.
Off-sales are part of problem
Sir, – I think we all know what they say about statistics and politicians.
According to new claims we are all drinking 10 litres of alcohol a year.
As I have pointed out before, here in Kirkcaldy we went from having a total of four off-licences in the 1950s to a position now where it seems every shop has a licence to sell drink.
This has all been caused by our politicians who have allowed such a situation to develop.
The shops target the poorer areas of the town.
I wonder why we allow alcohol in our parliaments.
You could actually vote for war at Westminster when you are over the limit.
Then there is drug taking. How many politicians use drugs?
We should test politicians and assure they are role models.
I believe off-licences should have reduced opening hours.
Yet I doubt it will actually happen.
Excess alcohol consumption actually keeps the unfortunate in our society from thinking.
Poverty is caused by unemployment .
We need to give people hope, give them jobs and create work.
It starts with the politicians – we shouldn't be sending work elsewhere when there are people locally who could do it perfectly well.
John G Phimister.
63 St Clair Street,
Kirkcaldy.
Opinions are starting to shift
Sir, – Having read the numerous letters in this paper regarding the recent events at Westminster which resulted in the mass SNP walkout, I would encourage readers to view proceedings on the many media outlets we have at our disposal in the 21st Century and decide the rights and wrongs for themselves.
Events have since moved on, with the Conservative Secretary of State for Scotland, a man who has publicly confirmed his belief that Scotland as an entity was extinguished by the 1707 treaty of union, feeling confident enough to assert that we are not a partner in the UK, but merely a part of the UK.
This is a view echoed by other Conservatives who think of us as having no more importance than an English county or city.
If confidence is so great in the belief that we have no more right to a referendum on self-determination than the likes of Lincolnshire, Yorkshire or Manchester, why not simply ratify this claimed status now and thereby close down any and all debate concerning Scotland's constitutional future?
Mr Mundell argues that he is simply protecting the 2014 referendum result.
However, this is to overlook the rather inconvenient fact that each and every promise made by London in order to garner a 'no' vote has now been comprehensively broken.
The Westminster establishment obviously believe the vote of loyalty to continued London rule, by 55% of the Scottish electorate, was an acceptance of subjugation.
It was not, as they will soon discover.
Ken Clark.
c/o 15 Thorter Way, Dundee.
Tactics are sure to end in failure
Sir, – So SNP MP Ian Blackford insists his party will continue to disrupt Commons proceedings – but what is Nicola Sturgeon's view of her Westminster troops' antics?
They have certainly grabbed our attention — we are told 7,000 have joined the SNP since the Commons walkout.
In contrast, Sturgeon has been singularly unsuccessful in galvanising enthusiasm for her ploy to use Brexit to justify Indyref2.
Presumably soon she'll be claiming we must be independent, otherwise Westminster will "power grab" and undermine Holyrood's legitimacy?
Yet such tactics are fundamentally flawed – Sturgeon's underlying premise is arrant nonsense.
Merely 24 of 158 powers are being – only temporarily – retained by Westminster to preserve the integrity of the UK single market.
It is hardly a "power grab".
Theresa May will undoubtedly repeat her "now is not the time" mantra until well after the 2021 Holyrood election – by then many of the disputed powers will have been devolved to Holyrood.
Back to the anti-UK grievance drawing board, Ms Sturgeon?
Martin Redfern.
Woodcroft Road,
Edinburgh.
Double tragedy is hard to take
Sir, –While a student at Duncan of Jordanstone College of Art in the 1970s, we had reciprocal visits from Glasgow students to Dundee Art College and Dundee students visiting Glasgow and Edinburgh Schools of Art from time to time.
The Glasgow School of Art also had a great Charles Rennie Mackintosh design.
I could not believe it when the first fire struck GSA in 2014.
It is just tragic to think that £35 million was spent and work nearly completed when a total inferno on June 15 destroyed the whole building all over again.
Stewart M. Wilkie.
Brechin Road.
Forfar.
Hypocrisy is staggering
Sir, – Claims by Theresa May that a so-called "Brexit dividend" will help pay for a boost to NHS spending in England worth £20 billion a year within five years are highly disingenuous.
In this regard, the Tory chair of the health committee, Sarah Wollaston MP, is absolutely right in calling this claim "tosh".
The UK will continue to pay into the EU through the transition until the end of 2020, and will pay £20 billion of the "divorce bill" through to 2028.
In addition, the UK Government has committed to keep EU funding for agricultural subsidies, research and development and other key areas at the same level in the short-term.
These are set figures so it will be at least 10 years before any so-called "Brexit dividend", if it were ever to materialise, is to be realised.
Add to that, if the Office for Budget Responsibility (OBR) forecasts are accurate, the public finances are set to be £15 billion a year worse off by 2021, equivalent to £300 million a week.
Ms May must come clean over whether she intends to finance this increased spend through increased taxes, increased borrowing, or a combination of the two.
Interestingly, if taxes are set to rise, which they will clearly have to, it is staggering hypocrisy for the Tories to have attacked the Scottish Government's boosting of the NHS in Scotland through progressive tax changes, and then look to hike taxes themselves.
Alex Orr.
Flat 2,
77 Leamington Terrace,
Edinburgh.
Branch closures not justified
Sir, – How on earth can the Royal Bank of Scotland justify closing branches when I had to queue for half an hour to be served on a recent visit to their former head office branch in Edinburgh?
John Hein.
78 Montgomery Street,
Edinburgh.