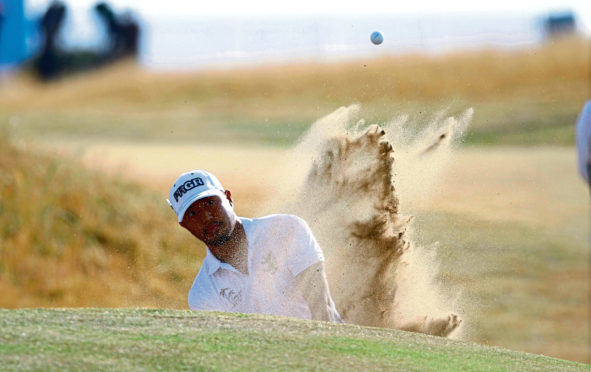 Sir, – As The Open gets under way in Carnoustie, it seems to have passed almost unnoticed that live golf has fallen off the agenda for broadcast on free-to-air television.
Golf has lost its status as a jewel in the crown of international sporting occasions which are available to view live on free-to-air.
World Cup Football, Wimbledon Tennis Championships, international rugby, athletics championships and the Olympic Games are accorded this status, but not golf.
Surely the Open Championship ranks alongside these events?
I'm not sure where the responsibility for this situation lies.
Possible culprits are the R&A, broadcasting corporations and government.
Perhaps those responsible will be honest and admit that this situation is all about money, and therefore golf does not rank alongside those other sports above when it comes to priorities for public financial support.
With the Open right on our doorstep in 2018, this is a sad situation for the home of golf.
T.S. Hamilton.
Viewfield Road,
Arbroath.
'Corporate' Open and locals
Sir, – I think Bill Thompson, the Carnoustie Golf Club captain, should be congratulated, rather than have to apologise for his comments regarding this year's Open being too "corporate".
Having spent a day on the course I would have to agree with him.
Where are the local traders? Even the "Tea hut" is closed!
Many elderly residents of Carnoustie and Westhaven are suffering rather than gaining from the Open.
They are unable to park at their doors, the local post boxes are closed up, disabled parking is blocked off in the High Street, there are road closures and other inconveniences.
Angus Council's chief executive claims that the Open will achieve an economic impact of around £70 million for the area.
I wonder if these local residents will notice any benefit?
Even the local golfers are not happy about the state the golf courses are to be left in.
Well done Bill Thompson !
Meg Woomble.
4 Seabrae,
Carnoustie.
Consumer's Open score card
Sir, – Ten out of 10 to the R&A for letting children in to the Open Golf free of charge.
10/10 to ScotRail for putting on special trains.
Zero out of 10 to ScotRail for charging children full peak fare – £15 from Inverkeithing to Carnoustie.
There is a "Children travel free" poster in the station, but that only applies after 9.30am. Come on ScotRail, make children's Carnoustie fares free so families can enjoy a full day out.
Ian Walker.
Mayfield House,
Cowstrandburn,
Dunfermline.
The fate of the mother swan
Sir, – Regarding the article "Swan family escorted to safety on River Tay after heatwave scare" (The Courier, July 19).
I asked someone down at the South Inch pond with her children a couple of weeks ago if she knew where the mother swan was.
She told me someone had poisoned her, and her body lay in the pond for days before it was taken away.
A week later I asked another person if they knew what happened to the mother swan, this time I was told someone was feeding her bread, which got stuck and she choked to death.
Whether any of the above is true or not , I cannot say.
I can say, though, in the four years I've known the mother swan and the father too, both had been very good attentive parents.
I therefore doubt very much if the mother swan would have gone off, leaving the father to cope on his own, as suggested in your article.
If anyone knows for sure what happened to the female swan at South Inch Park Perth, perhaps they could contact The Courier to let people know.
Lots of people, including myself, who often visit the pond have missed her .
Mrs Low.
Millburn Court,
Windsor Terrace,
Perth.
Quite right with Sir Cliff
Sir, – Many editorials argue that to protect a free media and the public's right to know the recent judgment in favour of Sir Cliff Richard and against the BBC cannot – and must not – be allowed to stand.
However the facts of this case suggest that Mr Justice Mann was absolutely correct in his decision.
Sir Cliff hadn't been questioned, let alone charged, when the BBC aired its grossly sensationalist coverage.
It didn't give him sufficient time before the broadcast to respond.
In addition, emails were produced showing it strong-armed the police into giving their co-operation.
Its reputation as a leader of the "free media" also took a hit when the judge highlighted the lack of "honesty and reliability" shown by BBC witnesses, singling out several for very serious criticism. In addition the broadcaster compounded the outrage by entering the piece for a Royal Television Society award.
The whole farrago is but a step from the vile US "Perp Walk" where humiliated defendants are denied a presumption of innocence.
In fact the fundamental problem for the UK is that there are far too many instances of supposed rapists being shamed by anonymous accusers who turn out to be vindictive fantasists.
Rev Dr John Cameron.
10 Howard Place,
St Andrews.
Two and two together
Sir, – First of all it was reported that fruit growers in Courier Country were struggling to find people to pick their crops and they could lose the majority of their harvest if they were not picked soon.
Then it was announced that the Scottish unemployed figure had risen again. Now, even to my simple mind, this would appear to be both the problem and the solution.
Why not allocate the berry-picking jobs to those able-bodied unemployed people when they sign on at the local Job Centre?
This surely would kill two birds with one stone?
To stop them losing their benefits, pay their benefits but reduced by the amount they earn in the field, so that they don't lose out.
I think I shall send this to our First Minister so she can claim to have solved the problems of unemployment and rotting fruit crops.
John M Page.
8 Panter Crescent,
Montrose.