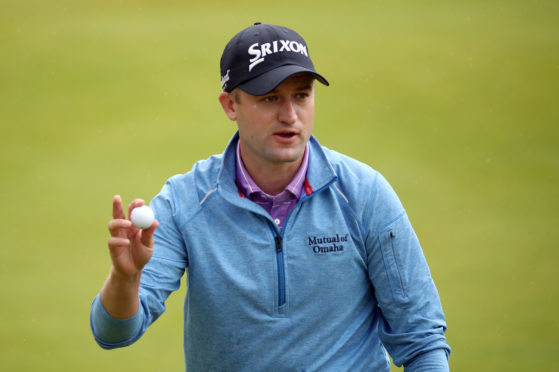 It's been hard work working for the The Open's social media operation but I've really enjoyed it.
It's been a real eye-opener for me to see the scale of the media side of things at an event like this.
And when you think that the Winter Olympics is even bigger, it's probably just as well that I don't get to see what happens at one of them because it would freak me out!
Having a microphone in my hand and a camera over my shoulder rather than the other way round was weird at first but I've got used to it.
I won't lie, I was a bit nervous and there have been a few swear words, re-takes and out-takes but you have to take yourself out of your comfort zone.
And a career in the media is definitely something I would consider when my curling career is over. This has been a great opportunity.
It has made me think more about the importance of saying the right things to the media and thinking about the message you want put across.
Rory McIlroy is a good example. In his press conference he was happy to let everybody know his game plan of taking the course on with his driver.
That ended up being the talk of the course, inside and outside the ropes, and gave the impression of a guy who was bold, confident and in control. Could it give him a slight psychological advantage? Maybe.
* I've done lots of interviews with players and caddies and out of all of them, Russell Knox really impressed me.
You could tell he was knackered after all the events he's played (and played very well) and there were a lot of people wanting to interview him but he gave everybody their time.
* I saw the footage of Tiger Woods walking through the group of kids waiting for his autograph at the practice range without stopping.
It didn't look good.
It would have made their day if they'd got Tiger's autograph. I've been that autograph hunter when I was young.
I did a piece in the autograph zone this week when the likes of Henrik Stenson and Rickie Fowler were there. The queues were unbelievable. Kids were there for about an hour just to get their flag signed or get a selfie.
So I definitely thought it was a little bit off from Tiger not to stop for a couple of minutes.
* If there was one person who deserved to have a good Open it was Jhonattan Vegas.
I've had my share of transport horror stories but his were on a whole different level.
To cut a long story short, there were visa problems, missed flights and lost clubs.
A lot of guys were here from Saturday and he didn't make it to the course until two hours before his tee time on Thursday…..and then play with new clubs.
There have been stories over the years of players not being bothered to travel to an Open from America even though they had qualified.
Vegas is at the other end of the scale and I hope he makes it back next year so he can actually spend a bit of time in our country!