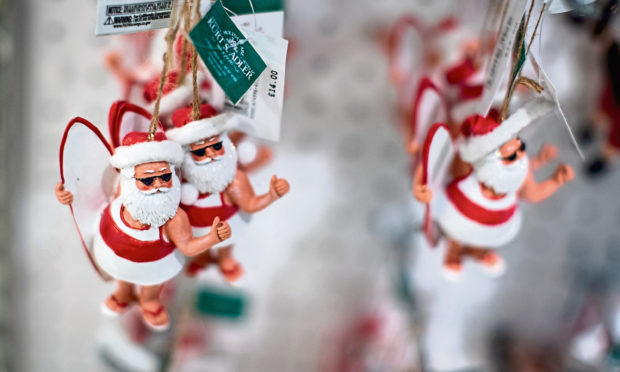 We're counting down to the countdown for Christmas, and already I'm complaining about it… but not too loudly.
My wife bought a cheese advent calendar and I am a bit grumpy about that. Specifically, she tracked my phone until I was near a shop that sells cheese advent calendars, then sent me text messages until I bought it for her. Now she strokes the box and posts photos of it on social media, while I repeatedly remind her she can't get into it until December 1 and she poutingly eats other cheese, packaged in a less expensive way.
Advent calendars are weird now.
I remember my first advent calendar, which is surprising because sometimes I can't remember my own age. I was in Primary One when an enthusiastically religious teacher affixed one to the classroom wall. She was partway through explaining the concept when 30 shrieking five-year-olds, myself among them, suddenly swept across the room like we were storming the Bastille and opened every door while savagely elbowing each other. I've loved advent calendars ever since.
Now we're in a dystopian future, the concept of an advent calendar that only rewards you with a tiny drawing of incongruously non-Middle-Eastern shepherds is laughable. The treats offered by calendars of increasing girth are many and wonderful.
You can buy one that gives you a daily bottle of Baileys, tequila, gin or single malt, which would make an interesting breakfast. A prosecco advent calendar is also a functioning clock. And you can open the door to gourmet marshmallows, bath bombs, recipes for curry, beard oils, miniature bags of pork scratchings or, courtesy of BeanBoozled, a prankish game of chance, jelly beans that may taste of peach or may taste of vomit.
Like many festive traditions, advent calendars have folksy German origins and have been warped by unrestrained capitalism. Usually, I'd rant about that because I'm a middle-aged dad, but for advent calendars I'm in favour of ultimate vulgarity. They're just great fun and I'm planning to surprise my kids with a Lego one on December 1.
Yes, Christmas arrives too early and we must tone down its crassness. But, sometimes, even the grumpiest of us can see magic in an overpriced box of cheese.