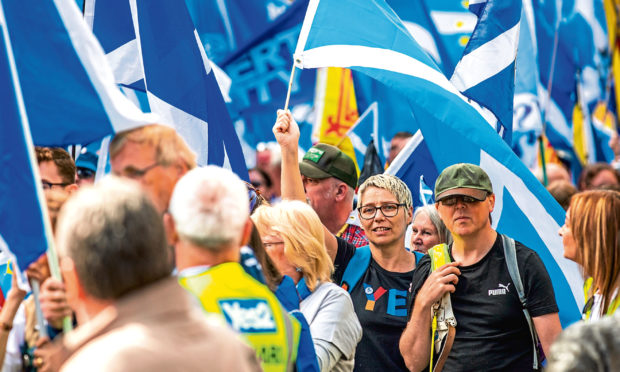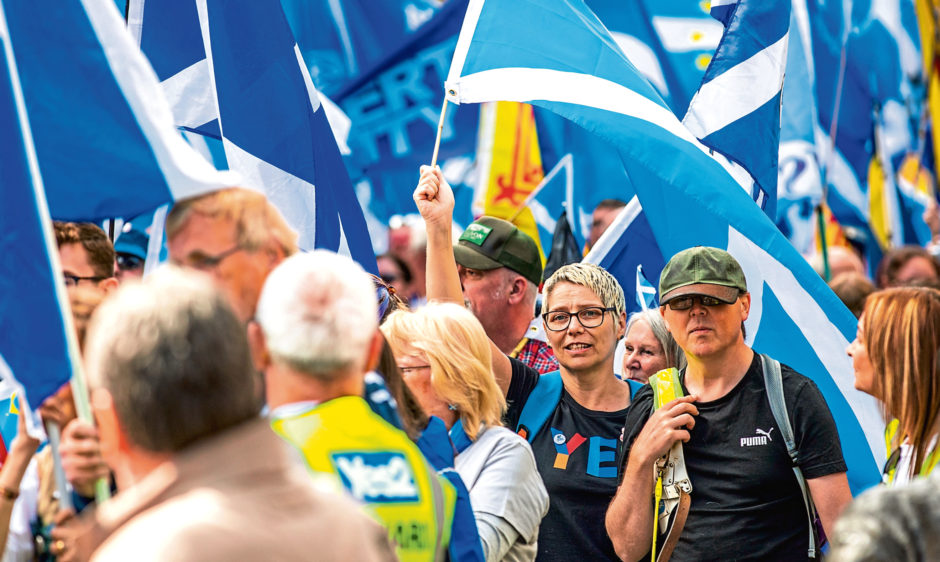 Sir, – In his letter, Denis Munro (Scotland not more inclusive than rest of UK, Courier, November 6) raises a number of questions about the recent march for independence in Perth.
As someone who was on the march, I'm happy to answer those questions such as "Why was it led by men wearing 18th Century warrior garb and blue bonnets?"
It wasn't.
The front of the march, as The Courier's own picture clearly shows, was a mixture of people, with some dressed more colourfully for the occasion than others.
Also, it wasn't an "SNP march".
It was organised by the cross-party, non-party campaign group All Under One Banner.
There were people on the march from various political parties and none. Our own local group, Radical Independence Angus and Mearns, had four people along for the march (including myself), none of whom are in the SNP.
Mr Munro goes on to state: "Anglophobia and a belief that Westminster drains, rather than sustains, our economy are core strands of SNP ideology."
The mistaken belief that Scotland is an economic basket-case dependent on generous handouts from Westminster is a core strand of British Nationalist ideology.
It is always sad to come across Scots with such lack of confidence in their own nation's potential.
The thousands of English Scots – including myself – who support independence do so not because we're afraid of England, but because we're not afraid of Scotland, and don't believe that Scotland needs any parent to hold her hand.
He adds that: "None of the principal predictions made at the time of the 2014 referendum were realised."
Indeed.
Scotland has not enjoyed the equal partnership in the UK that was promised by the Better Together Campaign.
Instead Remain-voting Scotland has been ignored by Westminster.
The Scottish Government has been completely excluded from the Brexit talks while UK ministers have negotiated with, and made major concessions to, a small, independent country just across the water.
There has been one small nation on these islands post-2014 treated like an equal partner by the UK, and it isn't Scotland.
Mr Munro concludes that: "For the rest of us, each Braveheart meets Brigadoon spectacle will be simply embarrassing."
I was on the march, and I heard people talking about things like democracy and social justice.
The only person near the march I've heard talking about Braveheart is Mr Munro.
Perhaps, the next time you see a pro-independence march, you might benefit from actually coming over and talking to us, instead of only seeing what you want to see from a distance.
Our enemy – ignorance – is your enemy too.
Angus Coull.
Radical Independence Angus and Mearns.
Power games being played
Sir, – Reading Ken Clark's letter (Disrespect from Westminster not Holyrood, Courier, November 7) we may be forgiven for opining that, to paraphrase Hamlet, he doth protest too much.
He is supported in his protests by Mr Aucherlonie, another known supporter of the SNP.
As per usual, Mr Clark glosses over facts in favour of spin and propaganda that has nothing to do with reality.
May I ask in what sense the 2014 referendum result has been "ripped up" ?
Mr Clark's argument is not sustained by the increasing devolved powers granted to Holyrood in the past five years.
He seems to consider that Holyrood is a "parliament" of equal standing to Westminster when, in fact, it is a devolved regional assembly of the UK.
The fact that the "once-in-a-lifetime" referendum promise has been binned by the SNP based upon deliberately misconstructed opinion and weasel words, says much about the power games being played by the SNP to Scotland's ultimate detriment.
Derek Farmer.
Knightsward Farm,
Anstruther.
Referendum vow set in stone
Sir, – The "once-in-a-generation" independence referendum jibe received another airing, inevitably, on Question Time.
Had such a casual remark been a formal Vow to the people of Scotland – actually written down for all to see and signed by the head of the UK Government and other party leaders – that would be deemed binding and immutable and a vow to be observed to the letter.
Such a solemn vow might ideally be inscribed in stone to assure its implementation.
Is it time to renew our Vows?
James Stevenson.
Drummond Avenue,
Auchterarder.
SNP's scare tactics over NHS
Sir, – SNP MP, Philippa Whitford told us in 2014 the only way to save the Scottish NHS from privatisation was independence. It would seem that the SNP is still scaremongering, with its newly proposed NHS Protection Bill.
Five years on, Dr Whitford self-evidently is wrong; we are still fortunate here in the UK to receive medical treatment free at the point of delivery, irrespective of individual financial circumstances.
Now Nicola Sturgeon claims the NHS is to be used as a bargaining chip in US trade talks, despite Boris Johnson repeatedly insisting absolutely to the contrary, as emphatically does Jeremy Corbyn.
Martin Redfern.
Woodcroft Road,
Edinburgh.
Where are all the extra police?
Sir, – I read with interest about the increase in police officers recruited and, in a blaze of glory with the justice minister's photo, the new devices that allow officers to remain on the beat instead of being tied up at the office.
Simple question for Police Scotland then.
Where are all these extra officers on the beat?
I can assure you they are certainly not on the beat in Blairgowrie.
One resident told me recently that having reported a crime he subsequently called back to find out what was happening as he had not been seen by a police officer.
Police Scotland's response was they did not have enough officers on and would not be attending until two or three days later. Where are all these extra officers?
Perhaps Police Scotland, if they have enough officers on duty, or the justice minister can answer that simple question.
Robin Rodger.
24 Honeyberry Drive,
Rattray.
Blaming fire victims is wrong
Sir, – So we now have John Phimister (Rees-Mogg is right on fires, Courier, November 8) agreeing with Jacob Rees-Mogg that common sense should have prevailed in getting away from a towering inferno.
How could they advise people trapped in a building – they were not there?
Perhaps their escape routes were blocked by fire or smoke, and heeded the advice of the firefighters.
Maybe criticism should be directed at the people who built this building with sub-standard materials in order to maximise their profits, and bring them to justice, rather than question the behaviour of the victims.
Alister Rankin.
93 Whyterose Terrace,
Methil, Leven.