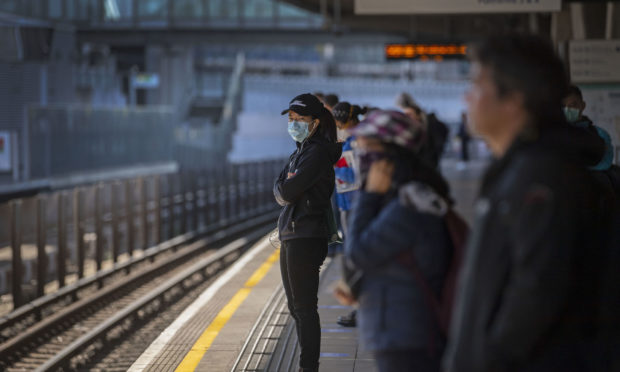 Sir, – Derek Farmer (Commonsense can guide us through crisis, Courier, May 15) correctly calls our leaders during this pandemic 'infantile'.
However, it is not only our politicians who need to grow up but we also, as a society, need to grow up too and face some very unpleasant truths.
Firstly, we need to accept that we live with risk daily – in and outside our homes, in our jobs and in our personal relationships, in our personal activities and habits and with our health, particularly as we age.
Covid-19 is, unfortunately, one more risk to add to that already lengthy list.
It is unlikely that we will ever be safe from the virus.
Hopes that an effective vaccine will be found soon appear to be nothing more than that. There are half a dozen coronaviruses that humans can contract; no vaccines have yet been found.
After nearly 40 years of research, there is still no vaccine for AIDS.
Lockdown until a vaccine is developed is quite unrealistic; eventually we might win the battle but we will lose the war.
The current death rate attributed to Covid 19 is approximately 0.06%, or six deaths per 10,000 of population.
But as Dr John Cameron pointed out, the Hong Kong flu of 1969-70 killed 80,000.
Every decision we make, personal or political, has an opportunity cost.
The governments' decisions to minimise loss of life has been with considerable damage done to the immediate-medium term society and economy, with little consideration given to the longer-term suffering that that choice will inevitably cause.
Early statistical analyses suggest that certain population groups, – the aged, the poor, ethnic minorities, those with underlying health issues, those in densely populated areas and in high density accommodation – are at greatest risk.
Wherever possible, people must take responsibility for their own health.
The rest of us must be prepared to accept the cost of this; it will certainly be much less than the cost of the damage that will be done if the current strategy continues.
We, and not governments, must decide what our future will be.
Whether to accept the ongoing long-term damage to the economy by minimising loss of life, or to return our lives to something like normal, accepting the higher death rates which may result as one of the risks of being human.
Murray SB Duncan.
'Larachbeg',
West Huntingtower.
Concentrate on the job at hand
Sir, – Almost two weeks after Nicola Sturgeon announced that approximately 2,000 contact tracers would be recruited, we learn that not one has been engaged.
In this time our first minister has tried to explain away her non-disclosure of the Nike outbreak in Edinburgh, Health Secretary Jeane Freeman has helped a fellow nationalist with her supermarket shopping issues, and the previous health secretary Shona Robison is looking at Universal Basic Income for an independent Scotland. If only they could concentrate on the matter at hand.
Jane Lax.
Pine Lodge,
Craigellachie.
Poverty wages for UK's carers
Sir, – The UK Government has already thrown the elderly care sector under the Covid bus. It has been evident for many weeks that the real risk of serious harm from Covid-19 has been to the elderly.
But obsessed with their own propaganda, government has sacrificed our most vulnerable to protect the NHS, not least by discharging patients untested for Covid-19 into care homes.
That the Scottish Government has followed along bleating their mantra of 'following the science' does them no credit. And now a second irony is upon us.
The Westminster Brexiteers are proposing to set a minimum wage requirement for foreign workers, including presumably those who work as carers.
Can we therefore expect that in recognition of the importance of the many foreign workers in our care services we shall see our minimum wage level raised to the proposed £25,600 annual threshold?
Or should we conclude that basically they don't give a damn and that the care of our elderly really isn't something we think worth paying for and that we should look to the unemployed fall-out from the current crisis to fill the gaps for poverty wages?
Michael Collie.
51 Elliot Street,
Dunfermline.
Onus on homes to be prepared
Sir, – Clearly questions need to be answered as to the lack of provision of PPE to frontline care staff, but perhaps we should reflect a little before outright condemnation of governments.
I refer particularly to care homes where this virus has claimed many lives. No-one was prepared for the onslaught of this virus and thus the accessibility of PPE, and the logistics of distributing what was available, proved highly challenging .
As a result there was the inevitable deficit at the point of need.
As to care homes, many are privately run and can cost residents anything from around £600 to over £2,000 per week.
Surely management and owners of these homes should have been aware of the risk to unprotected staff and could have made concerted efforts to purchase the necessary equipment privately, and out of profits, to keep both staff and residents as safe as possible, instead of casting the blame on governments.
David L Thomson.
24 Laurence Park,
Kinglassie.
Course open but still not a golfer
Sir, – I await Nicola Sturgeon's announcement that we will be able to play golf soon. I can assure you that, not through the want of trying, I cannot !
Willie Robertson.
Grainan, Lynton,
Stanley.
Health workers need every help
Sir, – I am watching the news and learn that the loss of the sense of taste and smell is a symptom of Covid-19.
However this is also a symptom of stroke, Alzheimer's and dementia so perhaps the death rate in care homes has been higher due to the diagnosis being missed .
The government should surely be asked the question: if the World Health Organisation knew this was the case then why was this not passed on before now.
The doctors, nurses and carers need help, not establishment lethargy and ignorance.
David Lowes.
28 Rossie Avenue,
Broughty Ferry.
Keeping a safe distance
Sir, –- In today's world of advanced mathematics and physics, what caused our social scientists to adopt an archaic Euclidean contrivance for social distancing ?
Most folks are fully aware that while a distance of two-metres may, in still-air conditions, be effective towards inhibiting the spread of coronavirus; in breezy or windy conditions this safety margin is negated.
In addition, and for the notice of supermarket management, social distancing applies radially, not merely between front and back
Kenneth Miln.
6 Swallow Apts,
Union Street,
Monifieth.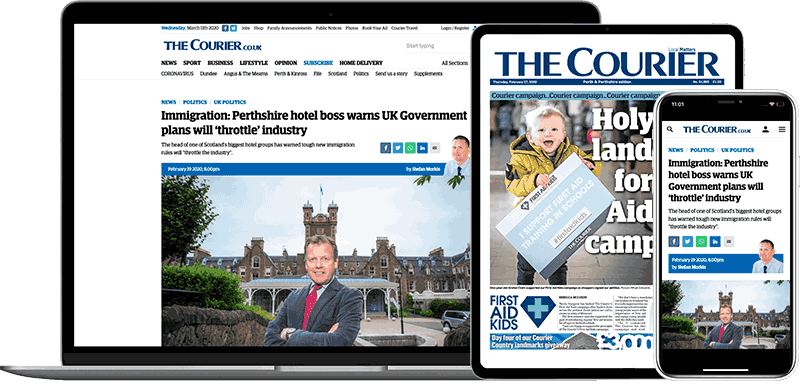 Support The Courier today.
The Courier is committed to delivering quality content to our communities and right now that's more important than ever — which is why our key content is free. However, you can support us and access premium content by subscribing to The Courier from just £5.99 a month. Because Local Matters.
Subscribe