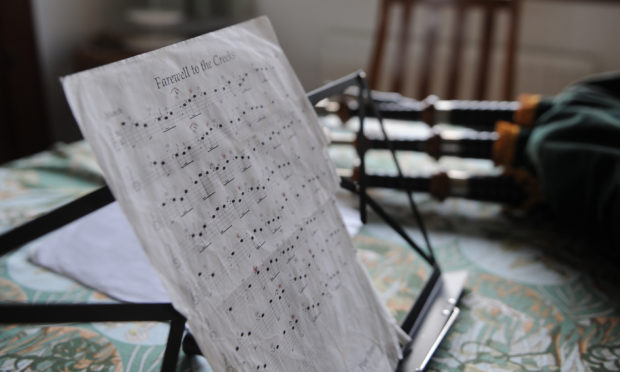 Sir, – As representatives of youth music organisations in Perth and Kinross, we are very concerned about the impact of coronavirus on the future of instrumental music in schools.
Of course it is wonderful that schools have gone back, and that some instrumental music lessons are restarting.
We appreciate the hard work that has gone into making this possible.
However, currently no brass, woodwind, bagpipes or singing tuition is taking place in Perth and Kinross schools, even if a pupil is on their own in a music room.
This means there can be no live lessons, even online, during school time and of course no group playing.
This has implications for pupils working for SQA music exams and will widen the gap between children having private lessons, which can happen online after school, and those pupils learning at school, who can only have pre-prepared lessons and discussions with their tutors.
We understand the reason for this, but hope the rules for instrumental music will be revised as soon as it is deemed safe.
With live lessons restricted to certain instruments and the current absence of group playing opportunities, some pupils will inevitably lose their enthusiasm and give up.
Social distancing rules also mean no new pupils will be able to start for the foreseeable future.
In February, councils will face difficult budgetary decisions.
Instrumental music departments, through no fault of their own, will be bringing in less money for a reduced service with lower visibility, due to the cancellation of many local events.
Cutting music will be all too easy for councillors facing difficult choices.
Economic necessity has meant a huge amount of work has gone into ensuring that pubs, gyms, nail bars and hairdressers can reopen.
For many children, music is an important aspect of their mental health and wellbeing, which deserves equal attention.
We are therefore calling upon the Scottish Government to support the full return of instrumental music tuition as soon as possible, and ensure local councils will be able to support services adequately at budget time.
The demise of instrumental music in schools would be an enormous loss.
Susannah Rae, Perth Youth Orchestra Committee.
Andrew Mitchell, Perth and Kinross Music Foundation,
Anne Hughes, Young Musicians' Parents' Association.
Why cut the grass so often?
Sir, – While they are saying they are strapped for cash, Fife Council have been mowing the play park in Dreelside up to four times a week. Why?
At a time when our environment is constantly under threat, grass should be allowed to grow.
This would allow pollinators to carry out their vital work. Are Fife Council global warming deniers? Why not just get someone with a baler to cut the grass in the autumn and donate the bales to an animal protection society?
I would say the equipment used by the council is top of the range and expensive. As my dad used to say "they are using a sledgehammer to crack a walnut". The savings from ceasing this futile work could be spent elsewhere, even given to our schools, who are having to buy face masks with their already meagre resources.
Bill Ledger,
43 Dreelside,
Anstruther.
More reason to stick together
Sir, – On the same day Nicola Sturgeon announced a £60 million plan to assist 16 to 25-year-olds to train or find jobs, the Westminster Government launched a similar scheme worth £2 billion. The effect of this, by way of the Barnett consequentials formula, will see Scotland receiving around £150 million from Westminster.
Another example of the advantage of being part of the UK.
Donald Lewis.
Beech Hill, Gifford,
East Lothian.
Scotland must know its place
Sir, – Nick Cole (Letters, September 1) proves my point about nationalists giving up on the facts and majoring on emotive issues to argue for independence.
Before the 2014 independence referendum the SNP said Scotland would "share" the pound sterling with the UK in a "currency union", which would have meant interest rates and monetary policy would have been set by the Bank of England.
That was a non-starter because the bank said it would not underwrite the Scottish economy. Now we are told a second attempt at Scottish independence should occur, and Scotland should set up its own currency either in the first term of the new parliament or any time up until 10 years thereafter.
With a huge fiscal deficit that idea is unsustainable, because Scotland does not have the cash to back a new currency in the international markets.
A new currency – the groat, Scottish dollar or bawbee – would immediately devalue against the pound, making imports more expensive and assets – from pensions to property – worth less. Its effect on Edinburgh's vital financial centre, which manages billions of assets in pounds sterling, would be catastrophic.
Prof Ronald MacDonald, professor of Macroeconomics and International Finance at Glasgow University, has said, following the introduction of the new currency, "any debt repayments, such as those on mortgages and credit cards, that remain denominated in sterling would rise sharply. Since it is likely that state pensions would be redenominated into the new currency post-independence their value would also be worth less."
The SNP executive has shown little financial acumen in balancing the books. Without the largesse of the Barnett formula giving every man, woman and child a £2,000-a-year bonus, or the £5 billion for coronavirus support, the Scottish economy would go belly-up. With a national deficit six times that of the UK, the SNP are relying on the British Government they despise to bail them out.
After separation, the economy would be in dire straits and Scotland would need a bailout from the IMF.
This would mean cuts to public spending including pensions, and the privatisation of state assets to raise cash, which the IMF has insisted on previously, and possibly also a tax on savings.
Mr Cole also disparages the UK's historical celebrations. Can I remind him this month sees the 80th anniversary of the Battle of Britain which, if lost, would have reduced Scotland to a slave colony of Greater Germany.
William Loneskie.
9 Justice Park,
Oxton,
Lauder.
Reduced to Little Britain
Sir, – Great Britain was once an economic and manufacturing powerhouse, supplying the world with cars, ships, planes, coal and trains.
Now the prime minister is begging people to save the economy by returning to their offices to sit in front of computer screens and order a sandwich and a coffee at lunchtime.
Farming seems to be the only productive industry left now the fishing industry has been castrated. Whoever thought it would come to this?
George Dobbie.
51 Airlie Street,
Alyth.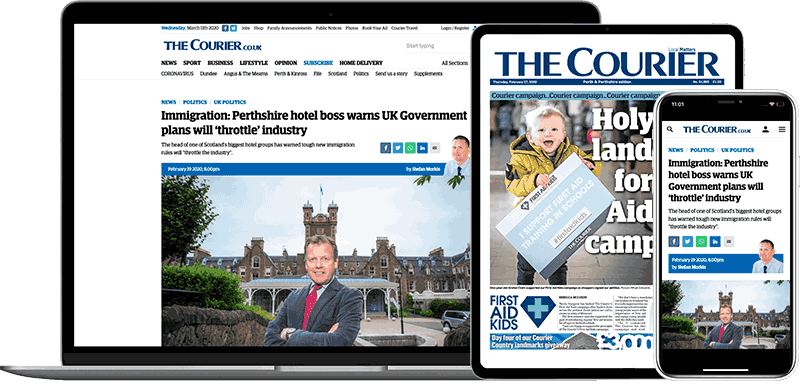 Help support quality local journalism … become a digital subscriber to The Courier
For as little as £5.99 a month you can access all of our content, including Premium articles.
Subscribe