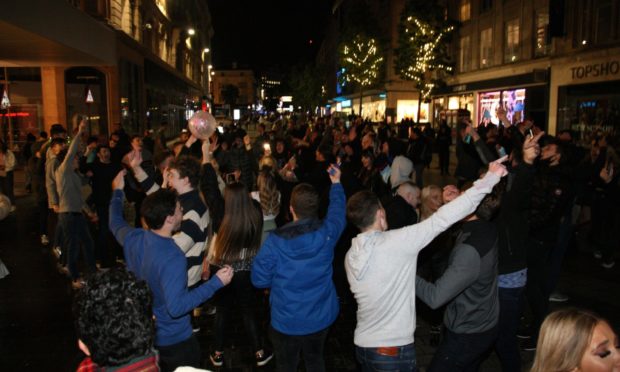 Sir, – Watching the news and seeing what is happening in Liverpool I cannot understand how these youngsters, after closing-time, group together with no distancing whatsoever.
The current wave of Covid ruining our country is not down to the hospitality industry.
It is brainless nitwits breaking all the rules that are the cause of all the trouble.
It's those youngsters that hold the illegal raves, the students holding illegal parties.
The elderly, the vulnerable and the disabled have been locked away for months with all their freedoms and rights taken away, suffering immeasurable mental damage.
Companies are shut down again causing massive economic damage to the whole country and total desperation for employers and employees.
What the governement should do is a total curfew for youngsters, no parties, no raves, no alcohol.
Not the elderly, the vulnerable, the disabled locked away, not the shops and factories closed, not the hospitality shut down, not the sport-accomodation locked.
Those youngsters who refuse to abide by the rules, the Covidiots, the deniers, the rule breakers, the 'hoax'-believers, they should be locked down, for at least half a year to protect the whole country and economy from their behaviour.
I know what 'shielding' has done to the vulnerable and the elderly, the disabled, as my husband is in this group.
It is now high time the governement locks down those who are irresponsible and selfish, those who willingly and knowingly break all the rules.
Mrs Maaike Cook.
Cash Feus,
Strathmiglo.
Do polls really reflect popular opinion?
Sir, – There is great jubilation at the result of the latest Ipsos/Mori poll which purports to show a lead of 16% in favour of independence.
A similar Survation poll showed a lead of only 6%.
The Ipsos/Mori poll contacted 1,045 people by telephone while the Survation poll contacted 2,093.
Apart from the fact that the results are obviously being cherry-picked to show nationalism in the most favourable light, it is highly questionable whether the opinions of a thousand or a couple of thousand people are seriously reflective of Scotland as a whole.
George Dobbie.
51 Airlie Street,
Alyth.
Ring of steel around MPs and MSPs' jobs
Sir, – You couldn't make it up.
Disgraced MP Margaret Ferrier votes by proxy in a Commons vote.
She gets another MP, Johnathan Edwards, a Welsh Nationalist MP who has been suspended by Plaid Cymru for a year after being cautioned by police for assaulting his wife, to vote for her. Another MP who should have been sacked.
The problem is MPs and also MSPs have built a ring of steel around their jobs.
Surely the time has come for somebody like Margaret Ferrier, who committed a major reckless misdemeanour, to be sacked immediately .
Mike Rogalski.
Feus Road,
Perth.
Should Scotland just be happy with its lot?
Sir, – Douglas Cowe (Changed minds but still no real debate, Courier, October 14) tells us how bad things are in Scotland with child poverty, homelessness, drugs deaths, reduced life expectancy, the economy, NHS and so on, whilst noting 'a third of Scots who voted no to independence may have changed their minds.
He concludes they should 'be very aware of what (they) wish for'.
Presumably he thinks we should be happy with our lot, and accept the negative outcomes, which have come about in a Scotland which has limited powers to effect change.
Or maybe he thinks that, if we hang on long enough, things will magically improve.
He also, presumably, believes that those 55% of Scots who now believe that an independent Scotland, managing its own affairs, could do better, are deluded.
Might I remind Mr Cowe of the wise words, attributed to Albert Einstein, on delusion, that "the height of insanity is doing the same thing over and over, but expecting different results".
Les Mackay.
Carmichael Gardens,
Dundee.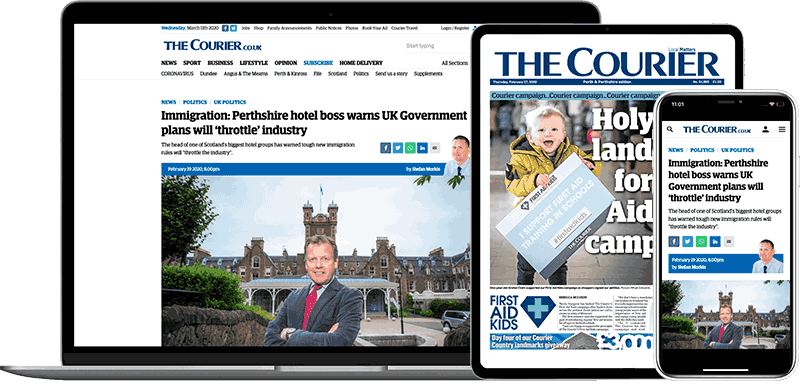 Support The Courier today.
The Courier is committed to delivering quality content to our communities and right now that's more important than ever — which is why our key content is free. However, you can support us and access premium content by subscribing to The Courier from just £5.99 a month. Because Local Matters.
Subscribe