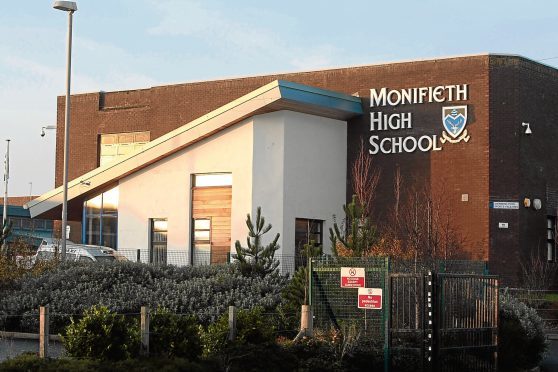 Sir, – At long last it seemed that the lack of recreational facilities in Monifieth was going to be addressed by Angus Council.
This new commitment to Monifieth has been a long time coming but as the council and MSP Graeme Dey know, there are no funds available to back this up. The hope of new schools for Angus is no more than a wish list by councillors and the MSP.
How this is going to be achieved is a mystery when schools over the whole of Angus are to be closed through deep cuts to the education budget, as reported in The Courier.
The hope that funding for the Monifieth replacement secondary school, a primary school, and a sport centre with swimming pool will come following a begging letter from Mr Dey to the Scottish Government, is at best a naive shot in the dark, or at worse an attempt to avoid the flack when the funding is refused.
It must be a sore point to many in Monifieth that a site that could have accommodated a school was sold off just a few years back for a fraction of what it was worth to a preferred developer for private housing when it could have been used by Angus Council for social housing or any of the schools or sports facilities mentioned by the MSP.
The cost of land to build any of the schools or any sports facilities in Monifieth will be trotted out by Angus Council as the biggest setback in providing the facilities.
Robert Alexander.
39 Barry Road.
Carnoustie.
We will all pay for smart meters
Sir, – The inconvenient truth about smart meters has now been revealed by the trading standards experts.
They have confirmed it is not compulsory to have one installed despite some energy suppliers using bullying tactics.
Despite energy companies telling people that the installation is free, it is not.
The £11 billion cost for the installation of 50 million smart meters will be added to every UK household's energy bill so each household will gradually but eventually pay £300. Despite the industry's exaggerated claims of the householder reducing their bills by hundreds of pounds, the Government has just revised its estimate down and consumers will only save about £11 a year.
If a customer changes their energy supplier, then a new smart meter has to be installed.
Smart meters are yet another not-so-smart government decision because it thought they would reduce electricity consumption and stop the lights going out.
Robert Cheesewright of Smart Energy GB said smart meters will bring down energy bills.
Does he really believe his own propaganda because no one else does.
Clark Cross.
138 Springfield Road,
Linlithgow.
Tax stance can boost Tories
Sir, – Since her drubbing at last year's general election, Nicola Sturgeon has shifted to the left.
This is not because she's a genuine socialist: the last 10 years of SNP administrations show that but because what she fears most is a Jeremy Corbyn surge north of the border, fronted by Richard Leonard and his latest radical tax proposals.
Since the Margaret Thatcher years, the better off in Scotland have, until recently, routinely voted Labour and those who backed independence SNP.
But with UK break-up support flatlining and Labour and the nationalists seemingly competing to increase taxes for large swathes of Scots, it is likely the Tories will be the beneficiaries.
The SNP has managed to divide and rule for a decade as the only major party to sponsor separatism.
Are we about to witness the accelerated growth of the Tories, led by media savvy Ruth Davidson, as the only party opposed to increasing income tax?
Martin Redfern.
Woodcroft Road,
Edinburgh.
V&A a blot on city landscape
Sir, – I must agree with comments about the siting of the V&A monstrosity in Dundee. It is a total waste of a magnificent view at huge cost to the taxpayer.
I wonder if this grossly overhyped concrete block will form part of a tourist trail to include equally huge areas of social deprivation in Dundee's hinterland such as empty shops, buildings, rough sleepers and crumbling infrastructure, which most of us recognise as reality?
Meanwhile, we will all have to live with this monumental blot on our landscape.
Bob Smart.
55 Bellevue Gardens,
Arbroath.
Let England go its own way
Sir, – With the latest opinion poll showing that support for a final say on Brexit, once the terms of departure are known, now stands at 58% in favour of a second referendum, surely even this most anti-democratic government must bow to the wishes of the people.
And, when a second referendum takes place, I would suggest votes be counted separately in each of the constituent parts of the UK, and actioned accordingly. This could, at a stroke, resolve the Brexit issue, the Scots' wish for independence, the Irish border dilemma and the English problem.
If the first referendum is anything to go by, then Scotland and Northern Ireland will opt for the status quo and remain in the EU, while England and Wales would likely vote for the separatist option, and should be allowed to leave and pursue their own path.
Thus Scotland would be independent in Europe, the whole island of Ireland would be in the EU so no border issue, and England and Wales would be free to elect Boris, embrace Trump, and, no longer held back by their UK dependencies, reclaim their rightful place in the world.
Les Mackay.
5 Carmichael Gardens,
Dundee.
NHS staff must be retained
Sir, – Alex Neil's opinion piece (January 27) shows that he has learned nothing since his disastrous time as health secretary.
The shortage of doctors and nurses is because far too many are leaving the NHS early in despair at the conditions they have to work in and not because we don't train enough people.
Pouring more trainees into the NHS won't help unless the holes are mended.
The Scottish Government urgently needs to take action to improve working conditions to retain the large numbers of trained doctors and nurses we already produce.
Charles Saunders.
Stirton Mill Steading,
Cupar.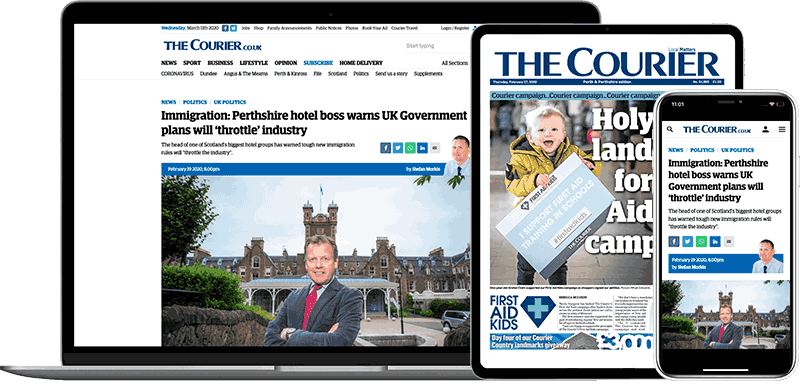 Help support quality local journalism … become a digital subscriber to The Courier
For as little as £5.99 a month you can access all of our content, including Premium articles.
Subscribe