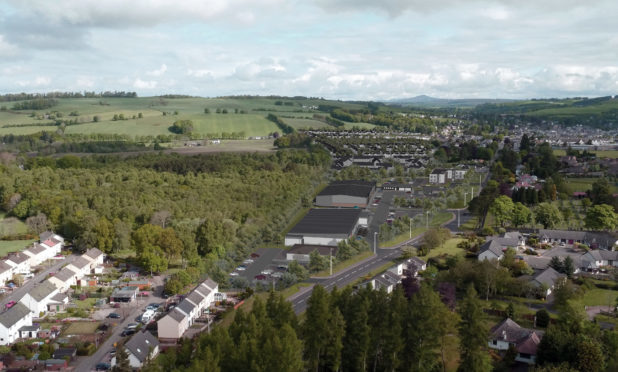 Sir, – I have never failed to be amazed at the statements given to the public from Perth and Kinross planning department.
Take the following example.
Regarding the proposed large housing development site at Westpark on the outskirts of Blairgowrie, a planning department spokesperson stated: "Transport chiefs are happy with an analysis submitted by developers which shows only a 'minimal' increase in traffic".
Does the planning department take such information by developers at face value? If so, they strike me as being very naive.
Furthermore, they seem to assume the residents of Blairgowrie are gullible enough to be spoon-fed and accept information which supports the planning department decisions.
So, let's have a look at the detail of the development: 400 houses, a primary school, a supermarket, and offices.
Let us see what the "minimal" increase in traffic consists of.
The average number of vehicles per household in Perthshire is 1.2 (National Records of Scotland 2013). This equates to approximately 480 vehicles for the residents, but that survey is out of date, and by the time this development is completed the number of domestic vehicles would be well in excess of 500.
But we also have visitors to residents, domestic services and trades vehicles, postal and parcel deliveries vans and lorries and council lorries!
Then there are the primary school staff, service vehicles and buses, parents dropping off and collecting children and personnel employed in the proposed (number not known) offices, and supermarket.
The operator of the supermarket would be looking at a substantial number of customer vehicle movements, (say a couple of hundred) per day to make it viable.
If that estimate appears too high, the average number of daily customers to a Morrisons supermarket is more than 2,800.
Now I do not pretend to be an expert in traffic management, but it seems to me all the above is a wee bit more than "minimal".
Iain Keay.
Moyness Park Crescent,
Blairgowrie.
Consequences of brown bin tax
Sir, – My husband and I wholeheartedly agree with the objections to the £25 brown bin tax proposed by Perth and Kinross Council.
We are a couple who enjoy looking after our garden and adjoining pathway, so pruning has to be done along with grass cutting and weeding, and all that greenery has to be binned.
Up until now it was placed in the brown bin.
Without the use of that bin – should we choose not to pay the £25 tax – it will have to be put into a black bag and taken to the local refuse dump.
We're both in our late eighties, which makes this chore difficult for us, but if we don't want to pay the £25 we have no alternative.
Our council tax used to cover bin uplifting, now that seems not to be the case.
We have also heard our local refuse dump is likely to be closed, so how far have we to travel to find one?
In our opinion the council is going the right way to encourage fly-tipping with their greed, asking for £25 to have our garden waste uplifted.
Mr and Mrs Sinclair.
Micras,
Auchterarder.
Diesel cars have failed the test
Sir, – Your retired engineer is right that diesel cars have been tried and tested ("Lithium ion technology can't compete", Letters, March 12).
But, diesel cars failed.
Contributing to the premature deaths of tens of thousands of people each year is not a success.
Across Europe countries are being taken to court for failing to meet legal pollution limits. If your correspondent's "Euro 6" diesel meets Euro 6 pollution limits in the real world, then it is an exception.
The present aim is not to replace 100% of fossil vehicles with electric ones. However, a scientific study in the US, using real world data, showed 87% of personal daily travel there could already be met by an existing, affordable electric car, only recharged overnight.
That 2013 model had a 24kWh battery. The current 2018 version comes with 40kWh as standard, and a 60kWh option is expected this year.
The decarbonisation of our electricity supply not only means transport is now our biggest source of carbon emissions, but that electric vehicles can make an even bigger contribution to reducing those emissions too.
As to whether windfarms can cope with the added demand, extra battery storage actually helps. National Grid even issued an "EV Myth Buster" paper to counter unfounded concerns.
Gordon Pay.
Eden Park,
Cupar.
A flat battery on a snow plough?
Sir, – If an electric car and a fossil fuel car get stuck in snow, the heating capability of the fossil fuel is much greater than the electric.
Furthermore, once both sets of fuel are used up, it is a simple matter to refuel with fossil fuel and be mobile again.
The electric car must be towed away or have a fossil fuel generator plugged into it.
Diesel has around 11kWh of energy per litre, therefore a 50 litre tank holds 550kWh of potential energy, which even at 25% efficiency has more than double the power reserve of Mr Pay's yet-to-be installed 60kWh Leaf (Letters, March 12), the equivalent of a gallon fuel tank (or four gallons at 25% efficiency).
Electric vehicles have their uses and place, but are nowhere near a universal solution, and will still require an enormous grid upgrade to facilitate recharging.
And how do you cope with a flat battery on an electric snow plough?
Nick Cole.
Balmacron Farmhouse,
Meigle.
Lowering our food standards
Sir, – I listened with interest to Scottish Questions, where the Secretary of State for Scotland, Mr David Mundell, assured Scottish MPs there would be no dilution of EU/UK Food Standards due to Brexit or transatlantic trade deals.
I have no doubt that, if a trade deal with Trump's USA was on offer after Brexit, our UK Government, which has often stated that the EU exerts too much control over our food and fisheries, would grab it with both hands.
I read an article comparing food safety standards in the EU and US, specifically referring to food-borne illness rates. It stated one in seven people in the US are affected, whereas in the EU it is only one in 70. So if our food standards were lowered to US levels this could mean 10 times the current numbers at surgeries or hospitals seeking treatment.
Alistair Ballantyne.
Hillpark Drive,
Birkhill.
Reviving the King's Theatre
Sir, – It is reported Dundonians will have a say on options for reviving the King's Theatre.
When we first came here 30 years ago we were horrified that any city council would have allowed such a great building with such a rich history to go to ruin.
Why should people with an interest in music, opera and ballet be limited to (fully attended) film versions at the DCA, and have to travel to Aberdeen, Inverness and Edinburgh in order to have a fair share of shows and performances?
Think of the joy the youngsters in this area would have gained by seeing the Nutcracker ballet, recently staged everywhere except Dundee.
There is a great choice of pop artists and concerts for the younger generation, and I am very happy they have that opportunity, but we are limited to the occasional concert in the Caird Hall.
So when will the King's Theatre come back to the people of Dundee? Then we might be the city of all cultures.
Moira Bowman,
Collingwood Street,
Barnhill,
Dundee.