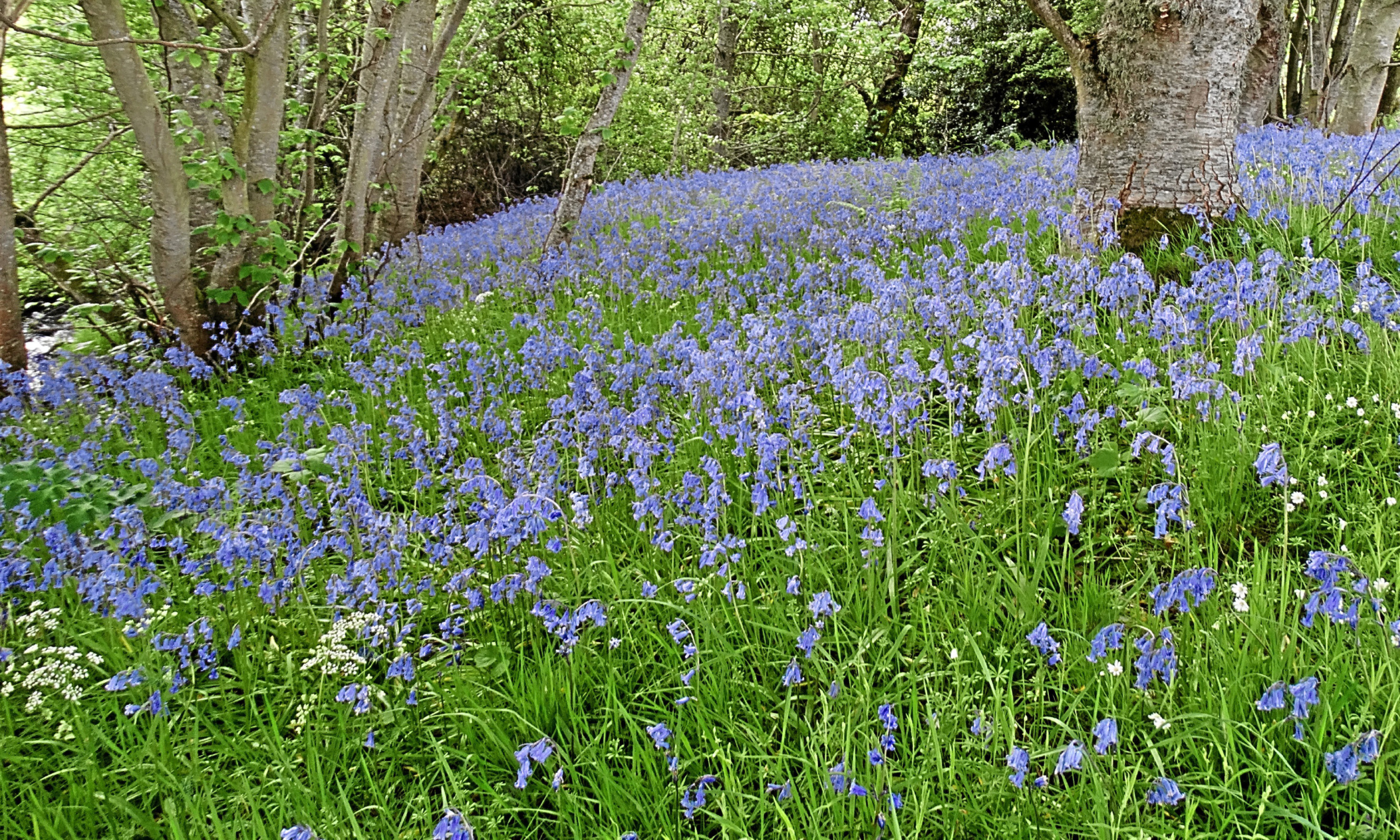 Sir, – I was alarmed to see a recent Courier photograph captioned as the rare white variety of our native wild hyacinth. It was not, but was the pallid-coloured but strong-growing hybrid of the invasive Spanish bluebell.
These mutant plants are the grey squirrels of our wildflower world, only worse. While the grey squirrel outcompetes the red, it can be controlled by trapping, and the reds will return.
The Spanish bluebell (Hyacinthoides Hispanica) on the other hand, has hybridised with our native wild hyacinth (or bluebell, Hyacinthoides Non-Scripta ) to create a real monster, and this process is irreversible.
The thick, fleshy leaves and rapid growth are a giveaway and its muddy, pasty pinky-blues and dirty whites are no match for the glorious deep, clear blue of the true wild hyacinth.
Worst of all, the invader lacks the rich, sweet aroma of the native, so characteristic of our bluebell woods as evening falls.
The two species are bee-pollinated, so any native within around three miles of a Spanish invader is at risk.
These monsters should be eradicated before our much-loved bluebell woods are contaminated beyond recovery.
Roderick Stewart.
Dronley House,
Angus.
T's out, let's keep it that way
Sir, – So Mr Pete Wishart, SNP MSP, wishes to talk to our council about bringing T in the Park back to our area. I wish to state, as I did when this monstrosity was at Strathallan Castle, my most vehement opposition.
Already we have had massive disruption to the lives of local residents with the BBC's Biggest Weekend at Scone Palace. Next month, we have the Rewind festival at the same venue and on June 3 we had Lionel Richie at McDiarmid Park. All caused upheaval to the wellbeing of local people.
In my opinion, there are too many of these "music" (in reality, it is amplified noise) events.
I would like to remind Mr Wishart that T in the Park, like all larger festivals, seems to attract a sizeable criminal element and the whole scene seems synonymous with drugs use.
The final "nail in the coffin" for T in the Park in 2016 came after four deaths, a rape and the theft of a cash machine.
Mr Wishart would be better served supporting the achievements of our young musicians and taking our council to task for its proposed 60% increase in tuition fees over the next three years.
Alister Y Allan.
Castle View,
Letham,
Perth.
Pensioners v polluters
Sir, – I am inspired to put pen to paper by your articles about Broughty Ferry beach on May 29 and 30. And I know my subject, living only a few metres from the dunes.
I too was disgusted by the mess left by a minority of visitors over the bank holiday – probably by the "sans culottes avec tattoos" type, judging by the bottles of vodka, cans of beer, disposable barbecues, crisps etc.
I suppose it is another indication of the state of our education system and of our council services.
In spite of the clear message from Blue Planet 2, we seem to be moving faster in the wrong direction. With the sea full of plastic, as well as our beaches, we are increasing the number of litter pickers and recycling collections, aren't we? No. We are reducing both, due to the incompetent way we are governed by both Westminster and Holyrood.
Over the winter, I removed more than 100 sacks of plastic and other litter from the esplanade and beach. I have rarely seen a council worker do more than simply empty the bins.
As we have failed to educate the vandals, it seems to me we need a new environmental service, staffed by burly, shaven-headed wardens accompanied by powerful Alsatians with the power to force litter louts to clear up.
Returning to the council I am again witnessing the insanity of grass cutters on their machines chopping the litter into bits to help it on its way to the sea. Crazy and wrong.
I have long thought that we need a "polystyrene supper tax" on fast food outlets, the money to be paid to councils to clear up the mess. It cannot be right for volunteers such as myself, aged 74, to find so much to do.
Jack Greenway.
The Esplanade,
Broughty Ferry.
Blame poverty, not poor schools
Sir, – Your regular unionist correspondent Jill Stephenson attacks the Scottish Government again on Monday for "a failing schools system which functions reasonably well in more affluent areas but lets down pupils in poorer areas".
The Joseph Rowntree Foundation, a charity working "to solve UK poverty", state, on the basis of their 114 years of experience working in this field, that "it is well known that children growing up in poorer families emerge from school with substantially lower levels of educational achievement…educational deficits emerge early in children's lives, even before school, and widen throughout childhood".
Ms Stephenson, being an educationalist, knows full well that the main cause of poor school attainment is not poor schooling, but poverty.
And I'm sure she also knows full well that the powers which affect poverty, one way or the other, such as tax, benefits,economic policy etc, are held by the Conservative Government at Westminster, which has pursued a policy of austerity for the last 10 years, driving more and more families deeper into poverty, whilst, at the same time, handing out massive tax cuts to the rich.
A Conservative party which Scotland has rejected at the ballot box for almost all of my life.
Les Mackay.
Carmichael Gardens,
Dundee.
Time to restore male order
Sir, – The deluge of violent crime of which comedian Michael McIntyre is one of the latest victims did not come out of nowhere. It is the inevitable result of 50 years of naive left wing social policy.
The destruction of marriage has left many boys without fathers as loving male role models in the home. In many cases, it has left their single mothers caught in the poverty trap and them without any evidence that work pays.
The feminisation of our education system has resulted in a dearth of male role models among teachers and in many schools a collapse of discipline.
The "modernisation" of policing has given us all too many swivel chair police, obsessed with the internet and unwilling to patrol our streets.
The "reform" of sentencing and prisons has meant thugs are no longer frightened of being punished.
Good intentions have taken us all too far down the road to Hell; it is high time we reversed course.
Otto Inglis.
Inveralmond Grove,
Edinburgh.
EH4 6RA.