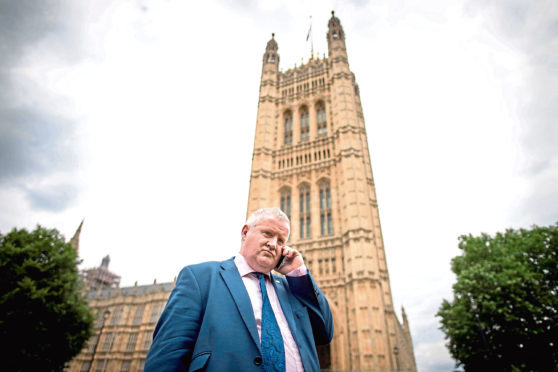 Sir, – In 1998 the Scottish Parliament Bill was debated in the House of Commons, meeting as a committee of the whole house. This process took 353 days and a total of 47 hours and 35 minutes.
In the House of Commons this week, in less than 15 minutes, many of those devolved powers have been clawed back to Westminster through the EU Withdrawal Bill.
This is nothing short of an absolute outrage, with Westminster ripping up the devolution settlement and not even letting any MPs from Scotland speak in the debate, an affront to democracy.
The Brexit bill says that the "vast majority" of the 158 areas where policy in devolved areas is currently decided in Brussels will go directly to the Scottish and Welsh parliaments after Brexit. But it has also named 24 areas where it wants to retain power temporarily in the wake of Britain's exit from the EU, including in areas such as agriculture, fisheries, food labelling and public procurement. This will last for up to seven years, during which time key powers of the parliament will be frozen, without its consent.
For two decades decisions made by the Scottish Parliament on issues affecting devolution have been final, but the UK Government has now driven a coach and horses through the constitutional settlement and imposed its will in the face of an overwhelming vote in the Scottish Parliament, with only the Tories opposing this at Holyrood.
The Tories campaigned against devolution in 1997 and are now actively dismantling it, a dark day for devolution.
Alex Orr.
Leamington Terrace, Edinburgh.
Power grab is just the start
Sir, – The level of acrimony and division following the unprecedented power-grab by the Conservatives at Westminster points to a fundamental and irreparable breakdown of the United Kingdom.
The ripping up of the devolution settlement is among the most ignominious events in the history of the Scottish Parliament.
No amount of Tory spin can dispel the nauseating stink that pervades every aspect of this decision. Nor can Tory propaganda conceal the widespread sense that, with Brexit, the country has embarked on a path that will lead to a disaster of unimaginable dimensions.
Brexit will lead to a government of the rich, by the rich, and for the rich. It will see ultra-right ideologues appointed to oversee programmes and social services that they have devoted their political efforts to destroying.
Working people will pay for huge tax cuts for the super-rich and a massive military build-up through the gutting of public education, the NHS, benefits and pensions.
The "Hard Brexit" faction anticipates the revival of a mythic past. A land where the basest prejudices are cynically encouraged and essential democratic rights are trampled upon.
In this context Holyrood can't be allowed to resist. This is why the Tories are stripping away these powers.
It's clear that all the promises made by the unionist parties were bare-faced lies. Independence is the only way forward for Scotland.
Alan Hinnrichs.
Gillespie Terrace,
Dundee.
Clear contempt for Holyrood
Sir, – It was with astonishment and disbelief that I read Derek Farmer's letter of June 13. One person's "voter-catching wheezes" of free prescriptions, free education for all and baby boxes may be some other person's move-ment towards a more just and equitable society. But let's look at what the UK Government has to offer Scotland in the coming years.
After less than 15 minutes of debate last night, a host of devolved powers will now be retained by Westminster.
These powers will not be returned because they are deemed crucial for a post-Brexit internal market position. Worse, the precedent has been set, meaning Westminster can ride roughshod over any and all devolved responsibilities. Devolution, it would seem, is over.
All the Scots out there who see free prescriptions, free education, baby boxes and all the other progressive policies put in place by the SNP as "wheezes" should stop and think about what has just happened. The Scottish Parliament has been treated with contempt and the choice now is clear – we either give up and allow direct rule from Westminster (and think how well the UK is performing at the Brexit discussions before you opt for that) or we say enough is enough.
Me? I've had enough. The time for Scotland to become an independent country and stand strong in the world is now. The next referendum will not be the same as the last one, too much has changed.
Graeme Finnie.
Albert Street,
Blairgowrie.
Baseless Brexit grievances
Sir, – Of course the EU Withdrawal Bill has been passed by MPs, despite the Scottish Parliament granting its legislative consent. Westminster is sovereign and Holyrood is a partially devolved domestic administration.
Nicola Sturgeon and her Westminster lieutenant, Ian Blackford, may have reworked this into another faux anti-UK grievance, but their stance is errant nonsense.
The SNP establishment is making a mountain from a molehill. Brexit means the vast majority of 158 new powers come to Holyrood, with 24 retained – temporarily – by Westminster to preserve the integrity of the UK single market. A market of no interest to the SNP politically yet vital to Scottish jobs.
This isn't about an attack on devolution – it's about ensuring the UK market functions post-Brexit. The SNP are manufacturing a constitutional grievance about diddly squat.
Martin Redfern.
Woodcroft Road,
Edinburgh.
Powers better in Britain than EU'
Sir, – The current SNP grandstanding exposes them as the irrelevance they are to the forward march of the Scottish working class.
They accuse Westminster of a "power grab", yet they were quite happy to have those "grabbed" powers remain with Brussels.
Control of agriculture and fishing, the most important powers being argued over, will come to Holyrood as a result of the British working class decision to leave the EU, once an all-Britain framework has been bedded down.
The SNP are exploiting discussion on the EU Withdrawal Bill to undermine the devolution settlement, which they have never agreed with from day one, and pursue their failed vision of an independent Scotland.
Raymond Mennie.
Ashbank Road,
Dundee.
Licence process takes its toll
Sir, – On reading Mr Bullion's letter (Courier, June 11) we can sympathise about his issues with the DVLA. My husband and son both have Huntingtons Disease and have to submit an application for renewal of their driving licences every year.
On speaking to others with the same condition we find the DVLA are not consistent with the way they deal with renewals.
Some people get their licences after filling the first renewal and fitness to drive letter, others have to sit an appraisal driving test then in some cases go to Edinburgh to sit a physical,static unit and in-car assessment, where appropriate.
The process of application can take up to a year – sometimes longer, in which case you have to start the procedure again.
In our experiences, we have found the DVLA to be lacking in knowledge about dealing with people with disabilities. You never get the same person to talk to on telephone and it is quite frustrating for anybody, never mind a person who has disabilities.
Jennifer Hardie.
Glamis Road,
Arbroath.
NHS serving us at every stage
Sir, – Recently my husband was a patient for two weeks in Ward 24 at Ninewells Hospital (dermatology ). I cannot praise the staff highly enough
Doctors, nurses and ancillary staff were all great and having been a nurse in Dundee many years ago I saw the profession done as it should be.
For the last 20 years my husband and I have been very well treated by the NHS. We have excellent GP practice nurses and friendly, helpful receptionists at the Victoria practice in Glover Street. What more could anyone ask for?
Isabel Wardrop.
Viewlands Road West,
Perth.