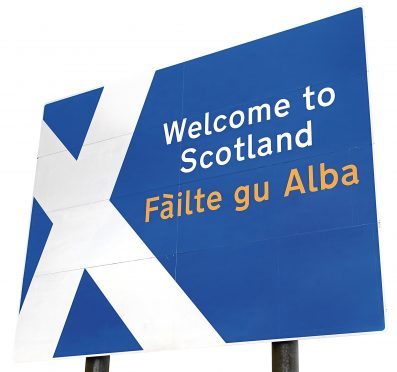 Sir, – I am amazed at the number of people who appear to object to dual language signs in this country.
In so doing they demonstrate an ignorance of Scotland's linguistic history.
The Gaelic place name gives so much more information if one takes a little time to consider it.
Gaelic was spoken in almost all of Scotland and today's place names reflect that in, for example, the place name that begins with "Ach" ( a field usually) or "Bal" (a township).
These are indicative of a settlement of Gaelic speakers.
Balloch (the township on the Loch) and Banchory (the light coloured corrie) are just two of many examples.
There are many more.
As we welcome more non-Gaelic or indeed non-Scottish people to join us it is heartening to find many name their properties using the Gaelic name or a phonetic version of it.
The purists may object to the phonetic versions but surely that is better than calling your property in the middle of a wind blasted moor "Rose Villa" or similar?
I saw one such very recently which proudly bore the name "Dunnavoe".
I guess originally the Gaelic name might have been "Dun a bho" (the hill of the cattle).
We should not be over-critical of such efforts.
In so doing they are keeping the name and its meaning alive.
Gaelic is not the only non-English language spoken in Scotland and we must also encourage Scots, to be used, written and spoken.
All are important in our heritage.
The language is only one facet, albeit an important one, of a culture that is much loved by Gaels and many non-Gaels.
Ceit Lockhart.
Diabaig,
Balmachie Road,
Carnoustie.
A disappointing Gaelic diatribe
Sir, – I was most disappointed to read the recent misinformed diatribe concerning the Gaelic language and its community published in The Courier's letters column.
It is strange to consider that bilingual, or even trilingual signs, would be seen as so offensive to the public in a country which has a long history of native Gaelic, Scots and English tri-lingualism, but, as ever, it seems that the limited linguistic skills of those who speak only English will out.
The vast majority (perhaps even 90%) of place-names on Scottish road-signs only contain "English" variants, because of a process of Anglicisation of native Gaelic and Scots names and that these are only in currency because of public inability to engage with the originals.
A cursory glance at the 2011 census returns, made available freely online, demonstrates that Gaelic is indeed spoken the length and breadth of Scotland, even outwith the confines of areas often referred to as the "Gaelic Heartland".
It is difficult to understand how funding for Gaelic, which is no grandiose sum, would have any positive affect should it suddenly cease to benefit Gaelic language development and be subsequently redirected toward other services.
Let us not forget, Gaelic speakers pay tax too.
One of the key aims of the Gaelic Language (Scotland) Act is to ensure the equal respect of Gaelic in its native country.
Attaching a fiscal sum or moral worth to any community is a particularly ugly thing to do.
Marcas Mac an Tuairneir.
17/2 Cnoc Eòin,
Dùn Èideann.
Cannabis stance is inexplicable
Sir, – Cannabis for some reason is treated very differently from some other drugs.
We regularly use and have prescribed opium derived drugs, such as morphine. Why is anything cannabis derived not allowed?
The consensus view is that cannabis is far less dangerous or addictive than opiates.
Any medical drug is prescribed under supervision for a purpose so there is no logical argument against this, which has absolutely nothing to do with recreational use and is a completely different matter.
Nick Cole.
Balmacron Farmhouse,
Meigle.
Setting the record straight
Sir, – May I please reply to the question posed to me by your correspondent Les Mackay (Courier Letters, June 19) in which he continues to assert the economic dominance of small countries such as Norway, Iceland and so on over the UK, quoting the World Economic Forum analysis, but omitting to provide any detail?
In fact, the current figures from the World Economic Forum are rather different from the proposal of Mr Mackay.
In the economic performance ranking placements, the UK places seventh, Luxembourg 20th, Iceland 27th, Denmark 12th and Finland 10th.
Additional to this is the fact that these countries have long-established political and economic management histories.
A newly-independent Scotland would be an unknown factor and, on the basis of what we see of SNP fiscal management, the economic perspectives for an independent Scotland would most likely push us down the world economic rankings to an equivalence of third world basket-cases.
It is economic and political stability that encourages inward investment to a country, not the wild dreams of nationalist ideologues.
Why is it so often the case that the SNP and its most avid supporters are consistently so economic with the truth and deliberately ignore the realities and associated costs of building an independent Scotland from scratch?
This week, the UK Government is pledging a windfall fund transfer to Holyrood to support Scotland's NHS.
Where is such support likely to come from were Scotland to foolishly vote to break up the United Kingdom?
And why do we never see any published summary of benefit from being part of the UK instead of the constant emotional spin deliberately focused by the SNP upon vote catching rhetoric that has nothing to do with reality in an increasingly fractured and unstable world order?
Then we have the theatrics of SNP performance at Westminster… a sure way to gain enemies and lose influence in our sovereign government which in itself cannot be good for Scotland.
The Scottish National Party nomenclature is not the equivalent of the Scottish Independence Party, and surely, after 10 or more years, it is time for the SNP to drop its daft independence quest and focus instead on its day-job, which is leading a minority government to do its best for the Scottish nation.
Derek Farmer.
Knightsward Farm,
Anstruther.
Labour and Lib Dems a let down
Sir, – Watching the shenanigans at Westminster, you may be wondering what Labour is up to by apparently capitulating at every vote.
They seem to prefer to sit on their hands and, by doing so, leave the Tories free to ride roughshod over the Scottish Parliament.
It has led me to ask myself: "What would Labour and the Liberal Democrats gain when Theresa May does take back powers that are now in the hands of the Scottish Parliament?"
By returning powers to Westminster, the UK Parliament would be in a position where it could vote to end the Barnett Consequentials, for example (something the Tories hate).
It would, of course, also end the ability of the SNP government to find extra money to fund various schemes, including increased child care provision, free tuition fees and free prescription charges.
Also at risk would be free bridge crossings after the tolls were scrapped, extra money for the NHS in Scotland and the huge house building programme.
It might also end the reason why people in Scotland vote SNP.
The equilibrium will then be restored, we will be back to "Westminster Rule OK".
Labour and the Liberal Democrats don't want a strong SNP in Scotland.
If they can't vote them out of Scotland they will instead make the Scottish Parliament and, by extension the SNP, irrelevant.
There is no difference between Labour the Liberal Democrats, or Tory at Westminster – they are all birds of a feather and will always flock together.
The people of Scotland must stand firm in defence of their parliament at Holyrood and avoid death by a thousand cuts.
Walter Hamilton.
Flat 3,
City Park,
City Road,
St Andrews.