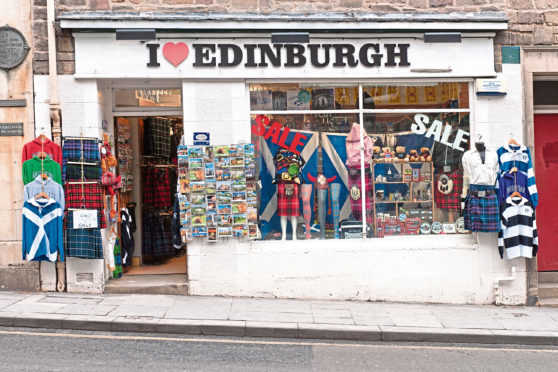 Sir, – Having read the letter submitted by Bill Boyd – a visitor to Dundee from Australia – I must say I'm sad but not surprised to read of his experience when buying souvenirs.
All too often "tartan tat" and cheaply-made foreign produced items are all that is on offer to our visitors throughout Scotland.
Admittedly, some people will be satisfied with these options. But with the expected influx of tourists due to descend on Dundee, thanks to the imminent opening of the V&A, and the continued visits from cruise ships, have local shops and attractions given any thought to this matter?
In my (admittedly, limited) experience, the answer seems to be no – in spite of there being local crafts people and producers who would be all too willing to step up and show what the region has to offer.
Try giving the customer what he or she wants – quality, locally made items at a reasonable price, with a strong local connection.
Marion Smith.
Ladywell Sawmill,
Kirriemuir.
Instilling a sense of service
Sir, – I am in total agreement with France's President Macron in introducing national service for young people in France, although it is a slightly watered down version of what he originally suggested.
I am in favour and always have been of bringing back national service to Britain. It would give young people a sense of discipline, which is lacking in schools and families with the nanny state approach to corporal punishment.
It would give them a training that could give them transferable skills to hopefully gain employment.
It would give them grounding and self respect.
And it would be particularly helpful for those who are living in families where generations have lived off benefits and have never contributed to society through paid employment.
It might also begin to eradicate the horrendous gang culture and knife crime we have seen get steadily worse as that comes from a search for identity which can be instilled in young people by a sense of belonging and purpose.
Gordon Kennedy.
Simpson Square,
Perth.
A question of opinion
Sir, – I find the first minister's behaviour regarding Gillian Martin's appointment as a junior minister extraordinary and verging on the irrational.
The first minister was, apparently, aware of Ms Martin's comments on transgender persons before she announced her appointment as a minister. These comments, made many years ago, were, no doubt, insensitive and crude, but probably reflected the views of many members of the Scottish public. The important point to note is that they were expressions of opinion.
The blog of which the first minister became aware only at 11 am on June 28 and which made her decide to withdraw Ms Martin's nomination, contains Ms Martin's account of information given to her by waiters (all black) working in the restaurant where Ms Martin herself worked. This information, whether accurate or not, consists not of opinions but of factual statements.
The position is thus that the first minister is prepared to overlook expressions of opinion which some may find offensive, but is influenced by factual statements the basis of which, so far as I can see, she has not challenged.
Alastair L Stewart.
Albany Road,
Broughty Ferry.
Let down by limited choice
Sir, – A new SNP minister goes on her first day, because unsurprisingly remarks that were offensive when originally written are still considered unacceptable today.
Some question the first minister's judgment over the proposed appointment, given she was well aware of the comments.
What Nicola Sturgeon cannot admit, of course, is that she hoped the remarks would not be brought up again, because good candidates for these roles are getting pretty thin on the ground. Perhaps if the SNP are running low on talent they should let someone else have a go.
Keith Howell.
White Moss,
West Linton.
NHS should look to Sweden
Sir, – Our GP appointments are paid via the tax system with the appointment being free at the point of use but the BMA wants to trial an out-of-pocket expense to the patient.
In Sweden the patient pays £20. The overall appointment costs the same as in the UK (£200) but the payment keeps demand under control: there are 15 visits per GP per day, instead of the 45 here.
Opponents claim 15 visits per day would result in soaring UK waiting times or three times as many GPs but Sweden has fewer GPs per head of the population.
Swedish public health is better than ours so this culture change has clear health and cost benefits. But is our NHS, that monolithic, ideological monster, capable of such change?
Rev Dr John Cameron.
Howard Place,
St Andrews.
Doubts in democracy
Sir, – Although now receiving undeserved stick for it, many thinking people voted for the UK to remain as a member of that inefficient bureaucracy called the European Union, because they anticipated the difficulty of leaving, and also had reservations about the skill of those in the UK civil service and government, who would be charged with that task. Those doubting people have now been proven correct.
It seems that being out of the EU is now going to cost more than being in, but without the advantages of membership.
There is, of course, a difference between the EU and the continent of Europe, and the failure of many to grasp this is an illustration of how ineffective democracy has become. Leaving the EU does not mean leaving Europe.
In the form of one person one vote, democracy therefore seems to have had its day, and the time for a vote that gives a greater say to those who have a more informed view, is perhaps here.
Malcolm Parkin.
Gamekeepers Road,
Kinnesswood.
It depends who's asking
Sir, – A poll by the Edinburgh Dungeon revealed that 72% of people support a new national holiday to honour William Wallace.
Of course they would if it meant getting another paid holiday with employers footing the bill.
If the poll had said that they would not be paid then the answer would have been a resounding "No".
Polls in general are worded to get the answer the organisers want.
Another asked people if they were opposed to wind turbines which provided green electricity.
The answer was "No".
If the poll had added "and your electricity bills and taxes will pay for them" then there would have been a completely different result.
Clark Cross.
Springfield Road,
Linlithgow.
A disservice to Scotland
Sir, – It would appear that Scottish Secretary David Mundell is very confused as to his duties in government.
His role as I understand it is to represent Scotland and promote it.
However, he continues to tell anyone who will listen that Scotland didn't exist after 1707 and that it is not a country and should be viewed as the same as an English county.
How can you represent a country that you refuse to acknowledge as a country.
I think most Scots have had enough of this man and he should now do the honourable thing and go since he quite clearly does not either represent Scotland – or even think it exists.
Sadly he is not alone in Conservative circles.
Bryan Auchterlonie.
Bluebell Cottage,
Perth.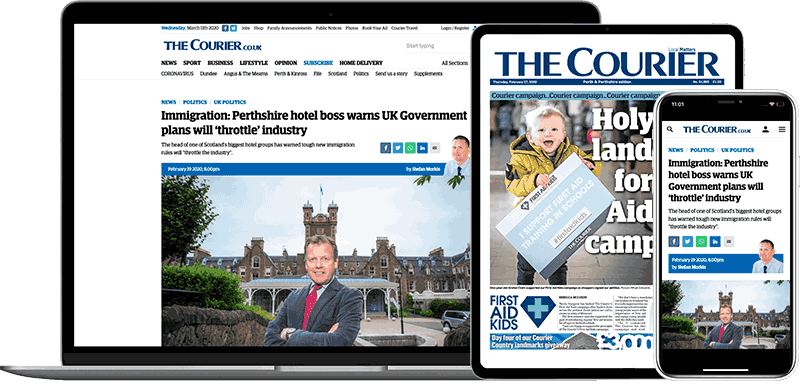 Help support quality local journalism … become a digital subscriber to The Courier
For as little as £5.99 a month you can access all of our content, including Premium articles.
Subscribe