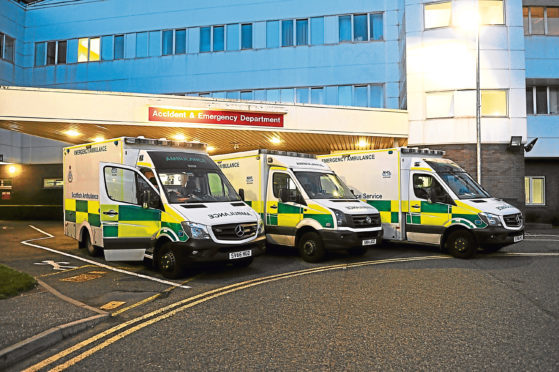 Sir, – I was eight years of age when the National Health Service was rolled out all over Britain in 1948. Even then I understood the burden that was lifted from working folks like my parents, that our family's health care would be free to all at point of need.
I have always appreciated that fact, especially as I've grown older and have had more cause to use my doctor's surgery, and the excellent service it provides.
I was recently admitted into Ninewells Hospital as an emergency patient, and had an eight-day stay there. That was when I truly realised the enormity of this precious gift we have all been given; young and old, and the dedication of those who serve us within our NHS.
I absolutely agree that if mistakes of any kind are made then the person or persons responsible should be called to account and treated accordingly and appropriately; for we are talking about our NHS, and our health and lives.
That said and accepted I would like to take this chance to tell you that I cannot praise all the staff (doctors, nurses, technicians, and all the other folk it took to put me back on my feet) enough.
A special thanks to everyone in High Dependency and ward 23 at Ninewells Hospital. I don't know where I would have been without you all.
And a final thought: If you were to collapse in the High Street in town (touch wood that never happens) would you want to hear "Here's a glass of water, we've called an ambulance"or "Can I help here? I'm a doctor/nurse/paramedic?"
From someone who knows, please value our NHS and the ordinary folks who do an amazing and dedicated job covering 24/7 every day.
Mae Stewart.
Broughty Ferry Road,
Dundee.
Credit where it's due (the EU)
Sir, – As we hurtle towards Brexit it was striking to note the Conservative Government herald the fact it has introduced new measures that will protect an extra 10 million UK package holidays a year.
One small problem. This isn't a new law dreamed up by the UK, it's actually an EU law, the Package Travel Regulations 2018. This enacts the EU's 2015 Package Travel Directive.
In the small print, not only does the Government admit it's an EU law, it says it's being introduced with only a "light touch" to "minimise" any change. It was therefore hardly jumping at the chance to implement it.
The regulations will massively extend the definition of "package holidays", meaning millions of people who book breaks online and via mobile, bypassing travel agents, will be protected just like people who walk into a shop.
In addition, money-saving websites that pull together lots of third party deals will now be responsible for the whole holiday if a hotel goes bust – under a new category of agents called "linked travel arrangements".
Of course, this is not the first time EU rules have benefitted us, only for the Conservative Government to then claim the credit for them.
Extra charges for paying by credit card were outlawed from the beginning of this year and the Data Protection Act brings in a string of measures including the "right to be forgotten" and making it easier to withdraw consent for the use of personal data.
So, just as the UK leaves the EU to "free" itself from Brussels, the UK Government is boasting about how those very same laws strengthen rights and protections for workers, consumers, and our environment.
Alex Orr.
Leamington Terrace,
Edinburgh.
Helping bobbies beat the heat
Sir, – I enjoyed your write up on the Ceres Highland Games and was pleased to see the record-breaking crowds enjoying the splendid warm sunny weather.
Spare a thought for the community police officers attending events this summer, however, as they swelter in their heavy uniforms complete with hats and hi-vis unbreathable waistcoats.
Maybe a summer uniform of shorts and baseball caps would help them keep their cool.
Graham Lang.
Westermost,
Ceres.
Cyclists have their own space
Sir, – As a motorist I get very angry at cyclists using our bypass and other roads around the town.
We now have to allow a car's breadth for them and this then leads to a build-up of the traffic behind.
Montrose, more than anywhere else in Angus, has so many cycle tracks and paths, both in and around and also beyond the town.
It makes me wonder if it was worth spending all that money on them when they are so rarely used.
J Clark.
Dunrossie Terrace,
Montrose.
Shared air space makes sense
Sir, – I cannot agree more with the sentiments of Ian Crombie of Cupar (Letters, June 26), who was airing his views on the increase in air travel and congestion around Edinburgh Airport.
RAF Leuchars, now an army base, would be a suitable alternative as an airport with infrastructure, in the form of a rail link, already in place.
The runway is another draw. Before RAF Leuchars was closed as a strategic fighter base, millions were spent on improving the runway for the Typhoon aircraft and a former station commander said Leuchars could take any size of aircraft.
We must remember that Leuchars is still a military base and its runway is retained by the RAF as a diversion option for RAF Lossiemouth, whose Typhoons occasionally practise take-offs and landings, and for aircraft from other UK bases.
In the event of a war, it would not take long for Leuchars to become an operational base once more, depending on the enormity of the conflict.
However, I do remember, many years ago, landing on holiday at an airfield in Italy and, along with the passenger aircraft, noticing American Phantoms which shared the civilian space.
Perhaps it is not unimaginable that passenger aircraft could also share the military space at Leuchars in the event that the increase in air travel and passenger numbers at exisiting airports, such as Edinburgh, becomes overwhelming.
Thomas Brown.
Garry Place,
Bankfoot.
Call to veterans to share stories
Sir, – I am looking to contact any readers of The Courier who served in the Royal Army Medical Corps during the Second World War, or any relatives of these men who may have family archives of letters, diaries and other ephemera.
This is to gather information for a history of the RAMC during the war, due to be published by Pen and Sword next year.
The book will cover organisation and training, service in Africa, Europe and the Far East and the prisoner of war experience.
As yet, no history of the work of the regiment between 1939-45 exists, so this is an opportunity to be included in a piece of work that will break new ground and highlight this hitherto underexplored aspect of the war.
John Broom.
12 Park Avenue,
Penistone,
Sheffield.
Dragging feet on indyref2
Sir, – Leading figures in the SNP are delivering some mixed messages over whether and when Scotland will have to face another independence referendum and all that this would entail.
While some appear keen to see a referendum rerun triggered soon, encouraging activists to get prepared for a big push, recent comments from Andrew Wilson, the chair of the SNP's Growth Commission appear to accept the logic of the Prime Minister's "now is not the time"advice, as he says he does not think "people are quite ready yet".
Meanwhile, our First Minister appears content to let all of us wait until she is ready to make her mind up, with the next update due at some point in the autumn.
Of course the explanation given is that the final terms of the UK Brexit deal need to be known first. Yet we surely already know that Nicola Sturgeon and her colleagues will find any deal unacceptable.
The reality is that the decision to be made will be about what is best for the SNP, including keeping its core support enthused.
Scotland meanwhile continues to be governed by an SNP seeking to impose its will on the rest of us.
Keith Howell.
White Moss,
West Linton.