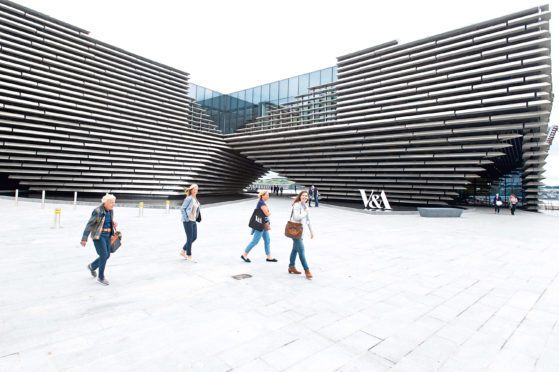 Sir, – I was deeply disappointed to read that protesters are planning to disrupt the festivities for the V&A when it opens in less than two weeks ("Group plans V&A Dundee opening weekend protest", Courier, August 27).
I would have thought that an £80 million museum opening in a city with historic unemployment issues, paying the living wage to all staff and promising to bring in hundreds of thousands of extra visitors a year to the city, would be welcomed by all.
Apparently that is not the case – at least not for the far left who dislike the fact that some of the waterfront regeneration will be based around the service industry.
I can see why anywhere else this could be considered a problem.
However, all waterfront units are being obliged, by the council, to pay the real living wage.
The position of those planning to protest seems to be very much simply a case of "service jobs = bad".
Yet this is to ignore the fact that a city having good restaurants, bars, shops, museums and so on and so forth, brings in further investment.
It also encourages more jobs to the area.
This all contributes toward making it a more attractive place to live and work.
Dundee is right now the envy of the nation.
It is undergoing one of the most ambitious redevelopments in the world.
People need to get on board with these exciting times for Dundee and stop talking our city down.
Jack O'Neil.
17D City Road,
Dundee.
Site spoilt by office block
Sir, – While crossing the bridge from Fife to my city of birth the other day I thought the bright September sunshine was playing tricks with my eyes.
A big rectangle of lego was sticking straight out of the roof of Dundee's great grey hope, the V&A museum.
On closer inspection, however, I realised it was a rectangular office block, determined to dwarf and cancel out the architectural beauty of its rival across the road.
This is vandalism on a par with the destruction inflicted on the city by its own council in the 60s.
If more office space is so desperately required, try converting the once vibrant and very central Keiller Centre.
Or is that too sensible?
Okay, the suits won't have such a great view but the city might just be viewed in a better light from afar.
Duncan Leith.
South Lodge,
Elie Estate.
A small act of courtesy
Sir, – I have followed with surprise the recent series of letters requesting that the famous Red Ensign be flown in Montrose on Merchant Navy Day.
The Courier showed our own Lord Provost Ian Borthwick hoisting a courtesy Red Ensign outside Dundee's City Chambers on the day, and a similar symbolic White Ensign was hoisted there a few years ago to mark the return of the Royal Naval Reserve to Dundee five years after the scandalously short-sighted closure of HMS Camperdown.
These small acts of courtesy and recognition generate much goodwill at minimal cost, whereas it is clear from the Courier's letters that considerable adverse publicity has been generated by the refusal in Montrose.
A Pyrrhic victory is defined as being won at too great a cost to have been worthwhile for the victor.
I suggest this has been a perfect example.
Roderick Stewart.
Dronley House,
Dronley.
Brexit will have painful impact
Sir, – On Saturday, I was at an event, hosted by the Dundee and Angus independence group, where Philippa Whitford MP talked about poverty, health and the effects of Brexit on our Scottish health service.
Philippa Whitford is not only the SNP MP for Central Ayrshire and the shadow SNP spokesperson (health and social care), she is also an eminent breast surgeon and humanitarian who has worked with women suffering from breast cancer in Palestine.
She knows what she is talking about.
What Philippa had to say about how Brexit will affect our health service made for disturbing listening.
In short, it will not be good.
For example, leaving the EU will adversely affect patients' access to medicines and clinical trials.
There will be less collaboration in medical research.
The EU operates systems for the surveillance and early warning of communicable diseases, managed by the European Centre for Disease Prevention and Control, which allows rapid sharing of information and technical expertise in response to potential pandemics and other cross-border health threats.
But the way in which I suspect everyone will notice the devastating effects of Brexit is in the matter of staffing.
Philippa Whitford told us on Saturday that there has been a 90% drop in nursing staff applying to come to the UK from Europe.
Around one in 20 of our doctors come from outside the UK.
If these medical professionals have to leave Scotland because of a Brexit we did not vote for, the effects on our health service will be devastating.
The prospect of life in post-Brexit Scotland is very alarming and the nightmare vision of what our health service will become because of it only makes this message more urgent.
We are shackled to a neighbouring country which seems determined to hurl itself over a cliff.
On Saturday, I heard an analogy of Scotland's situation which seemed to me to be very apt.
As part of the UK and facing Brexit, we are in the boot of Theresa May's car with our mouth taped and our hands tied behind our back.
With independence, we are in the driving seat of our own car. And we will be going where we want to be.
Jane Phillips.
Yewbank Avenue,
Broughty Ferry.
Political reality has changed
Sir, – The headlines and letters pages are constantly filled with nonsense claiming that the appetite for independence is gone and that we made our decision and should therefore live with it – regardless of anything that has happened since our vote four years ago.
I don't know whether to laugh or cry at the screeching from unionists claiming there's no appetite for another referendum when independence marches regularly attract tens of thousands of supporters and membership of pro-independence parties is at an all-time high. These headlines and letters also too often fail to understand that minds can, and obviously have, changed since 2014.
A poll commissioned by "Best for Britain" in late August showed that a majority of people in Scotland would vote for independence following Brexit.
This alone, in my view, says that a second vote should be held.
It is no surprise to see this change at all.
In 2014 the UK Government was guilty of spearheading a campaign of falsehoods and fear – most notably telling us that our position in the EU is only safe as part of the UK.
Look how that is turning out.
Things have changed and it is clear that the people want independence.
It is time to be given another opportunity.
Heather McLean.
8 Ancrum Road,
Dundee.
Remember that no means no
Sir, – I am getting very tired of this pipe dream from Mrs Sturgeon and her SNP friends.
When will they learn that Scotland said "no" in 2014?
Why can't they understand that democracy is accepting it when a choice is made?
Scotland is fed up with this childish behaviour as the SNP try to carry on fighting until they get their own way.
I am fed up hearing that the people of Scotland want this, that or the next thing.
Why does the SNP think it has the right to speak for all the people of Scotland?
They most certainly do not speak on my behalf.
The people of Scotland want to have peace of mind, and no more endless talking about a lost cause that has run its course.
This SNP attitude borders on bullying.
They cannot simply force their will upon the people of Scotland.
I know a lot of people thinking the same way as I do – we are all fed up with this "indyref2" nonsense.
Time to listen to the people of Scotland.
Maaike Cook.
Cash Feus,
Strathmiglo.