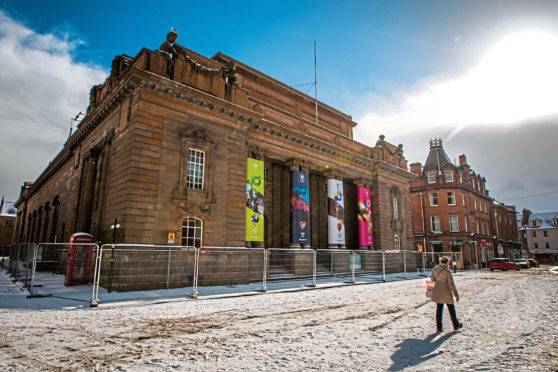 Sir, – I seem to recall that the plan to reuse Perth City Hall as a food market with ancillary social and community activities and benefits was brushed aside by Perth and Kinross Council as they intended to reopen the City Hall as a world-class arts venue.
This they announced with great fanfare.
Now I learn that the City Hall will become a museum, while the existing art gallery and museum will become Perth's art gallery.
So, presumably, existing museum exhibits will be transferred to the revamped City Hall, plus whatever old items still linger in their basement.
Now, I do not recall seeing queues of people waiting patiently to get into the present art gallery and museum.
This caused alarm bells to start tinkling in my head.
Are we merely going to get a municipal museum dressed up as world-class venue? Even if the Stone of Destiny ever makes it to the museum – and that is a big if – I do not really see how the existing collection of museum artefacts would have much more than a local appeal.
Moreover, anyone local who wants to see examples of taxidermy and Roman remains and so on will no doubt have already seen them.
There is so much hype now in the world of museums and art galleries.
Councils and cultural institutions love to build their empires.
Everyone questions the actual benefits for the ordinary taxpayer.
Well, almost everyone.
Robert Booth.
2 Kirkfield Place,
Auchterarder.
Welcome for expansion plan
Sir, – As a native of Bankfoot I was pleased to read that plans have been approved for changes at Taste Perthshire, formally the Perthshire Visitor Centre, with the added attraction of a garden centre (Visitor Centre changes approved, The Courier, September 17).
The centre was my last place of employment before I retired and I retain many happy memories of so many nice people I worked with, both local and from further afield including across Europe.
When I look back at my working life it is interesting to note that all the traditional industries are gone.
These days tourism is without doubt one of the major players.
When I first worked at the visitor centre in Bankfoot it was very much centered on local history.
It has come a very long way since its early origins as a tea room and car museum – it is good for Bankfoot and Perthshire as a whole.
Thomas Brown.
18 Garry Place,
Bankfoot.
Don't believe all the hot air
Sir, – Claims that wind turbines will produce enough energy to power "x" number of homes a year are always suspect.
Is this figure based on working 365 days a year?
Is it all the electricity or enough to boil a kettle?
Claims made on planning applications should be monitored and shortfalls subject to fines.
Scottish politicians are in thrall to the wind lobby but very few of the components were manufactured in Scotland or – heaven forbid – in England, and the labour was mostly foreign.
The downside of wind turbines is never mentioned.
For example, turbine motors need rare-earth metals which are mined in China and which leave villages with ponds of toxic chemicals and radioactive elements.
The industry claims to manufacture green energy but makes no mention of the impact on human health, bird and bat deaths and the CO2 generated from the 1,000 tons of concrete used in every base.
Of course the CO2 incurred in the manufacture of wind turbines abroad is conveniently ignored.
The whole point of wind turbines was to reduce CO2 so why is verification not required?
Clark Cross.
138 Springfield Road,
Linlithgow.
Complexities in voting system
Sir, – The UK voted by quite a slender margin to leave the EU.
However, this was on the back of quite preposterous "porky pies", propagated in a totally unscrupulous campaign, despite which, Scotland voted overwhelmingly to remain.
Scotland is not a region of the UK.
It is a separate country, united to England only by the sleazy Treaty of Union of 1707, whose bonds grow ever more tenuous.
Some 27 countries, (28, if you count Scotland), want to stay in.
What makes the divided view of the country led (or misled), by Westminster so extra special?
Joseph G Miller.
44 Gardeners Street,
Dunfermline.
Implement the people's choice
Sir, – Alister Rankin (Letters, September 18), dissatisfied with relatively undemocratic institutions now ordering our political affairs, is largely right in thus branding the House of Lords, which is supposed to add elder statesmen's (and stateswomen's) mature judgments to improve on the deliberations of the Commons.
He also endorses the republican movement's dissatisfaction with the UK monarchy.
In his previous letter, he had called for a re-run of the EU referendum of 2016 but, if he hopes to enhance our UK democracy, the EU, no exemplar of that, is not at all the solution.
Its unelected bureaucracy, the European Commission – its real policy formulator and enforcer – renders its parliament virtually a mere talking shop, and whose history of calling for repeat referenda until the "right" result is recorded has overturned several nations' democratically-reached verdicts.
Alister Rankin implies that we have too many politicians, with a flavour of arbitrary, relatively undemocratic decisions.
In that, I agree fully and seek to shed the EU's overruling diktats.
Therefore, the British people's choice in 2016 was correct and should be being promptly implemented to enhance our democracy by restoring our sovereignty, so as to end our very unsatisfactory, costly membership of the EU. It is, essentially, an undemocratic, imperialistic protection racket.
Dr Charles Wardrop,
111 Viewlands Road West,
Perth.
Take chance to have your say
Sir, – A planning application has been submitted to Fife Council to build an incinerator on the old Westfield site just across the border from Kinross-shire.
If it goes ahead around 500 HGV's would transport waste along the B9097 which runs past the RSPB sanctuary.
This will not only affect the local residents but the 250,000 visitors to the Loch Leven Heritage Trail.
There are also additional concerns about the problem of adding to greenhouse gases and the potential health impact caused by burning rather than recycling rubbish.
I urge Courier readers to add their voices to those demanding that Fife councillors behave responsibly when making this important and very significant decision.
Elspeth Maclachlan.
122 Dunsinane Drive,
Perth.
Fears over the Tories live on
Sir, – Bryan Poole (Letters, September 13) is of the opinion that a Conservative politician winning a seat in the recent Dalgety Bay and Inverkeithing by-election has laid to rest the ghost of Margaret Thatcher.
However, the Tories' woes in Scotland pre-date the rise of Thatcher.
In actual fact it goes back far further, as the party's policies have been rejected by Scots since 1955. Mrs Thatcher was simply the hammer wielded to bang the final nails in the coffin their Scottish electoral hopes lie in.
She may have left Downing Street for the last time in November 1990, but the physical and psychological scars of her reign live on to this day.
Former Tory Chancellor, Lord Lawson, views Brexit as a historic opportunity to finish her work.
He is not alone.
This is a chilling prospect indeed for the Scottish people.
Already Scots face being dragged out of the EU against their democratic will.
As things stand, Scots remain at the mercy of a Tory establishment which the UN has declared as implementing policies in breach of international human rights.
We don't need the ghost of Mrs Thatcher to frighten us, Mr Poole.
Theresa May and her present band of cut throats are quite scary enough.
Ken Clark.
c/o 15 Thorter Way,
Dundee.