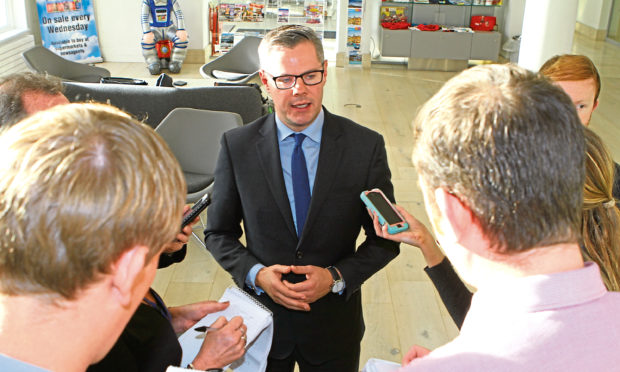 Sir, – I have been employed at Michelin Dundee for 34 years.
We knew there would be reduced production and job losses next year, but closure came as a shock, especially with the level of investment we have seen on site supported by government grants over recent years.
There is no doubt that the market for the size of tyres made in Dundee has collapsed. This is obvious to all employees, due to the changes we have seen recently on the shop floor.
But we have been told the decision was nothing to do with Brexit. Really?
Many UK-based car manufacturers have clearly stated that No-Deal Brexit, with hold ups at borders and ports, will have severe effects on their supply chain.
Why should Michelin Dundee be any different?
Dundee is a tyre assembly plant. All the raw materials are imported into the UK, assembled in Dundee, then mostly exported.
Dundee has a tyre factory owned by a French company, on an island nation which voted that it does not want to be in the EU. To state that Brexit played no part in the closure decision is, at best hard to believe.
The Michelin Task Force is to be lauded for trying to keep some jobs, whatever they may be, on the site, and I wish them well.
Drew Morris.
Lawside Terrace,
Dundee.
Head of State is a veteran too
Sir, – I would like to know how far Alister Rankin, who questioned the Queen's non-participation in the wreath laying ceremony at the Cenotaph on Armistice Day (Letters, November 12), will be able to walk when he is 92, and how able he will be to stand still for half an hour. Her Majesty is our Head of State.
Guy Chappell.
The Old Manse,
Dron.
Black mark against leader
Sir, – We do not always want to see senior male political figures dressed in the familiar black coat. The Remembrance Day service at the Whitehall Cenotaph, however, is one occasion when conservatism in dress is called for as a mark of respect.
Labour leader Jeremy Corbyn's choice of coat and tie on Sunday failed to show that respect to the fallen. Beside Prime Minister Theresa May he was made to look casual, almost dishevelled.
The annual gathering at the Cenotaph is no place to be making personal statements, in the form of dress or any other way. It is a time when gratitude for those who made the ultimate sacrifice should be paramount.
No doubt Mr Corbyn will claim that many paying their respects at ceremonies in cities, towns and villages throughout the country were not all clad in sombre black. Certainly that should not be the final measure of their concern and their sincerity.
He is a man, however, who aspires to lead the country in the not too distant future. He is a man who many at home and throughout the world see as the head of an alternative British government. He should always be careful about the way he presents himself at important public occasions like Armistice Day.
Nearly three decades ago one of his Labour predecessors, Michael Foot, did himself no favours by undue casualness in dress at the gathering. Our public leaders always have a responsibility to project an image which is appropriate to the occasion. Mr Corbyn fell way short of that in his choice of attire last Sunday.
Bob Taylor.
Shiel Court,
Glenrothes.
Discipline deficit matters
Sir, – There appears to be a distinct absence of discipline pervading through the modern society. Politeness and respect are at their lowest level and in particular in schools.
Teachers are subjected to abuse, both verbal and physical, on a daily basis and pupils increasingly seem to be oblivious to the needs of learning and advancing towards a career and maturity.
Thus control in classrooms is at a low ebb with few sanctions available to our teachers. The ban on the belt has only led to a downward spiral in terms of compliance and behaviour and we ask where is its substitute?
Detention is largely frowned upon and the writing of lines can be ignored at will.
In any functioning society parameters are essential, and in the past children knew exactly the lines of demarcation to observe and were content and indeed comfortable functioning within them.
All that has changed and not to the betterment. There is now a trend to banish even simple physical chastisement in the home, which if ignored inevitably will be followed by prosecution, leading to the criminalisation of parents.
It is ever argued that discussion and simple psychology should be used instead and children prevailed upon to behave, but many will choose not to listen and any bad behaviour will continue.
Should this trend not be reversed one can visualise that within a short period of time people may hesitate in pursuing teaching as a career and then where will we be?
David L Thomson.
Laurence Park,
Kinglassie.
Elegy to a gifted churchman
Sir, – Laurence Whitley, who was buried in Montrose this week, was, by a clear margin, the outstanding preacher of my generation in the Church of Scotland.
I was a member of his father's congregation for a number of years in St Giles Cathedral in Edinburgh and Harry was a hard act to follow in the pulpit.
But Laurence was the more gifted orator and his use of the English language in public worship was truly inspirational.
He held the Kirk's other senior charge, Glasgow Cathedral, and the fact that neither was Moderator says a lot about the modern Kirk's priorities.
Rev Dr John Cameron.
Howard Place,
St Andrews.
Anger at outsourcing
Sir, – When waiting for what I considered an unreasonable time for an X-ray result I telephoned the X-ray department to be told by a receptionist that my X-ray was sent to a third party called Medica, a company outsourced by the NHS to report on X-ray results.
At a time of austerity, it is nothing but a scandalous waste of public money for the NHS to be outsourcing basic work to a third party, profit-making company on the stock exchange.
There is no justification for this at all. If the NHS is short of money it is caused by nothing other than bad management.
Gordon Kennedy.
Simpson Square,
Perth.
Bus service not up to scratch
Sir, – Rural communities are often accused of over-reliance on cars but we have no option unless we want to put ourselves into the hands of a bus company who could not care less.
Buses are already a rare sight in Bankfoot and on weekdays there's just one an hour to Perth.
I went to catch the 1.24pm from Bankfoot to Perth last Friday and stood in the freezing cold for 20 minutes before phoning Stagecoach.
I was told the service had been dropped because it was already 25 minutes late getting out of Perth due to roadworks. There was no mention of this on their website.
I asked to make a formal complaint and was told "you just have". I said I wanted a formal record and response. I was told "you've had one" but "I can email the reasons to you". I left my email address and of course have not received any email.
This is far from good enough. I'd suggest that at the rate of one an hour then it's key that the bus actually shows up. Disruption in Perth isn't an acceptable excuse. Plans should have been made to go around it or run a service from Inveralmond. I was 25 minutes late for my meeting and £20 worse off as I had to call a cab.
Stagecoach here are unaccountable and if they don't record complaints they never will be. This has all the hallmarks of a dominant company, unchallenged by competition, who don't give a damn. It's time they were reminded of their key role in relation to remote communities and time people spoke up or rather were listened to.
We hear a lot about on-time statistics for trains; why don't Perth and Kinross Council track the performance of our sole bus provider?
Graham Miller.
Cairneyhill Road,
Bankfoot.