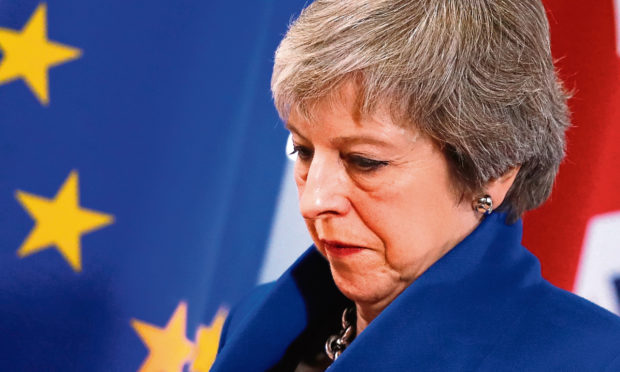 Madam, – The catastrophic handling of Brexit highlights to what extent our political process is now mired in the mud.
Ms May has suffered no fewer than 27 Commons defeats as prime minister.
Ten of them are in connection with Brexit.
In no previous era of British politics could such a calamitous prime minister have survived such a weight of defeats, including the humiliating historic loss she recently suffered over the Withdrawal Agreement.
In the past, losing a vote of confidence on a key piece of legislation was considered sufficient to stand down.
For example, having split his party over the Corn Laws in 1846, Robert Peel resigned as prime minister after the defeat of his Irish Coercion Bill.
Gladstone was also forced to resign in 1885, again after a defeat on the Irish issue.
In terms of the modern era, four prime ministers have resigned and four stepped down on alleged grounds of ill-health.
Indeed, two prime ministers quit office after winning key votes because their margins of victory made them seem like moral defeats.
Neville Chamberlain resigned in May 1940, despite having won the division on the disastrous Norway campaign, and Margaret Thatcher famously resigned despite her victory over Michael Heseltine in the first round of a Conservative Party leadership contest.
Realising the game was up, even David Cameron resigned after losing the Brexit referendum.
It is a damning indictment of Ms May and her party that she can even contemplate staying in office.
The French philosopher and diplomat Joseph de Maistre famously said, "in a democracy people get the leaders they deserve".
I disagree, we deserve so much better than this humiliating shambles.
Alex Orr,
Flat 3, 2 Marchmont Road,
Edinburgh.
Better being in EU than at war
Madam, – Nicola Sturgeon, Jeremy Corbyn and Richard Leonard are, in my view, decent people who really do want to make our society a better place.
They do not want a No Deal Brexit, do you?
The villains in this total fiasco are, in my opinion, David Cameron whose political cowardice led us to this debacle, David Davis who spent two years achieving nothing and others like Johnson, Rees-Mogg, Cash, Duncan Smith, Leadsom, Redwood, Villiers, Grayling, Whittingdale, Fox and Gove, a Scotsman who will do and say anything to stay in his post.
We are the generation who allowed this disaster. I am 82. How can we look anyone under the age of 50 in the face?
I have been a Labour Party activist since 1965 and am a member of the reformed East Neuk and Landward Branch Labour Party.
In the referendum I voted to remain.
I have problems with some practices within the EU, however, it is much better than being at war with some of our European neighbours.
To leave without some sort of a deal could make us a vassal of the USA.
In the 1970 referendum I voted against joining (Europe), the rest voted two-to-one in favour.
Memory for some is a problem, with a recent poll finding 66% said they voted against back then!
Bill Ledger,
43 Dreelside,
Anstruther, Fife.
Hjul mantra falls on deaf ears
Madam, – Once again I read with the usual predictability, the views of Ms Jenny Hjul, the self appointed Tory cheer leader and scourge of the SNP (May's talks with Sturgeon an exercise in futility, Courier, January 23). She once again is more concerned with criticising the SNP and what it stands for than objectively dissecting the coming Brexit disaster.
May I identify a number of home truths.
The independence referendum No campaign of 2014 was based on prevarication and untruths of a Better Together campaign based on project fear.
The No vote was won by almost 200,000 votes, which would require a swing of 2.5% to 3% to achieve independence.
Hardly an impossible target. Since then the SNP has remained in government in Scotland, is the biggest Scottish party in Westminster and attracts a solid 45% to 47% of the Scottish electorate.
Clearly the constant negatives Ms Hjul raises about the SNP are falling on deaf ears when it comes to elections.
Perhaps many see the progressive policies of the SNP as the way forward for our country as opposed to those of the Conservatives.
Scotland as a social democracy is developing fast and is the type of country many of us hope for now and in the future.
Dan Wood,
Charles Melvin Gardens,
Kirriemuir.
Brass neck of first minister
Madam, – Having read Nicola Sturgeon's comments about Jacob Rees-Mogg and Teresa May ignoring the will of the people, I can only admire the brass neck of the woman who wants to have endless referendums until she gets the result she craves.
Bob Duncan,
110 Caesar Avenue,
Carnoustie.
Put rail cash to better use
Madam, – John Munro (End of line for new rail plans, Courier, January 19) is right – there is no valid case for building new railways.
In the same edition the appalling situation with respect to dental health among Dundee children was described.
Whether it is any better in the rest of Tayside is doubtful.
Surely the money needed to build, maintain and operate new railways would better be spent on employing more dentists and supplying free toothbrushes and toothpaste to those who cannot afford them?
In his letter (Rejuvenating our railways, Courier, January 14), Steve Pegg suggests the old railway which linked Brechin with the former main line between Forfar and Aberdeen be restored.
Since the tracks still exist he thinks such could be done for less than the £18 million estimated by Network Rail.
If it was £14m that would be around £6,000 for each household in Brechin. I am sure most of those would much prefer that the money be spent in other ways.
That sum would repair most potholes and buy many toothbrushes.
The odd thing is that the old main line tracks have been dismantled.
What then would be the purpose of restoring the branch and how could the coaches needed be moved to it?
Alan Mathieson,
276 Glasgow Road,
Perth.
Discovering if you have work
Madam, – It is highly unusual for me to agree with any politician from any party having been disappointed too many times over the years.
However I must agree with Jenny Marra MSP when she states unemployment in Dundee is worsening week to week (Privilege to find work in our city, claims MSP), Courier, January 17.
The City of Discovery has a world class museum, five star hotels and not enough council staff to keep the streets clean or to empty the bins.
The City of Discovery is a place where charity shops are gradually filling spaces vacated by renowned merchants.
The City of Discovery is where every type of manufacturing industry has left year after year.
For the citizens of this city it is indeed a discovery each day.
Sadly it is to find out if they are still employed or not.
William Duthie,
25 St Fillans Road,
Dundee.