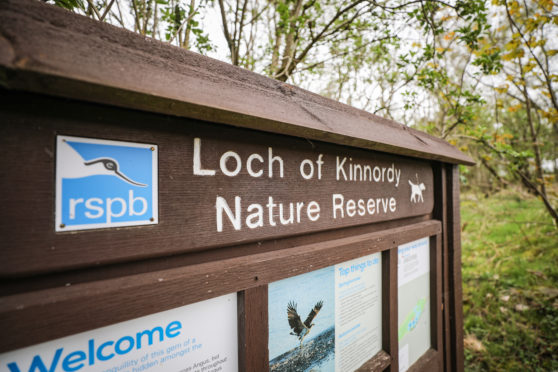 Madam, – I write concerning the RSPB reserve at Kinnordy Loch, which most people will relate to horrific events of recent times.
Thankfully it is a different matter that concerns me.
The reserve is a wonderful asset on Kirriemuir's doorstep, with easy access via the footpath network.
People of all ages and abilities – from bairns in pushchairs to the elderly – used to enjoy this asset.
But, not for the first time, this has been put in jeopardy by the action of beavers. The paths are flooded and muddy.
Parents no longer take their children, dog walkers don't take their dogs and cyclists and joggers stay away.
I have talked to the RSPB, Kinnordy Estates and Angus Council but no action is forthcoming.
It is more a footbath network than a footpath network.
Surely the parties mentioned and Scottish Natural Heritage should get together and sort this matter out. Hopefully the people of Kirrie can once again enjoy the wonderful asset of Kinnordy Loch.
With Brexit looming large, we might negotiate the return of the beavers to the European Continent.
GA Milne.
69 Prosen Road,
Kirriemuir.
Bus link cut will hit Windygates
Madam, – The proposal by Stagecoach to remove the weekday and Saturday 41 service, has been put forward as being acceptable, in order to run an extended service using the current X58 which serves Leven to Kirkcaldy and Edinburgh along the coastal route.
The removal of the 41 service will pay for the X58 service being extended from Leven, via Kennoway and Cupar to Dundee.
This proposal will effectively cut off Windygates from any direct links to Kirkcaldy, a service that has existed for decades.
The removal of this service will greatly impinge on the elderly or infirm population who will be forced to undertake two bus journeys to travel to Kirkcaldy.
Residents will also be directly affected in the additional time taken to travel to their place of work, further education or, indeed, Victoria Hospital in Kirkcaldy.
Currently the 41 service stops at Victoria hospital main entrance in less than 20 minutes from Windygates.
The X58 does not, thereby forcing passengers to use a slower route and, catch another service from Kirkcaldy Bus Station to reach the hospital.
Stagecoach have stated that Cameron hospital will still be served by one local bus service running between Leven and Glenrothes however, there will be no direct service between Kirkcaldy and Cameron hospital.
In a world where rural services are on the decline this is another example of putting profit before customer service, which, will also force commuters to use car travel as the most efficient alternative.
John D. McVicar.
4 Cameron Crescent,
Windygates,
Fife.
Credit where it is due on Madras
Madam, – Everyone who has followed the decades-long saga of a replacement for the Madras College site must be delighted at today's front page news (Building of £50m school to begin, Courier, June 28).
The desire to have a single-site campus was a stated ambition even when I attended the school, nearly 40 years ago.
Your report quotes local MP Stephen Gethins congratulating Fife Council, St Andrews University and Parent Voice for turning the ambition for the new school into reality.
To that list I would add former Rector Lindsay Matheson and his teaching colleagues who campaigned against the original site selected, Pipeland.
They stuck their heads above the parapet and got a lot of stick for doing so.
At the very least they bought some time for a better long-term decision to be reached at Langlands, not just the most convenient or expedient one.
Jamie Gardner.
101 Innerbridge Street,
Guardbridge,
Fife.
Not convinced by excuse
Madam, – It was interesting to note that at Armed Forces Day, the Tory-led Angus Council "forgot" to invite Graeme Dey, the Veterans Minister and local SNP MSP, and North Angus SNP MSP Marie Gougeon but made sure an invite went to Angus Conservative MP Kirstene Hair.
They now claim it to be an administrative error due to a council employee being on holiday.
Aye right.
Graham Smith,
Charles Avenue,
Arbroath.
NHS is not a free world service
Madam, – At the British Medical Association's annual conference in Belfast doctors voted to stop charging foreign patients, who are ineligible for free NHS care, since medical staff would be "complicit in racism".
It is not racism.
It is common sense since health tourism costs up to £2 billion a year.
The NHS is a UK health service not a world health service.
The solution is simple.
All visitors to the UK must have private health insurance or be refused entry.
If someone slips through the net then their country should pay or it should be deducted from their foreign aid settlement.
Individuals refusing to pay should be jailed and their family pay for their release.
Politicians must warn doctors that this stupid idea will never happen.
Clark Cross.
138 Springfield Road,
Linlithgow.
Feeding hungry is the priority
Madam, – Your editorial (Poverty conundrum for modern Scotland, Courier, June 27) reflects on poverty in Scotland.
While grandiose and sometimes weird plans to avoid the distant possibility of climate change attract funding, people in Scotland are going hungry.
There is always money for these schemes, but not for people who clearly need help now.
Could someone in government please explain the logic of this.
Malcolm Parkin.
15 Gamekeepers Road,
Kinnesswood,
Kinross.
Writers need to go on holiday
Madam, – It doesn't appear to matter which newspaper you purchase.
One thing they all have in common is letters from Messrs Redfern, Howell and Stephenson.
Are they sitting in a dark room somewhere in Conservative offices churning out Brit/Nat propaganda by the barrow load then sending it out?
I often wonder if these three Brit/Nats need a holiday or maybe a hobby to get out of the dark room sometimes.
I secretly admit to reading them at times, as they do make me laugh.
Bryan Auchterlonie.
Bluebell Cottage,
Perth.
Bakers serving up tasty treats
Madam, – How fortunate we are in Courier Country to have so many quality bakers.
They have to be congratulated for producing such delicious bakery products.
Their customers enjoy their favourites and this ensures they will be back for more.
I was a baker for many years and know the hard work that bakers do, from early morning starts to night shifts.
Thomas Michie.
93 Main Street,
Kinglassie,
Fife.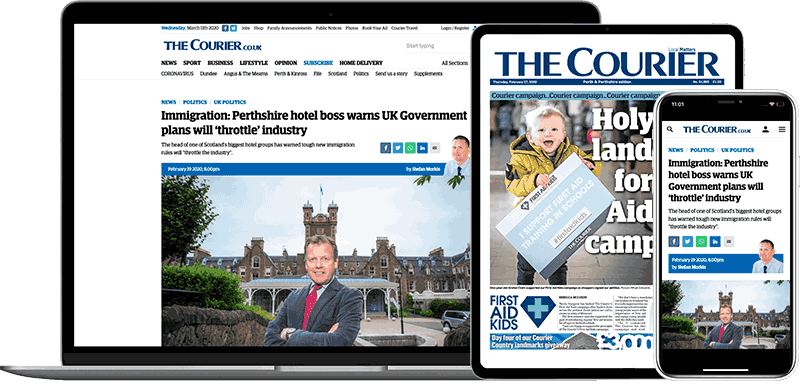 Help support quality local journalism … become a digital subscriber to The Courier
For as little as £5.99 a month you can access all of our content, including Premium articles.
Subscribe