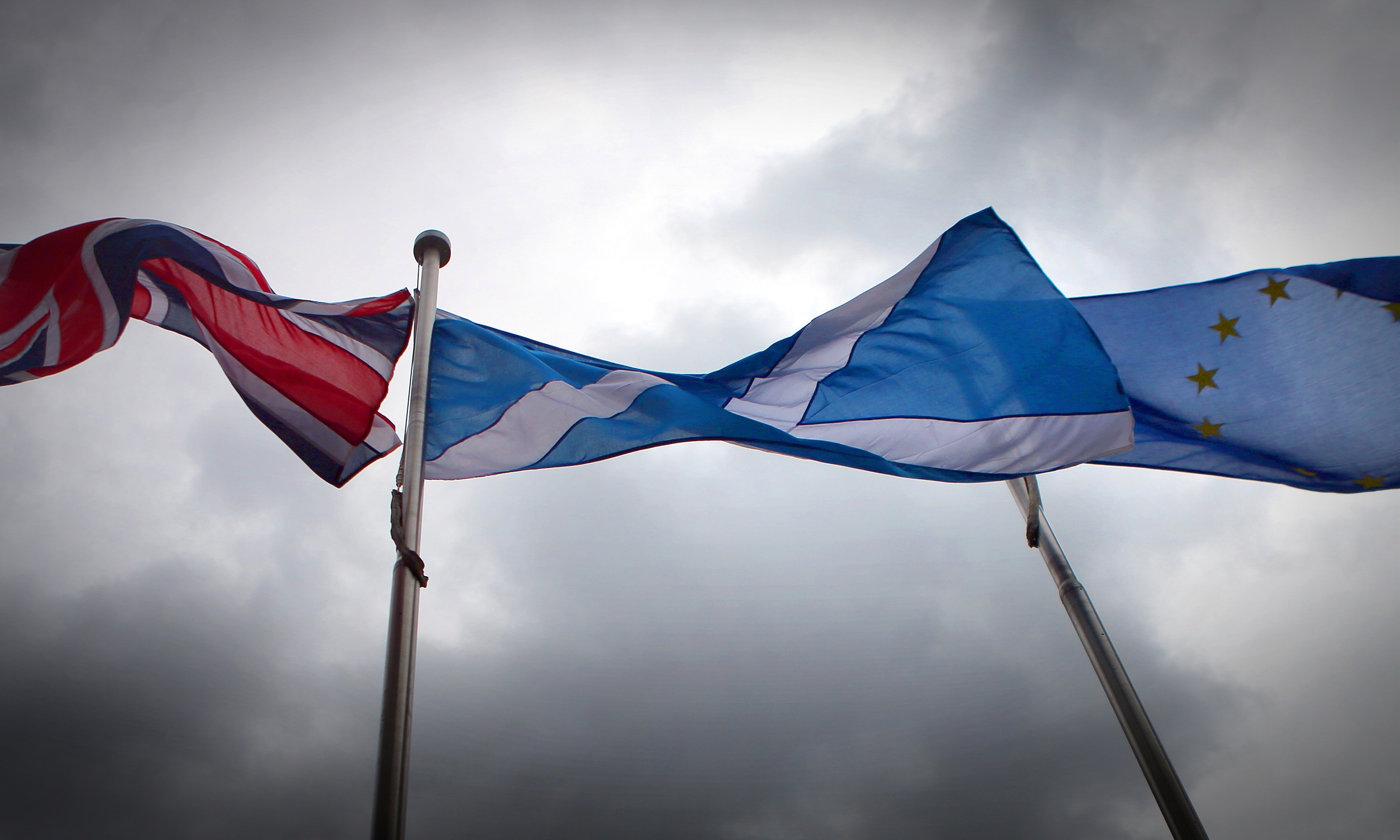 Madam, – I voted Remain, accepted the result, buried my concerns about Boris for a few weeks and still hope he'll sort things out.
I voted no in 2014, haven't changed my mind one iota and spend many hours a week campaigning to get our UK and Scottish politicians to unite to rid Scotland of this grim nationalist cult that is trying to bully, con, fantasise and Brexitise us out of the UK.
Scotland remaining in the UK is a thousand times more important to me than the UK leaving the EU and I will vote for any party or combination of parties that has the arguments and energy to achieve that, most importantly by winning the 2021 Holyrood election.
The tragedy of all this Brexit and Scexit turmoil is neither will solve the basic disasters facing my country.
The scandalous decline in education and the disadvantage it bequeaths the next generation when it comes to competing in a world where prosperity will depend on knowledge, skills and perseverance, our self inflicted poor health that shackles the NHS and limits many from putting their all into work and family life, the lack of good cheap housing that would enable families to thrive, and the looming crisis where provision of decent old age care will be out of reach of the majority and rob hard workers of their houses and savings.
The powers to fix this are all "devolved" powers in Westminster and Holyrood, almost nothing to do with Brussels.
The UK Government has been immersed in Brexit and diverted from these issues for four years now.
The nationalist government here has been happily, studiously, embroiled in Scexit for the past eight years and only last week a bitterly fought freedom of expression inquiry finally exposed the scale of the effort and its ongoing destruction of day-to-day and strategic public administration in Scotland.
Like everyone in the country, whether they admit it or not, I don't know the answer to the Brexit question other than swallowing our pride and staying in, or accepting the backstop and agreeing to the May deal.
I do know, however, that once it is solved the SNP's duplicity, incompetence and lack of vision or plan for Scexit will come into sharp focus.
As will the Scottish opposition's ability and desire to hold them to account and produce the policies and willingness to work together to get them voted out of Holyrood in 2021.
Allan Sutherland.
1 Willow Row,
Stonehaven.
Flocking to Johnson's side
Madam, – At the beginning of September I asked in a letter "what on earth is going on in the Tory Party in Scotland?"
The answer is now only too clear.
After Little Bo Peep left her sheep they followed a woolly minded ram due south to London where they threw in their lot with with a morally bankrupt shepherd.
Jackson Carlaw has done a complete U-turn on everything the Scottish branch claimed to stand for when he promised not to oppose a October 31 Brexit, even if it means a 'no deal' scenario, which would be ruinous for Scotland.
In an interview he simply shrugged when asked why a no deal was acceptable.
He obviously sees it as irrelevant that, in the referendum, two thirds of Scots voted against Brexit in any form, or that four of the six Scottish MEPs elected at the last European election represent anti-Brexit parties.
He is also vehemently opposed to a second Brexit referendum which would, according to all recent polls, show an even greater Scottish rejection of Brexit.
Add the slavish support of all 13 Scottish Tory MPs for Johnson's aggressive, mysogynistic and xenophobic blustering in the House of Commons to Carlaw's actions and you see a significant Scottish Tory swing to the right from the position which Davidson attempted to portray at Holyrood.
It is well known that many of the far right Brexiteers would also like to see an end to the Scottish and Welsh parliaments, which would put Carlaw out of a job.
Perhaps in Johnson's resignation honours list, hopefully soon, we will see a peerage for Lord Carlaw of North Britain. Nothing is too ridiculous for words in the machinations of the current government.
Ken Guild.
76 Brown Street,
Broughty Ferry.
Indy question was agreed
Madam, – Having read Keith Howell's latest attack on Scotland and its institutions (SNP working on own constitutional crisis, Courier, September 28).
At least he now appears to be admitting there will be a second referendum as he now no longer writes about opposing it and has shifted his stance to conservative manipulation of the question.
He also appears to have forgotten it was the electoral commission that came up with the referendum question in 2014 and all agreed.
What has changed? Are you now afraid you may lose if people are asked again after watching the far right aggressive behaviour of the Tory Party.
Bryan Auchterlonie.
Bluebell Cottage,
Perth.
Time for new political debate
Madam, – I used to refer to myself as a socialist but now feel I'm limiting my outlook.
The rise of Woke and the group identity shamers makes me want to be an individual more than ever. Left and right have had their day.
Let's look at whether ideas are good or not, no matter which side of the political spectrum they come from.
I want a new kind of political discussion in an independent democracy of Scotland.
Mark Harper.
22 Fitzroy Street,
Dysart.
Minefield ban unsuccessful
Madam, – Why do these royals dress up in protection suits and stroll through a part of a cleared minefield with the cameras on them?
Their efforts have not been successful, as people still use them, including the USA, who refused to ban them.
Alister Rankin.
93, Whyterose Terrace,
Methil.
Thinking first and acting later
Madam, – So Scotland's claim to lead the world on the pricing of alcohol has boiled down to this – a drop in consumption of just half a pint of beer per week per person!
What that really means is that alcoholics are getting the additional money from somewhere to maintain their usual level of alcohol intake.
Perhaps unsurprisingly, over the same period, Scotland's crime figures have gone up by about 10%.
Is that some sort of coincidence or is this a knock-on effect that was not foreseen by the Scottish parliamentarians who voted to raise the minimum price of alcohol?
I note the possibility of taxing alcohol sales at functions like fetes and bazaars is also now being discussed by some MSPs.
The amount of foresight employed reminds me that the above regulations were brought into being by the same people who considered taxing workplace parking spaces, as well as having a named person made responsible to the state for the good running of each family with children.
Perhaps some day our politicians will learn to think first and act later.
Archibald A. Lawrie.
5 Church Wynd,
Kingskettle.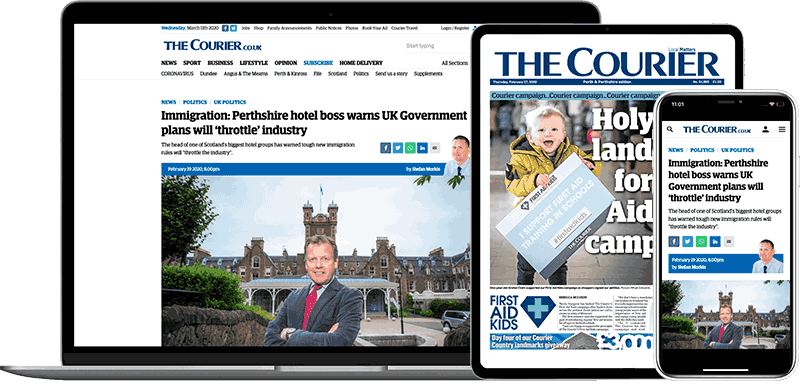 Help support quality local journalism … become a digital subscriber to The Courier
For as little as £5.99 a month you can access all of our content, including Premium articles.
Subscribe