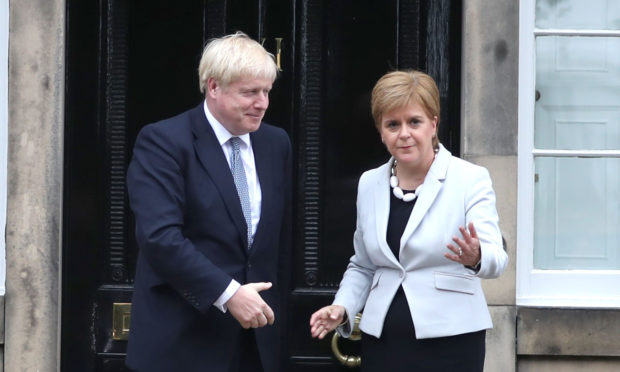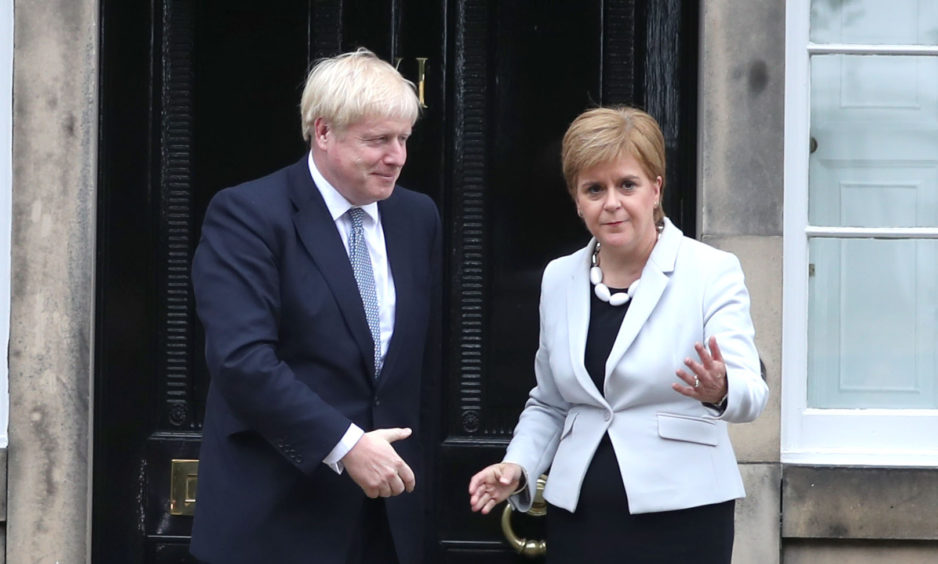 Madam, – Insults, abuse and contempt have been thrown at her by Boris Johnson and the Tories.
Yet Nicola Sturgeon still says that there can be cordial relations with Westminster.
Day after day she insists on acting as a supplicant begging the Tories' goodwill for a Section 30 order to hold a new independence plebiscite.
Such niceties bind the independence movement in a strait jacket.
Westminster is a ruthless colonial power.
They are exploiters who have never been bound by morality or legality.
This begs the question just how much more evidence of this the first minister actually needs.
It's simply not possible to have normal relations with the Westminster gangster state.
It would seem Nicola Sturgeon is incapable of recognising these obvious facts.
The humiliations of accepting the supremacy of Boris Johnson simply encourages more humiliations. These will worsen and all the first minister will do is meekly complain.
There is no reason whatsoever for this fear of Westminster.
The Tories are a morally bankrupt, despised and weak entity.
Boris Johnson has been humiliated by Ireland over Brexit.
There is no reason for Holyrood not to do the same.
This can be done by holding a referendum and a campaign of non-violent resistance against Westminster.
Nicola Sturgeon unfortunately is incapable of doing this.
Her strategy has failed and she should step aside.
Alan Hinnrichs.
2 Gillespie Terrace,
Dundee.
SNP's tactics are not new
Madam, – It somewhat amused me to read that Kirstene Hair was decrying a political tactic by the SNP to do a deal to improve its independence prospects (Tory MP Hair claims SNP want Marxist as PM for independence, Courier, October 7).
Not so long ago her erstwhile leader Theresa May called a snap general election to establish a working majority in parliament.
She ended up bribing the DUP to keep her party in control of proceedings.
It was alleged that a link up with Jeremy Corbyn merely to further the possibility of Scottish independence would be tantamount to selling Scottish unionists down the river and, to introduce an element of scaremongering, the word Marxist was added to the narrative.
This tactic has long been used to convince UK voters that left wing extremists are more dangerous than right wing extremists.
However, should Scotland ever achieve independent status and the opportunity to run its own affairs, it would soon become apparent to Kirstene Hair and her ilk that all this time it has been the unionists and not the Scottish public in general that have been holding Scotland back and perhaps kill off, once and for all, the propaganda lie that England subsidises the Scottish economy.
Allan A. MacDougall.
37 Forth Park,
Bridge of Allan.
Demand is clear and obvious
Madam, – My wife and I attended the march for independence in Edinburgh.
It was a march, as reported by the BBC, of 200,000 people, of all ages, from every corner of the country, walking for over two and a half hours, on a dreich day.
They were there to demonstrate their desire for Scotland to be, as is normal in almost every country in the world, in control of its own destiny.
This would, by my not infallible arithmetical calculation, be equivalent to about 2.5 million UK citizens marching through central London.
But of course there is no demand for another Scottish independence referendum.
Les Mackay.
5 Carmichael Gardens,
Dundee.
Thunberg view is not universal
Madam, – Lost amid the sound and fury of Greta Thunberg's rant at the UN Global Climate Summit were 500 international scientists sending a very different message: "There is no climate emergency."
The European Climate Declaration described the leading climate models as "wholly inadequate" and urged UN Secretary-General Antonio Guterres to pursue a climate policy based on "sound science."
The number of international heavyweights belie the fatuous contention that only 3% oppose the climate-catastrophe "consensus".
They argue: "Current climate policies pointlessly undermine the economic system, inhibit the fight against poverty and put lives at risk in nations denied access to affordable, reliable electrical energy."
Dr John Cameron.
10 Howard Place,
St Andrews.
Green tax on entertainers
Madam, – Ed Sheeran's company has made a gross profit of nearly £62 million over the last three years.
He recently completed his two-and-a-half year world-wide Divide tour which took in more than £600 million.
The emissions created by this tour and those attending were obviously huge and when you add in all the other bands, film stars and celebrity gatherings which create huge emissions worldwide I question why are these gatherings not charged green taxes?
Motorists and energy users pay green taxes, so why not the entertainment industry?
The tax raised should then be used to reduce UK energy bills.
This approach would be better that green taxing our manufacturing and industrial companies out of business and creating unemployment.
Clark Cross.
138 Springfield Road,
Linlithgow.
Mess over mesh needs attention
Madam, – Mesh implants can lead to the most horrendous pain and disability.
Back in March, the issue of the Scottish Government declining highly specialised gynaecologist Dr Veronikis' invitation to come to Scotland to remove mesh implants and to train other doctors in his techniques was discussed in Holyrood.
Closing off the debate, Jeane Freeman said it was not within her remit to invite him as she is not a clinician.
All well and good, but all the time the powers that be have been prevaricating, women and men in Scotland have been left in great discomfort and Dr Veronikis has now withdrawn his offer.
Perhaps Ms Freeman could add this to the list of issues she needs to deal with on top of the infections at Glasgow's superhospital, the decision not to re-open the children's ward in Livingston and the debacle that is the new Sick Kids in Edinburgh.
Jane Lax.
Craigellachie,
Aberlour.
Social housing tackles poverty
Madam, –This week's report from the Joseph Rowntree Foundation is an important reminder of the powerful role social housing plays in reducing poverty.
JRF's researchers have found that Scotland's already high levels of poverty would be as bad as the rest of the UK but for our slightly higher levels of social housing.
A quarter of children are already living in poverty in Scotland, and our housing emergency is partly responsible.
If we want to lift children out of poverty we must keep up momentum and build even more social homes.
Graeme Brown.
Director,
Shelter Scotland.