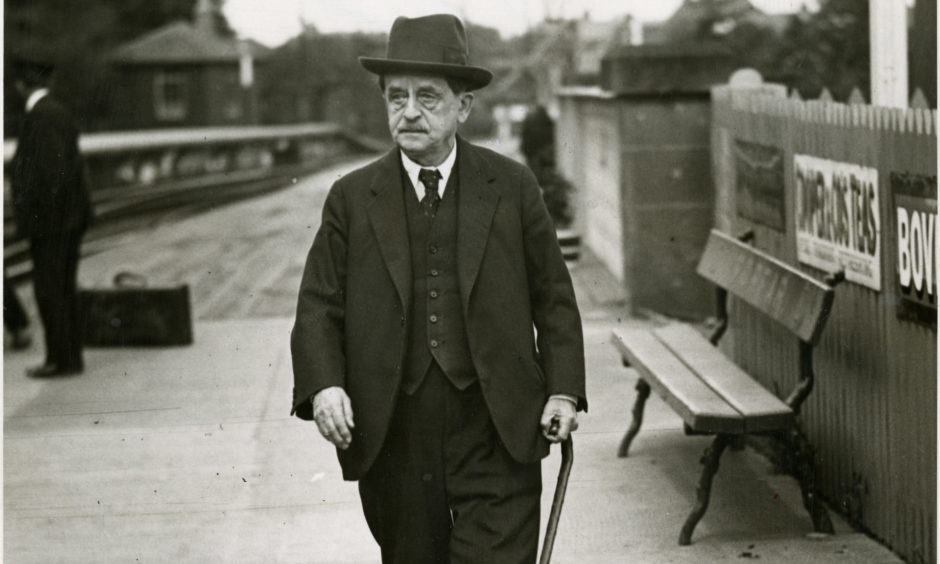 Kirriemuir-born JM Barrie is one of Scotland's greatest novelists and dramatists and fondly remembered by many as the creator of Peter Pan.
As the 160th anniversary of Barrie's birth approaches on May 9, we look back at his life and legacy…
James Matthew Barrie
---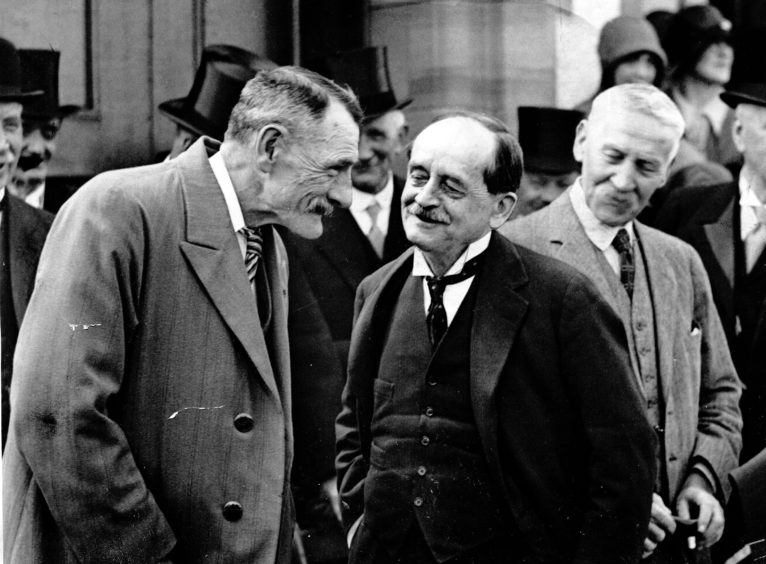 Born in a cottage at 9 Brechin Road on May 9 1860, Barrie was the ninth child of a hand-loom weaver.
Weak and short in stature as a result of a childhood fraught with poverty, Barrie longed for a life of adventure.
Tragically, when Barrie, fondly known as Jamie (James Matthew Barrie), was six years old, his older brother David died after cracking his skull in an ice-skating accident.
It was the night before David, who was the apple of his mother's eye, was to celebrate his 14th birthday.
His mother never recovered from the loss of her son, whom Barrie perceived to be the favourite and whose place in his mother's affections he strove to replace.
In a desperate attempt to heal her broken heart, Barrie would tiptoe into her darkened bedroom, dressed in his brother's clothes, and whistle exactly as David had done.
The death left a huge scar on Barrie and perhaps, somewhere deep down, he became convinced that leaving childhood was life's greatest catastrophe. So he invented a story about a boy who stayed a boy for ever – Peter Pan.
Critics suggest Barrie's focus on feminine identity, immortality, exile and the otherworldly in his fiction was the result of his fractured relationship with his mother and his early experiences of death.
"Barrie was only six at the time of David's death and any family who has lost a child knows what a devastating effect that can have," reflects Sandra Affleck, an honorary life member of Kirriemuir Heritage Trust.
"Time stands still. Life goes into slow motion and the image you have of the person stays the same forever.
"The child who has died never gets to grow up. David Barrie never got to grow up."
Telling stories
Barrie was a small child – a 1934 passport application shows he only grew to 5ft 3in – and he drew attention to himself by telling stories.
Encouraged by his mother, he began turning his stories into plays, performed in the family's wash house – the very first Wendy House.
When Barrie's father found a job as chief clerk in Kirrie's dairy works, the family left the cottage, and after a brief spell in Forfar, moved to Strathview, a large house overlooking a linen factory.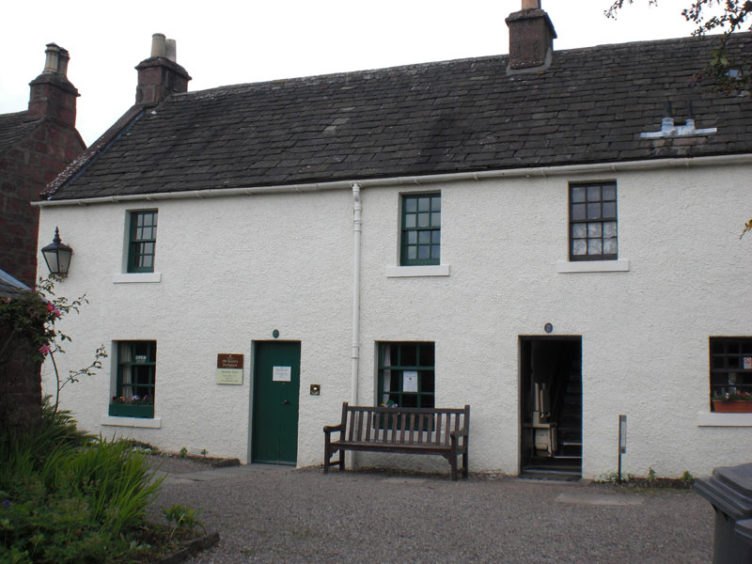 Aged eight, Barrie was sent to the Glasgow Academy, in the care of his eldest siblings Alexander and Mary Ann, who taught at the school.
He returned to Forfar Academy aged 10 and then at 14, left for Dumfries Academy, again under the watch of his brother and sister.
He became a voracious reader, and was fond of penny dreadfuls and the works of Robert Michael Ballantyne and James Fenimore Cooper.
In Dumfries, he and his friends spent time in the gardens of the grand Georgian house at Moat Brae, playing pirates.
His first play, written and performed when he was 17, was called Bandelero the Bandit and his first work of fiction was a "log book" of the games he played in the "enchanted land" at Moat Brae.
In later years, Barrie would describe this time – between 1873 and 1873 – as "probably the happiest" in his life.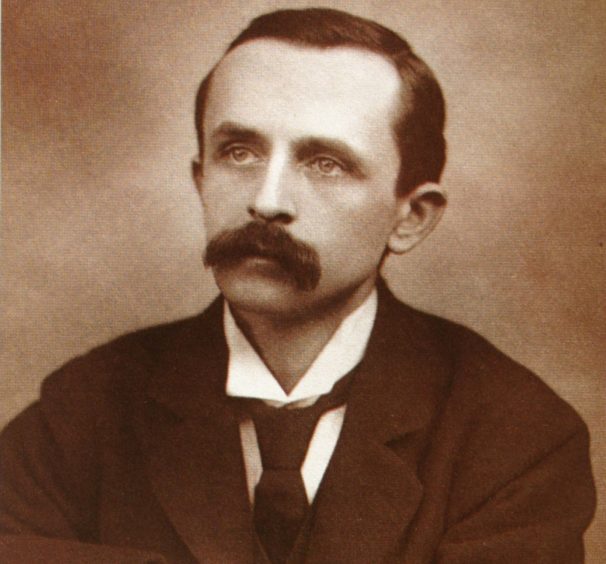 On leaving school, he went to Edinburgh University and while a student, wrote theatrical reviews for the Edinburgh Evening Courant.
After graduating in 1882, he moved to London to work as a journalist and pursue his literary ambitions.
His first novel, Better Dead, was published in 1887 although it was never much admired. After some success with fiction that dramatised the lives of rural populations in western Scotland, he began writing "proper" plays in the 1890s.
Auld Licht Idylls, a series of 12 sketches of life in Thrums and Glen Quharity, published in 1888, was a great success.
Throughout his life, Barrie would often return to Kirriemuir. It was his childhood home and it provided him with inspiration for the stories which first brought him fame and fortune.
One of his books, A Window in Thrums, published in 1889, featured a weaver's wife who would gaze from the top window of her cottage, hoping to catch sight of her son returning home from London. This cottage sits at the junctions of Glamis Road and Forfar Road in Kirriemuir (which Barrie immortalised in the fictional setting of Thrums) and can be seen today.
Meanwhile, Barrie's 1902 regency romcom play Quality Street is immortalised in a the famous chocolate box selection.
"All the world is made of faith, and trust, and pixie dust"
The actress Mary Ansell became acquainted with Barrie in 1891 when she played a role in his play Walker, London.
They married in Kirriemuir on July 9 1894. The wedding was a small ceremony in his parents' home.
However, in 1908, Mary had an affair with Gilbert Cannan, a young actor.
Sensationally, for the time, they were divorced in October 1909.
---
The Llewelyn Davies boys
Barrie credited five young brothers with inspiring the story of Peter Pan: George, John (Jack), Peter, Michael, and Nicholas (Nico) Llewelyn Davies.
He became acquainted with the boys in 1897 when he stumbled upon George, aged five and Jack, aged four, accompanied by their nurse and their newborn baby brother, Peter, while walking his St Bernard dog in London's Kensington Gardens.
The brothers were sons of Sylvia Llewelyn Davies. She was from the literary Du Maurier family (novelist Daphne is its most famous member) and her brother was the actor Gerald Du Maurier, who would twirl his moustache like Captain Hook in the original Peter Pan.
Barrie started seeing them daily and became a firm friend, taking holidays with the Llewelyn Davies family for years.
He and the boys together invented Neverland, Tinkerbell, Nana the dog, the Lost Boys and the crocodile with the ticking clock. They had wonderful adventures and Barrie, known as Uncle Jim, became part of the family.
He had found what he had been looking for all his life – a happy mother and a brood of boys he could call his own.
However, tragedy struck the family in 1907 when the boys' father Arthur died of bone cancer.
Barrie, a close friend of their mother Sylvia – some say he was infatuated – provided financial support for the family and became a guardian of the boys.
Three years later, Sylvia died after developing cancer at which point Barrie, who was extremely wealthy, took primary responsibility for the children until they were independent.
Then in 1915, the oldest of the boys, George, was killed in action aged 21.
Misfortune struck again when Michael, who is considered to have been the biggest influence in the creation of Peter Pan's character, drowned along with a close friend at Oxford University in 1921.
Barrie was deeply affected by the event and wrote that Michael's death "was in a way the end of me."
John died in 1959, at the age of 65. And Peter, who was plagued by his lifelong identification as "the real Peter Pan", threw himself under a train in 1960.
The youngest brother, Nico, died in 1980, aged 77.
---
Peter Pan
The character of Peter Pan first appeared in Barrie's 1902 novel The Little White Bird in the chapter entitled Peter Pan in Kensington Gardens.
Then, in 1904, the tale was performed on stage in New York and London, and was a huge success.
Spurred on, Barrie penned the full novel, Peter and Wendy (also known as Peter Pan, or The Boy Who Wouldn't Grow Up) in 1911.
The story is the classic tale of the child who doesn't want to grow up and Barrie clearly felt that it was, in part, the condition of humanity to feel always in exile from the innocence and freedoms of childhood.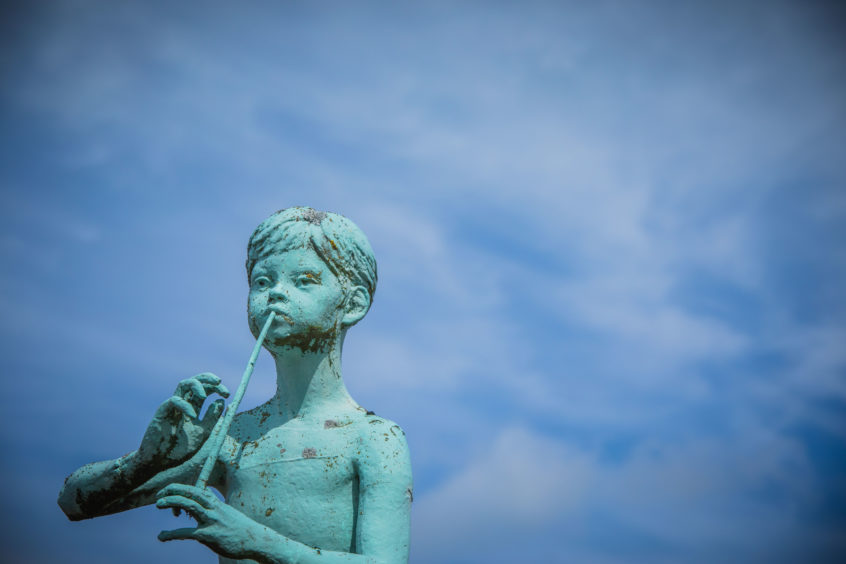 Both versions tell the story of Peter Pan, a mischievous yet innocent little boy who can fly, and has many adventures on Neverland, an island inhabited by mermaids, fairies, Native Americans and pirates.
The Peter Pan stories also involve the characters Wendy Darling and her two brothers, the fairy Tinker Bell, the Lost Boys, and the pirate Captain Hook.
When Barrie wrote the line – "All children, except one, grow up" – about Peter Pan in 1911, it was taken as the expression of a beautiful and melancholy fantasy.
Peter Pan, the boy who wouldn't grow up, is the expression of the dream that they may not have to grow up.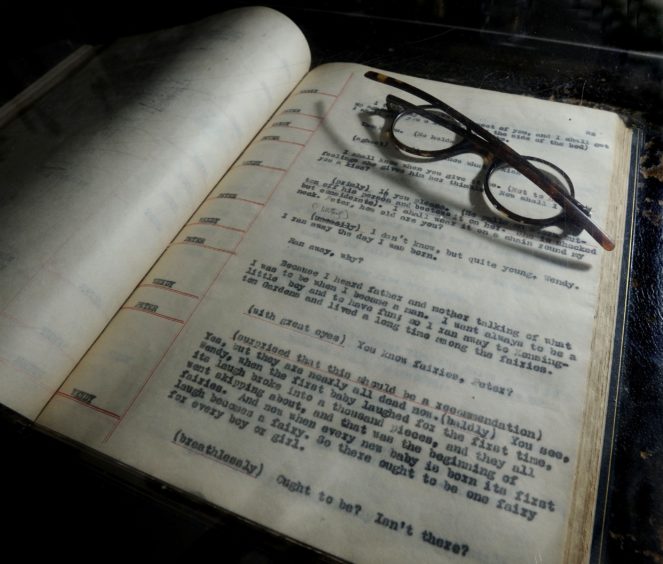 Barrie's fairytale tapped into something universal and, since then, there have been hundreds of dramatisations, prequels, sequels and spin-offs including a Disney cartoon version in 1953 and a film version in 2003.
The original Wendy House
Most people have an idea what a Wendy House is – a small playhouse for children – but how many know the term was first coined by Barrie?
The 1904 Peter Pan play features Wendy Darling who was shot by the Lost Boy Tootles after arriving in Neverland.
Peter Pan and his more loyal and caring Lost Boy tribe members then erect a small house around where Wendy had fallen, with the intention of creating a safe environment for her to recover.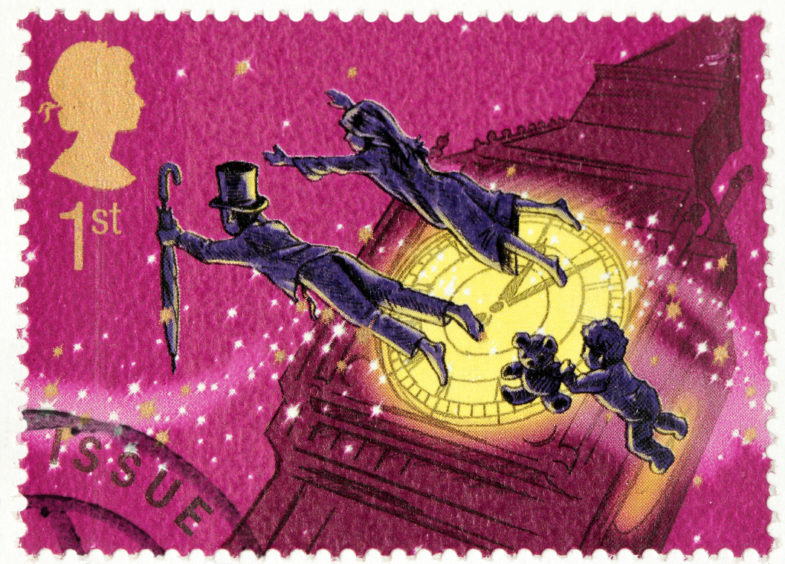 It was inspired by the wash-house behind Barrie's childhood home in Kirriemuir and first appeared in story form in The Little White Bird, published in 1902 in which fairies build a house around a little girl called Mamie Mannering – the prototype for Wendy – so protecting her from the cold.
A prop house was created by Barrie for the first stage production of the play in 1904. It was constructed like a tent so it could be erected quickly while Wendy and the Lost Boys sang a song about it.
Here's an extract…
I wish I had a darling house
The littlest ever seen,
With funny little red walls
And roof of mossy green.
Freedom of Kirriemuir
Barrie's success as a playwright was set in stone, and he was generous enough to share his fortunes with the people of Kirrie.
As a boy, he loved to climb Kirrie hill to watch cricket matches, and so on June 9 1930, as a way of saying thanks, he gifted the town and its people with a cricket pavilion and camera obscura, boasting panoramic views across Angus.
In return, the people of Kirrie awarded Barrie the Freedom of Kirriemuir and gifted him a silver Freedom casket containing a burgess ticket.
This small box remained in private hands for 75 years until it returned to Kirrie in 2013 after Angus Council bought it at auction.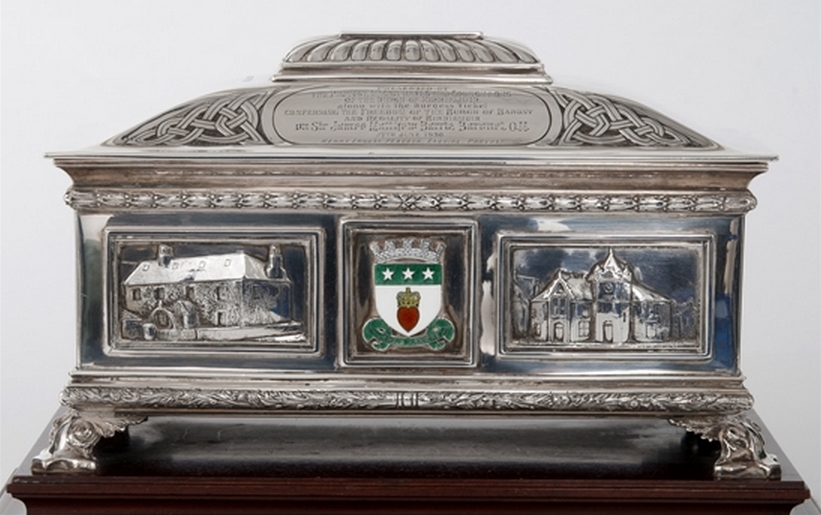 "The year 2020 is a special year for Barrie," says the founder of the J.M. Barrie Literary Society, Cally Phillips.
"Not only is it the 160th anniversary of his birth in Kirriemuir on May 9, but on June 9 it is the 90th anniversary of Barrie being awarded the Freedom of Kirriemuir and his presentation of the Camera Obscura/Barrie Pavilion to the people of Kirriemuir.
"While Barrie spent most of his adult life in London, Kirriemuir (and its fictional alter ego Thrums) was a significant part of his life.
"The novel A Window in Thrums, published in 1889, provided his first real writing success and he came back to Kirriemuir in reality and Thrums in fiction throughout his life.
"From Auld Licht Idylls through the Tommy novels to Farewell, Miss Julie Logan, one can see Kirriemuir, the place and the community, as a key factor in Barrie's creative development and endeavour."
This year also marks the 90th anniversary of Barrie becoming Chancellor of Edinburgh University and the centenary of his being Rector of St Andrews.
RIP
Following a successful career, Barrie was bestowed with a baronet and an Order of Merit and served as Chancellor of Edinburgh University from 1930 until his death by pneumonia in 1937 in London at the age of 77.
His funeral was held at St Mary's Episcopal Church in Kirriemuir.
At his request, he was buried in the family burial plot in Kirriemuir Cemetery, his name added below those who had gone before him.
Barrie left the copyright of Peter Pan to Great Ormond Street Hospital, a hugely valuable and ongoing gift.
Barrie's life was a great gift to children in general and of course, Peter Pan lives on forever, delighting generations.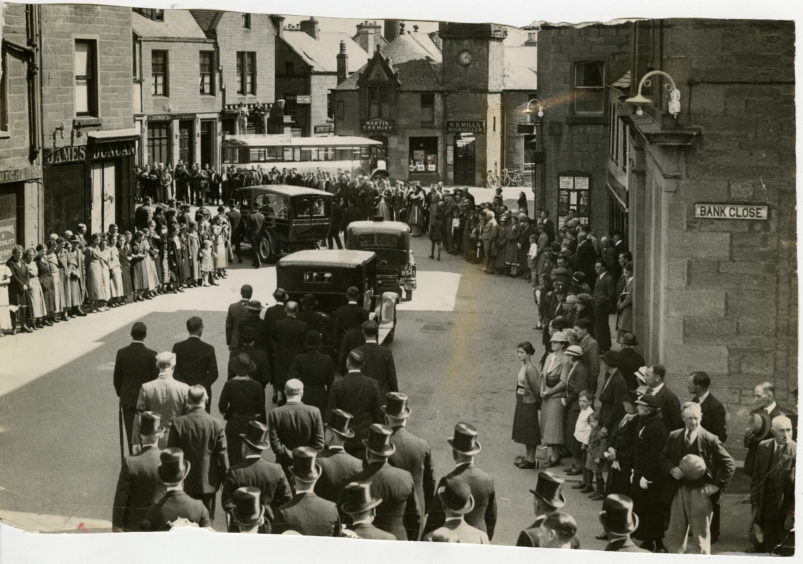 2020 celebrations
A major community celebration to commemorate the 160th anniversary of Barrie's birth in Kirriemuir was planned. Alas, this milestone event had to be cancelled due to the coronavirus outbreak.
This was a collaborative enterprise involving the JM Barrie Literary Society, Kirriemuir Literary Society, Strathmore Speakers Club, Barrie Birthplace Trust, Barrie Pavilion and Camera Obscura and various local businesses.
It was to run from May 8 to 10 and the programme was to include a pop up play reading of The Twelve Pound Look at the Barrie Pavilion, a Discovery Trail and Literary walk around the town.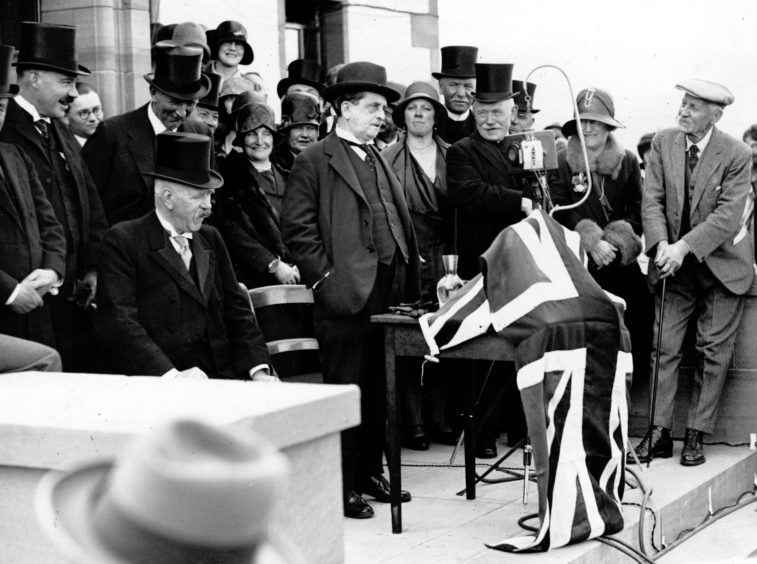 Also planned were talks on Barrie and Kirriemuir/Thrums by Professor Ian Campbell and Cally Phillips, a birthday party at the Birthplace Trust, a performance of Betwixt and Between Theatre Company's play Peter Pan in Kensington Gardens and an evening of speeches and readings from Barrie's work. It is hoped that some of these events will be rescheduled later in the year.
In lieu of the "real" celebrations, there will be some online birthday offerings at jmbarriesociety.co.uk