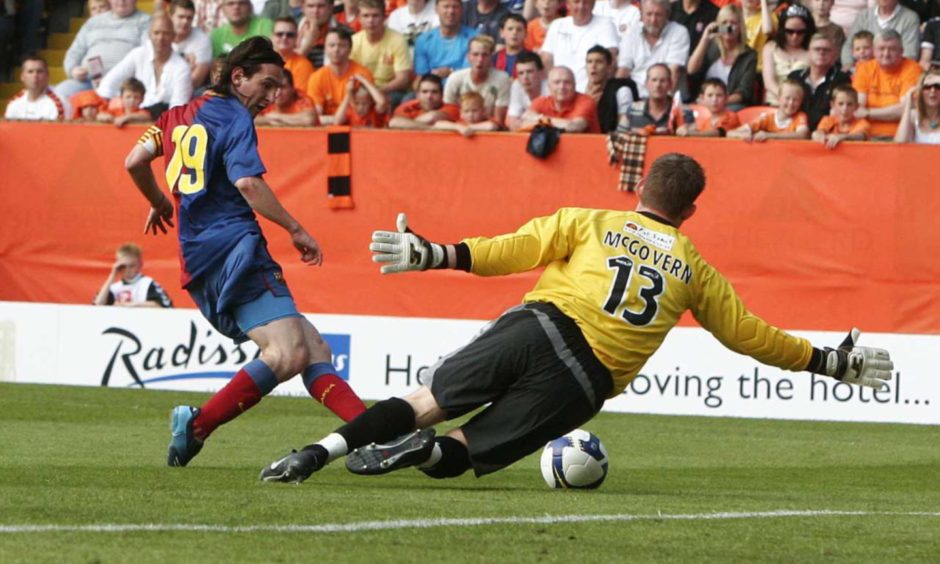 Barcelona's phenomenal Argentine forward Lionel Messi is used to receiving adulation at the Nou Camp.
But 12 years ago this weekend he got a rapturous reception from rival supporters following a history-making hat-trick against Dundee United.
He came off the bench at half-time and wowed Tannadice with a magical display which even left United's manager Craig Levein and skipper Lee Wilkie smiling at what they had witnessed.
Messi was given the captain's armband after coming on and the Barcelona history books will show it was the first time he had ever led the side.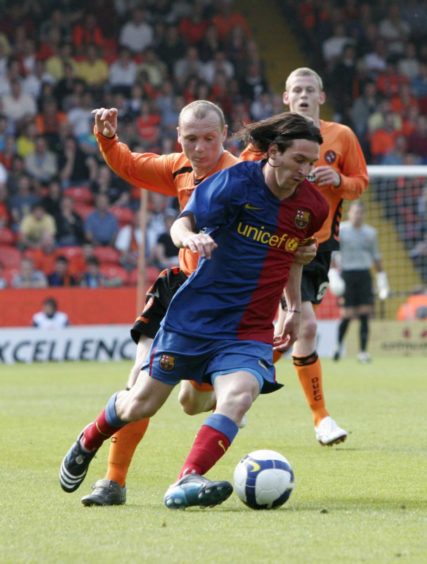 The match also signalled the very beginning of the Pep Guardiola era for Barca.
For the second year running, the Catalan giants had used United's St Andrews University training base for the first week of their pre-season build-up and that meant fans were treated to a second summer friendly in a row against them at Tannadice.
A 48-strong contingent from the Catalan club – including players, coaching staff and physiotherapy and medical staff – had touched down at Dundee Airport and were taken to the Old Course Hotel.
Fans lined St Leonard's Road to catch a glimpse of Messi, Thierry Henry and Samuel Eto'o as they trained with their team-mates at the St Andrews University playing fields.
A year earlier, minus Lionel Messi because he was still on holiday, Ronaldinho and Henry were the stars as a last-gasp goal by the French striker gave them victory.
The second summer friendly attracted a bumper attendance and the match at Tannadice on July 26 was shown live on TV in Barcelona's homeland and across Europe.
United shocked their opponents by taking the lead after 25 minutes.
A through ball from Scott Robertson found Warren Feeney in space on the left wing.
His cross was met by Prince Buaben at the back post who was left with time to nod the ball past Victor Valdes with a downward header.
United's goal just got Barcelona annoyed and they immediately went up the field and scored just 26 seconds later.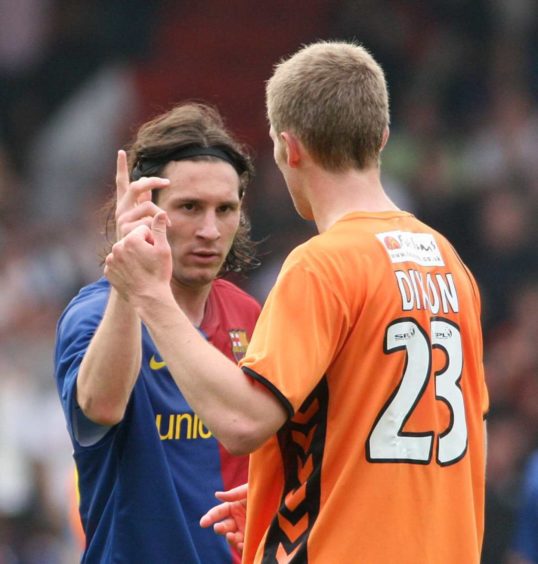 A Dani Alves cross found Henry, who saw his first attempt blocked by Lukasz Zaluska before converting the rebound with a low drive.
Pedro then tested Zaluska with a 20-yard drive before Eidur Gudjohnsen hit the post for the visitors with a close-range header shortly before half-time.
Barcelona made eight changes at the interval including Gerard Pique, Sergio Busquet and Yaya Toure.
Eto'o and Messi were the most significant introductions.
Messi would turn the match on its head with a 23-minute hat-trick.
On 55 minutes he started and finished a move involving Eto'o to score the first of his three goals when he left four Tangerine shirts in his wake and sent a delightful angled drive home.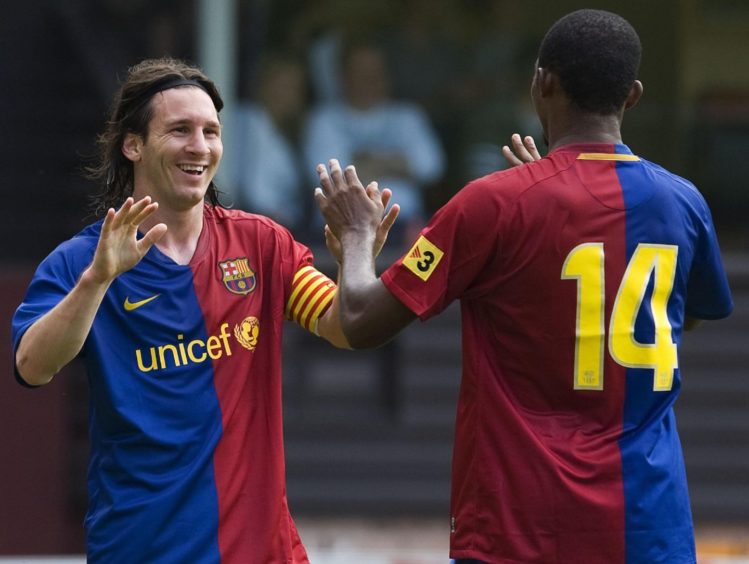 A poor back pass from German striker Andis Shala allowed Eto'o through on goal after 60 minutes and the Cameroon striker rolled the ball under substitute keeper Michael McGovern.
Messi then put Barcelona 4-1 up on 76 minutes with a moment of brilliance.
There was a neat one-two with Eto'o before he finished with a left foot volley from inside the box.
Messi completed his hat-trick on 79 minutes when he was on hand to pounce on a rebound after McGovern thwarted a close-range effort from Eto'o.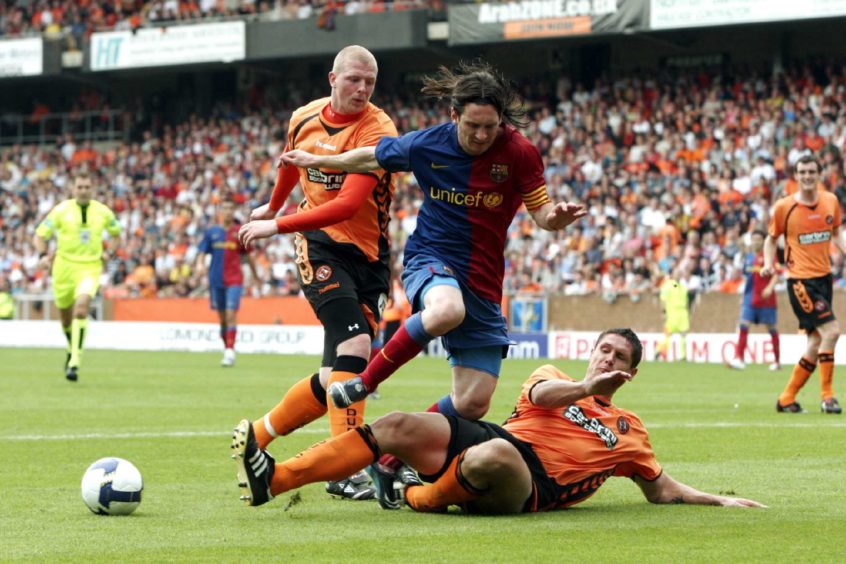 "You wouldn't normally catch me smiling after a 5-1 defeat," said Levein after the final whistle.
"However, that match against Barcelona was a worthwhile experience for players and fans alike.
"They've just witnessed playing against and seeing some of the best players in the world.
"So it was no disgrace to lose so heavily.
"We would have had to be world record holders at 1,500 metres to keep up with Barca.
"Hard though we worked and chased we just couldn't get near them.
"There was just no way we could keep up our energy to stay with them for 90 minutes.
"Barcelona were fitter and faster this time. They were better prepared than last season.
"Despite the result I thoroughly enjoyed the game.
"It was a fantastic fixture for us at this stage of our preparation.
"I was pleased with the way we played for long spells against a team of Barcelona's calibre.
"Really they have so many good players, it didn't really matter what side they started with.
"Obviously Messi was the one who made the difference.
"He was fantastic to watch."
Dundee United skipper Wilkie admitted Messi was the best player he ever played against.
"He is one of the very few players in the world who can play like this," he said.
"With his composure and confidence, he's the total package.
"Messi is a level above even his own team-mates and that's really saying something considering how many great players Barcelona have.
"They are undoubtedly one of the best teams in the world."
Messi, who was born in Rosario, has now played over 700 games for Barcelona and scored over 600 goals.
He has won four Champions League and 10 La Liga trophies along with various individual honours including the Ballon d'Or a record six times.
He's also won the European Golden Shoe for top scorer six times, two more than his nearest rival, Cristiano Ronaldo.