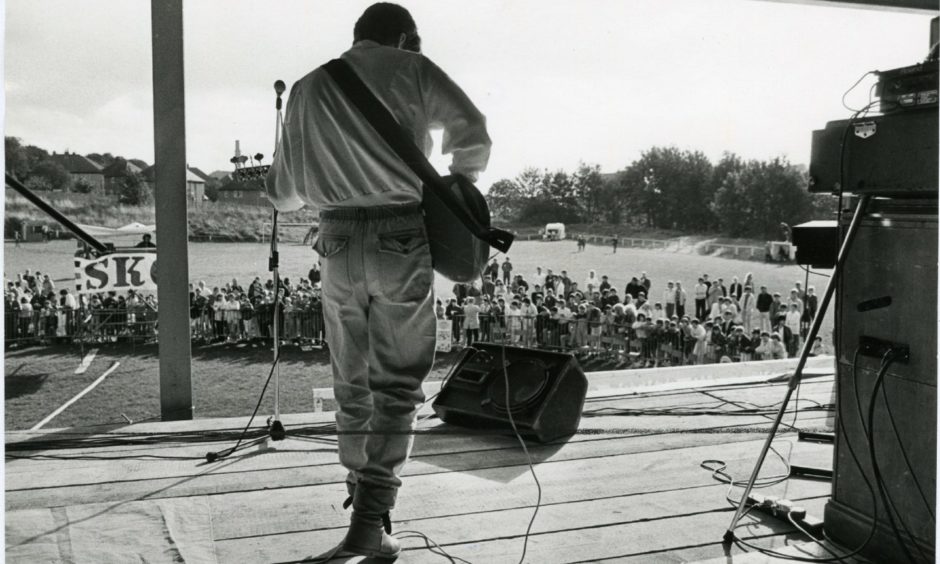 Live Aid changed the world with one of the largest concerts ever staged – one that even spanned the Atlantic Ocean.
A third of the human race tuned in to watch more than 50 artists taking part in two concerts which were held simultaneously at Wembley Stadium in London and John F Kennedy Stadium in Philadelphia.
Queen, U2, The Who and Paul McCartney were among the Wembley acts with Madonna, Duran Duran and Bob Dylan appearing in America.
But how many people remember Lochee Live Aid?
Thomson Park
The event took place 35 years ago on October 7 1985 at Lochee United's Thomson Park ground where the headline act mimed through a backing tape.
Dundee and Dundee United players signed autographs and kicked footballs into the crowd to get the event under way which featured 22 bands and 2,500 punters.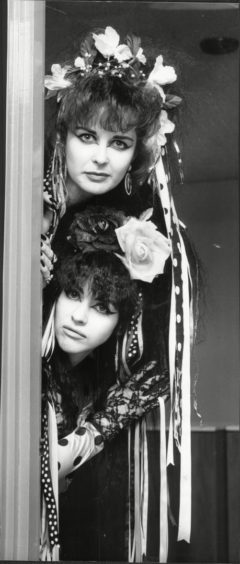 Strawberry Switchblade were the headline act which comprised of Rose McDowall on lead vocals and Jill Bryson on vocals and guitar.
The band's music was very much a hybrid of synth-pop and dark wave goth and their second single Since Yesterday went to number 5 in the UK charts in 1984 and their appeal stretched further afield and they also met with success in Europe and Japan.
They mimed to a backing track in Lochee just a month after they released their fifth single which was an electro-pop cover of Dolly Parton's Jolene.
The people of Lochee turned out in force on the same day Bob Geldof flew to Africa to see the effect of the Band Aid effort in the famine areas.
Noise complaints
Not everyone was in such a charitable mood however and police received a number of complaints about noise levels at Thomson Park from nearby residents.
Lochee United had provided their ground free of charge and local firms and tradesmen contributed materials and skills to build a stage which was decorated by local youngsters.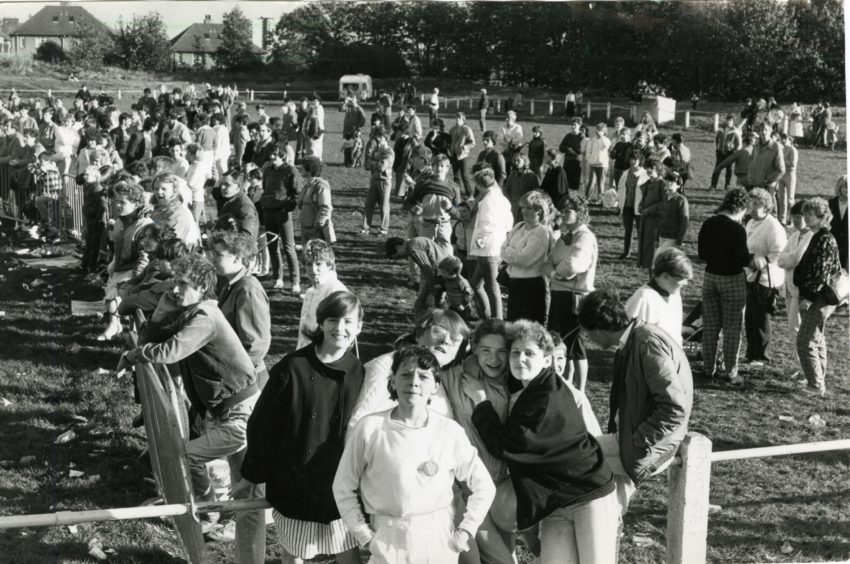 Adamson's Limousines ferried the top stars to and from Thomson Park free of charge including Jam drummer Rick Buckler and Laurence Archer who was the guitarist from Huey Lewis and the News.
The event was organised by Bill Caswell from Lochee United Social Club, publican John Reilly and Lochee councillor Charles Farquhar.
Donations from big names in the pop world also flooded in with Paul McCartney, Cliff Richard, Duran Duran, the Thomson Twins, Elvis Costello and David Cassidy sending their good wishes, signed photographs and various prizes for the raffle.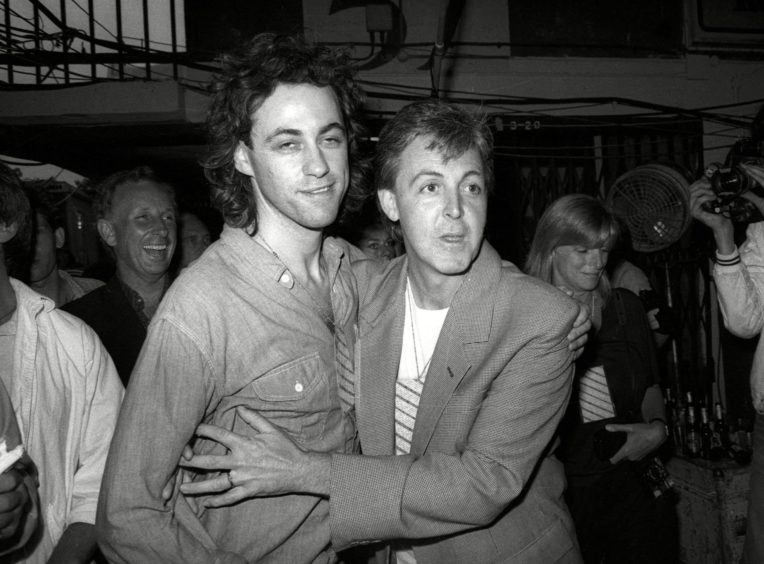 McCartney personally donated a book of photographs taken by his wife Linda and British Airways gave away two return tickets to London for the appeal which included a guided tour of the Solid Bond recording studio by Paul Weller.
The community spirit of Lochee made the concert a success and £5,000 was raised for the global appeal.
The cheque from the money raised was presented to Live Aid presenter Billy Connolly when the comedian performed at the city's Caird Hall.
Music writer Alan Wilson recalled: "I know a few people who played the gig, including fellow journalist Mike (Jock) Ferrie, whose band at the time, This Way Up, were one of Dundee's brightest original bands at the time.
"Jock thought they were the bee's knees and although they had Colin Davidson deputising for Paul Lothian on bass, who was on holiday in Greece, Paul organised a huge banner for their mates to hold so it looked like they had loads of fans out the front of the stage.
"There were only about six of them but they mingled with the moshers at the front to make it look good.
"Jock only accepted the gig because he fancied the girls from Strawberry Switchblade!
"But he went off them when they mimed to backing tapes!
"Rick Buckler from The Jam was there and Laurence Archer from Hughie Lewis was brought in by limousine by Chic Farquhar.
"Anybody who knew Chic Farquhar back then will probably agree he would have been better qualified as a boxing promoter!
"It was all a bit bizarre to be honest, it's not often Thomson Park is mentioned in the same story as Wembley Stadium but fair play to him and the rest of the organisers.
"They did manage to pull a decent crowd and raised a good amount of money for Sir Bob."
---
Was Live Aid the greatest gig of all time?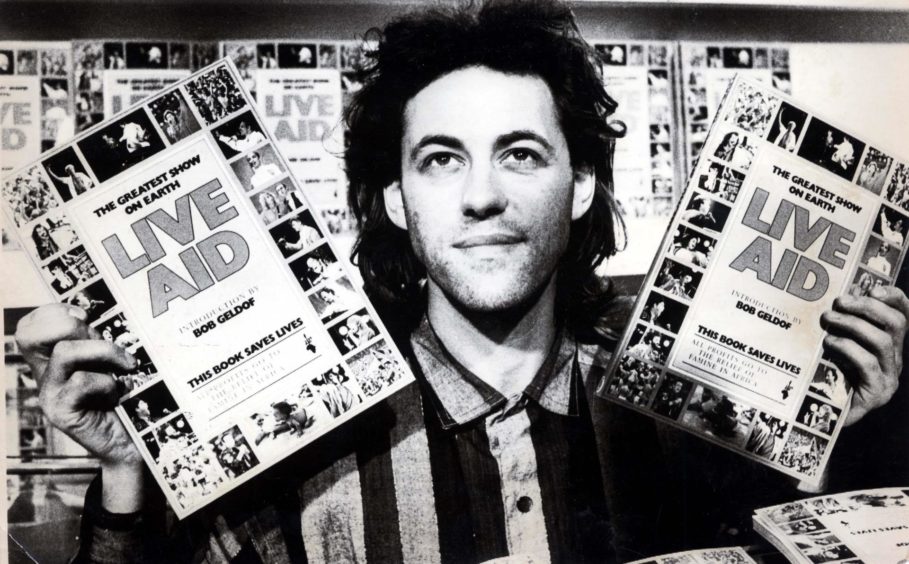 "It's 12 noon in London, 7am in Philadelphia, and around the world it's time for Live Aid!"
With these words, the British broadcaster Richard Skinner opened Live Aid on July 13 1985.
The dream of the benefit concert was to raise money for victims of famine in Ethiopia.
A BBC news report in October 1984 by Michael Buerk, who described the situation in Ethiopia as a "biblical famine", inspired musician Bob Geldof to organise and release charity single Do They Know It's Christmas?
He worked his way through his address book, starting with the most-famous first to maximise sales, and they all agreed to give their time for free, as did the studio, although the recording had to be finished in 24 hours.
The song, released by Band Aid, in December 1984 became the biggest-selling single of the time, raising £8m.
Boy George
That December, while the song was number 1 in the charts, Culture Club were on a UK tour, which culminated in six sold-out nights at Wembley Arena.
On the final night, December 22, an impromptu gathering of stars from Band Aid joined Boy George and his group on stage at the end of the concert for an encore of Do They Know It's Christmas?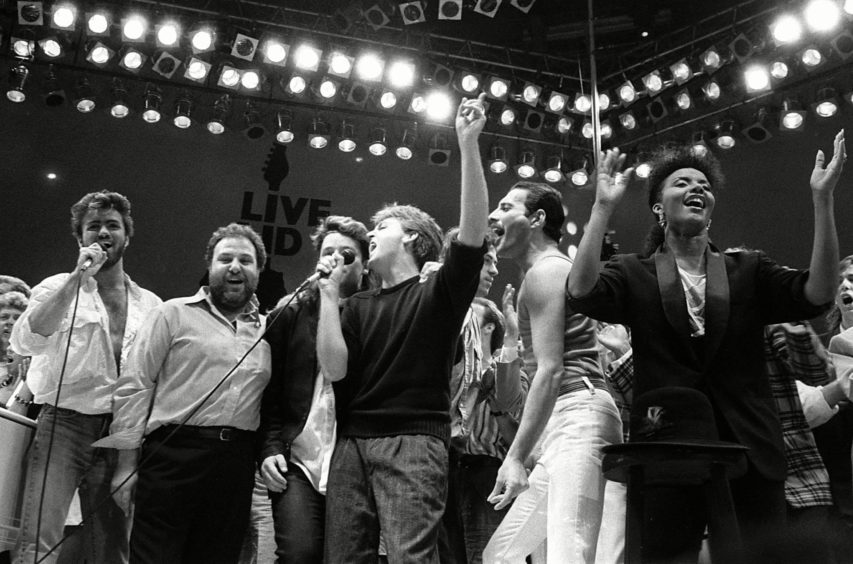 George was so overcome by the occasion and the reaction to the rendition that he called Geldof and told him they should consider organising a concert.
Geldof said at the time: "If George is organising it, you can tell him he can call me at any time and I'll do it.
"It's a logical progression from the record but the point is you don't just talk about it, you go ahead and do it!"
It's clear Boy George's call had got Geldof thinking, and he'd already come up with the notion of transatlantic concerts, and how it should be structured.
From there, Live Aid was born.
Miraculously put together by Bob Geldof and Midge Ure, with funds going to aid famine relief, it kicked off with the Coldstream Guards' Royal Salute.
Another Queen, of course, would be among the highlights, Freddie Mercury and pals being at the peak of their powers.
The day the Boomtown Rats and Sir Bob Geldof fought top billing in Dundee with a furniture exhibition
They managed, somehow, to fit a whole concert into just a handful of songs, starting with a shortened Bohemian Rhapsody, straight into Radio Ga Ga and their thunderous new single Hammer To Fall.
Crazy Little Thing Called Love was rocky enough for even the Queen-haters to enjoy, and We Will Rock You and We Are The Champions were tailor-made for such a huge event in front of a vast crowd.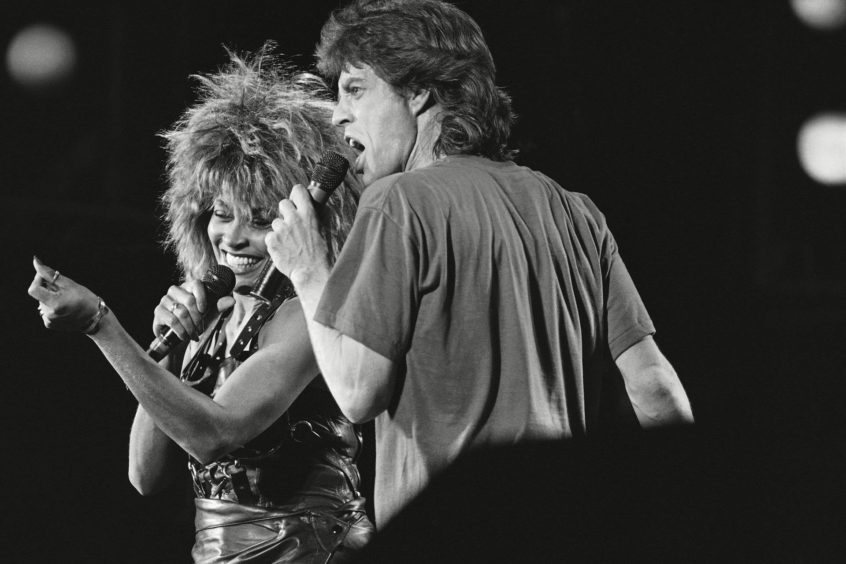 From Status Quo to the Style Council, the Boomtown Rats to U2, David Bowie, Elton John and Paul McCartney, it was a day you couldn't take your eyes off the telly.
A lifelong activist, Live Aid wasn't Geldof's first charity involvement, as in 1981, he'd performed as a solo artist for Amnesty International's benefit show The Secret Policeman's Other Ball.
Since the turn of the millennium, Geldof has devoted much of his time to campaigning for debt relief for developing countries, getting together with Midge Ure in 2005 to organise the Live 8 concerts.