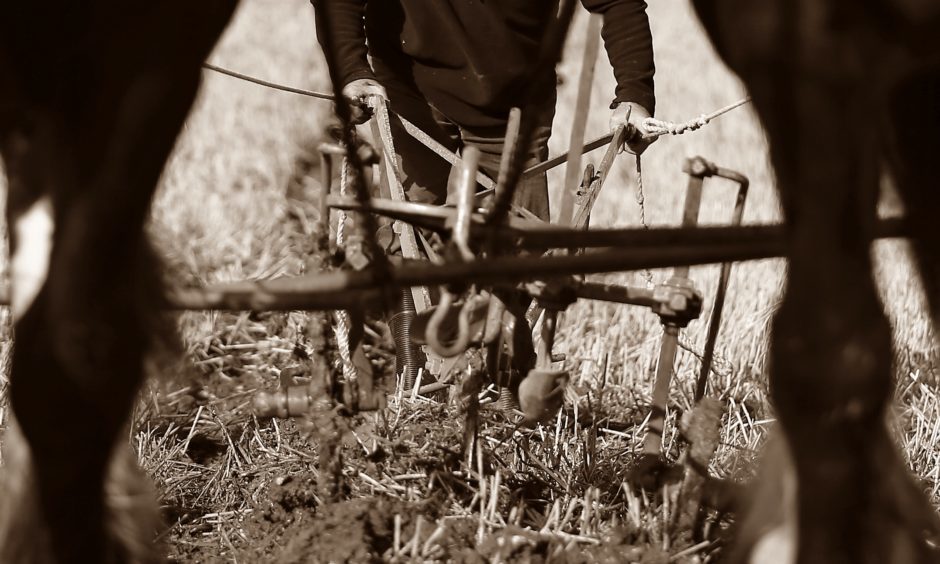 Ploughmen occupied a special place in rural Scotland before the dawn of the tractor. Their skills set them apart from orramen and many guarded their trade knowledge in a secret society. While they held elevated status in the rural hierarchy, that counted for nothing in the cities.
Many breezed into Perth or Dundee with swashbuckling confidence only to retreat duped, robbed or beaten. Urban rogues saw them as easy prey, especially during feeing markets when farm workers and farmers struck six-month employment deals.
Often a pretty girl was used to lure a ploughman from a straight path into the arms of thieves.
Card sharpers and thimble riggers made a killing at these gatherings and one gang made a profitable visit to Dundee in 1887.
There were three partners plying their nefarious vocation. The eldest pretended to be a grain merchant and took rooms at the Albion Hotel.
As he spread a table with papers and pens, a younger partner sallied forth into the marketplace and found a dandy Forfarshire ploughman.
He told him his father was looking for a good servant and soon the ploughman was on the way to the hotel like a deer stepping into a noose.
As the ploughman got down to business with the "corn merchant" a third man turned up and offered a razor for sale. There was some banter about the quality of the razor before it was proposed they play a game of cards for it.
After playing for the razor, money was staked and within a few minutes, the ploughman was fleeced of £5, or £603 in today's money.
Police discovered the same gang had been active in Perth and Falkirk. The following year, the gang leader, Richard Mylet of Glasgow, was arrested.
Dundee teenagers Georgina Gibson and Mary Gow made a small fortune duping tipsy ploughmen. Another double-act to come to police attention was George Green and Mary Lynch in 1889.
Green posed as a carter to befriend James Stiven of Forfar. As they strolled down Castle Street they met the girl who took Stiven for a romantic walk through the slums, ending up a dark close where he was robbed blind. Both were jailed for 30 days.