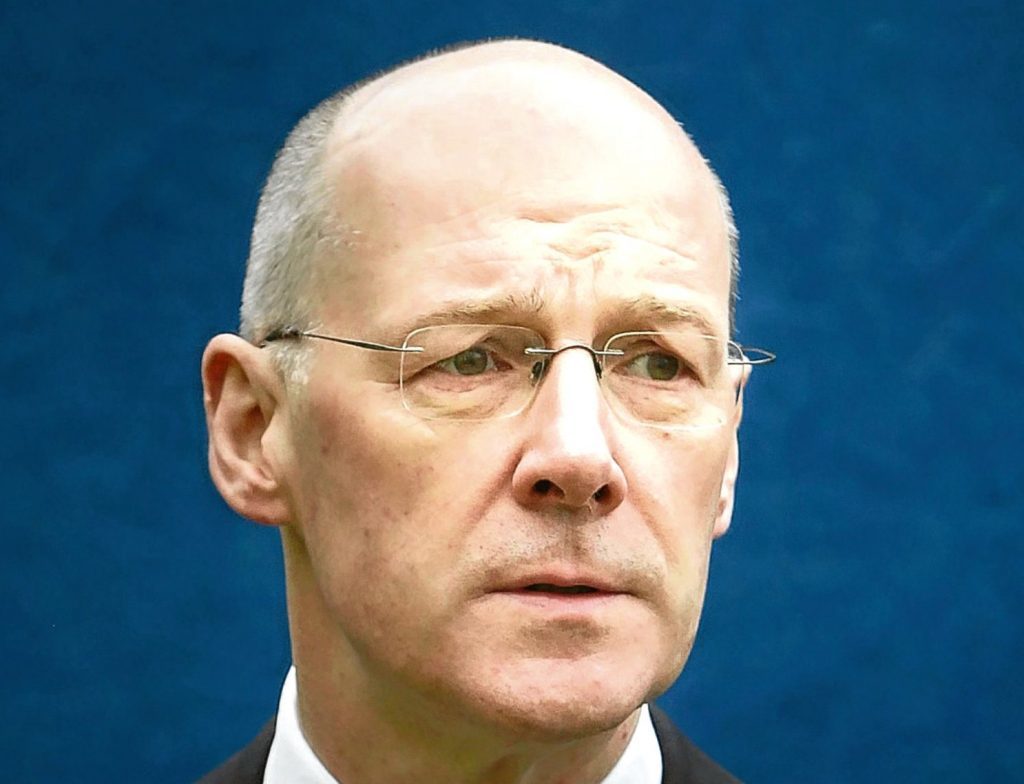 Men across Scotland must "examine their own behaviour" in the wake of claims its parliament is rife with sexual harassment, says the Deputy First Minister.
John Swinney's plea to the male population came as Holyrood bosses and party leaders agreed to survey workers in the Scottish Parliament to uncover the extent of sexual misconduct there.
He spoke out before an SNP MSP revealed she was the victim of a campaign of sexual harassment.
Gillian Martin, who represents Aberdeenshire East, said she was subjected to "disgusting and lewd remarks" by a former boss over several years.
Another senior male colleague at the firm, which she has not named and pre-dates her time in parliament, tried to "pull the cord" on her dress at a party, Ms Martin said.
They also backed a review of the MSPs' code of conduct as the government, parliament and political parties vowed to re-examine their complaints procedures.
On Tuesday night an email emerged from Nicola Sturgeon to SNP staff urging male colleagues to read up on women's experiences in the workplace and ensure their behaviour is appropriate.
Responding to a parliamentary question on the Scottish Government's response to harassment claims, Mr Swinney said he wants to "make it clear that it is up to men" to end the abuse of women and that "men must examine their own behaviour".
The SNP is investigating complaints of sexual harassment lodged by two people.
They came to light after human rights lawyer Aamer Anwar said women at all levels in Holyrood had suffered a "catalogue of abuse", including physical assaults and unwanted sexual advances.
The SNP says the complaints are unconnected and against separate parliamentarians, but the party refused to say whether they were based in Holyrood or Westminster.
No other complaints have emerged as of Tuesday night.
A confidential hotline for sexual misconduct victims will be up-and-running by the end of the week, the parliament said.
Ken Macintosh, the presiding officer, said he has not encountered sexual harassment in Holyrood in the 18 years he has been an MSP.
He added: "We're not aware of any specific or current cases.  Historically, cases are very low indeed.
"However, we live in a sexist society where harassment takes place and clearly Holyrood will not be immune to it.
"We need to make sure that we take action that's going to encourage people to come forward and make sure that they feel comfortable and then, at that point, perhaps we will be aware of the extent of the problem."
Historic complaints at the parliament are said to be in the single figures.
Ms Sturgeon assured colleagues in an email that any complaints they make would be taken seriously and investigated thoroughly.
She added: "To those of you in positions of power, I urge you to take some time to reflect on your own behaviour.
"Read what women in particular have been saying about their experiences in the workplace and consider whether any of those instances would ever apply to your past or current behaviour."
Kezia Dugdale, the former Scottish Labour leader, says she knows from conversations with female colleagues that "instances of inappropriate sexual language and gestures are in fact common place".
Monica Lennon, the Labour MSP, welcomed steps taken by the authorities but added "nothing short of an independent review" is acceptable.