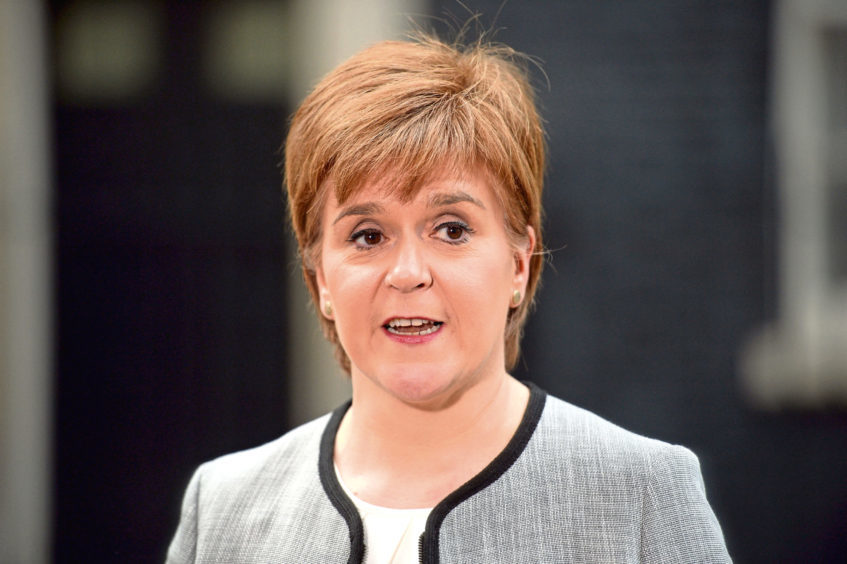 Nicola Sturgeon has told the party faithful to concentrate on convincing Scots to back independence rather than the timing of a referendum.
Signalling a possible retreat from an early vote, the SNP leader told activists their focus should shift from when the vote is held to winning the arguments for secession.
In her speech to Aberdeen conference, the First Minister handed all but the best paid NHS staff a 3% pay rise, which will give them bigger pay packets than their English colleagues.
And she pledged to raise the threshold at which students start repaying their loans to £25,000 in a £21 million support package.
Ms Sturgeon told delegates that independence is there to be won, but appeared keen to lower expectations for a vote in the short term.
"Confidence in the independence case is growing," she said.
"So as we wait for the fog of Brexit to clear, our opportunity – indeed, our responsibility – is this.
"Not just to focus on the 'when' of independence.
"But to use our energy and passion to persuade those who still ask "why?"
"Right now, that is the more important task.
"And, if we do that, let me tell you this.
"I am more certain than ever before that persuading a majority of our fellow citizens that Scotland should be an independent country is well within our grasp."
The Glasgow MSP also confirmed the party would use the independence blueprint penned by the Growth Commission as the "platform" for a breakaway.
The report was panned by some elements of the party over claims it proposes austerity, as well as for advocating keeping the pound without a formal currency union.
After the speech, the first minister's spokesman said her intention remains to provide an update on her Indyref2 plans in the autumn. But he warned it is dependent on the terms of Brexit becoming clearer.
The spokesman added the speech was "jam-packed" with policies as he countered criticism from opposition parties that she is neglecting the "day job".
There were cheers when Ms Sturgeon announced a pay rise for nurses in Scotland, telling the conference those earning up to £80,000 "will get an immediate 3% pay rise and it will be in their pay packets next month".
Ms Sturgeon said: "That means the vast majority of our frontline NHS staff will be paid, not just the same as in NHS England this year, but more."
The First Minister added: "This is a £160 million investment in those who care for us.
"And as our precious NHS reaches its 70th birthday, it comes with our grateful thanks for all that they do."
Scottish Conservative deputy leader Jackson Carlaw said: "This was yet another speech where Nicola Sturgeon's domestic responsibilities are a warm-up to the main act – banging on about independence.
"Bizarrely, despite claiming education was her top priority, she forgot to mention it altogether. Nor was there any mention of how to sort out our criminal justice system.
"She is out of touch and leading a divided party. This was a tired speech from a leader running out of time."