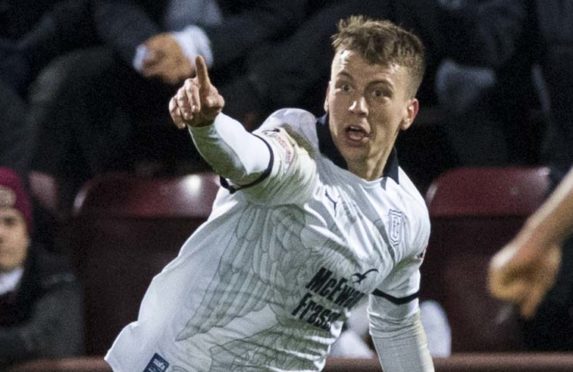 Dundee's Andy Nelson is looking to absorb the bitter lessons of relegation and use them to spur him on this season to hopefully help the club bounce back to the Premiership.
Former Dens boss Jim McIntyre signed the 21-year-old in January from English outfit Sunderland with the striker making an instant impact for the struggling Dark Blues, scoring four times in as many league games, including a debut goal winner against Hearts at Tynecastle.
Nelson then suffered a frustrating heel injury at Livingston and was sidelined for over a month as Dundee's downward spiral continued.
He was pressed back into service at the end of March but could not prevent the Dark Blues from being relegated to the Championship.
Now, he is looking to use that shattering experience to drive him on this season.
Nelson said: "The team started picking up points at one stage but then we just hit a run of games where nothing was going for us.
"We conceded in the 95th minute against Celtic having played brilliantly against them all game. It knocked our confidence and it seemed to happen game after game.
"It was frustrating as well for me because I was having to watch it from the sidelines as I was injured.
"You want to go out and do something to make a difference but when you can't do it, there is that frustration.
"I feel like I'll be a much better player for it though. As horrible as it is, those kind of experiences are often the best lessons.
"Now the objective is to try and win promotion and I don't see why we can't achieve it.
"We all have that motivation and drive to achieve that now."
While Nelson's injury was frustrating for him at Dens it was at least not nearly as serious as the horror one he suffered playing for Sunderland in a pre-season friendly at Hartlepool United last summer that required foot surgery which ruled him out for four months.
Nelson added: "There was nothing out of the ordinary. The defender tackled me, my foot got stuck on the floor and as I went to push off on my toes, my boot hasn't come with me.
"The front of my boot was stuck in the ground, I went over the top of my toes and my ankle, my second, third and fourth toe popped out of place.
"The cushion part underneath the sole of your foot are called plantar plates, second one around my metatarsal head was torn. I didn't realise that until a few weeks after.
"I went to see a specialist, they said it was very uncommon in footballers, the way the boots are designed is to stop that from happening.
"It was just a freak injury. It is normally rugby players and dancers as they are on their toes more.
"It was infuriating but at the same time it was such a freak accident and there was nothing you could do.
"It kept me out for four months, I had surgery in September to get it sorted and it took another six to eight weeks after that."