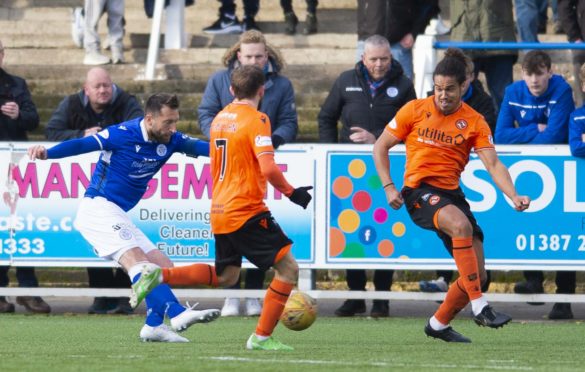 Captain Mark Reynolds believes Dundee United must stop lurching from extreme to extreme after their latest "rubbish" result.
The Tangerines were shocking on Saturday as they crashed to a 4-0 loss to Queen of the South at Palmerston.
There was nothing positive at all to say about a performance that rated among their worst of recent years.
It followed on from a defeat at Alloa before the international break and if you add in the loss at Ayr then it is three successive setbacks on the road.
In amongst all the travel sickness was a 6-0 hammering of Morton and a dramatic last-gasp win over Arbroath – both at Tannadice.
The swings and roundabouts can't continue if United are to be crowned champions of the Championship and Reynolds knows that.
He said: "It was rubbish.
"It was, absolutely, not good enough.
"We lost four poor goals.
"For the first one, we didn't win the first header then didn't pick up the scraps.
"Then, every goal, we could have prevented. That is disappointing.
"We had chances and couldn't take them but you are loathe to say anything, really, because it will look like you are making excuses and blaming this or that.
"We just weren't good enough.
"We need to speak on Monday and stop it from happening.
"We are a team just now that is experiencing extremes.
"When we are good we are very good but when we are not on it we are terrible.
"If you want to win a championship you need to be better than that.
"You will have highs and lows but you need to be more resolute. On days when it is not going for you it is a case of digging in and getting a 1-0."
Reynolds acknowledged the stark contrast between United's home and away form.
They have been on fire at their own stadium, winning all four league fixtures and scoring 18 goals. They have won twice and lost three times away, finding the net just four times.
"Yes, there definitely is," he said.
"I think we enjoy playing at home on our pitch but when you come away from home it's going to be hard.
"Every team ups their game and we knew we would be a scalp.
"We have been talked up and people have said we should be going up. That is the expectation and we have to shoulder that.
"We have had two horrible results back to back and it's been strung out over an international break as well.
"You want to come back from that break and put things right but we've not done that.
"It's horrible just now but we need to learn from this."
The Tangerines, against all odds, are still sitting top of the table.
Reynolds added: "We are still top of the league but I wouldn't say that's a shock.
"That's us through the first quarter with 18 points so we are not far off where we want to be.
"When you step back and look at it – that's not too bad.
"At the moment, it doesn't feel good and we should never be losing 4-0. They put us to the sword.
"We need to face up to it and find out why this is happening."