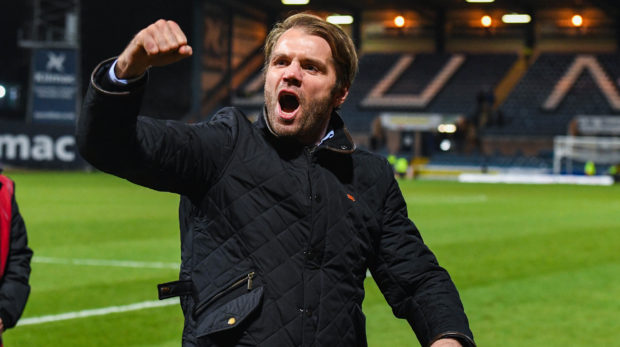 Dundee United have secured promotion to the Premiership after Dundee voted to end the 2019/20 season in Scotland's lower leagues.
After five days of contemplation and negotiation, Dark Blues managing director John Nelms submitted his club's casting vote in favour of the SPFL's campaign-ending proposal on Wednesday afternoon.
He did so after securing an agreement from the SPFL to establish a reconstruction task force, charged with creating the blueprint for an expanded Premiership in time for next season.
The exact shape of any revamped SPFL set-up will be thrashed out over the coming months, with Hearts chief Ann Budge and Hamilton Accies chairman Les Gray placed in charge of the project.
But Dundee's vote to "call" the bottom three leagues on a points per game basis means city rivals United will definitely be in the top flight, most likely along with Inverness Caledonian Thistle, who have secured second place in the Championship.
Should the Premiership expand beyond 14 teams, the door will be open for Dundee to join United in the Premiership.
Announcing the approval of the resolution – which also triggered end of season payments to clubs and confirmed Raith Rovers and Cove Rangers as champions of their respective leagues – SPFL chairman Murdoch MacLennan said: "With the turmoil and uncertainty caused by the Covid-19 outbreak, there was always going to be a highly-charged and passionate debate about how we secure the future of Scottish football.
"It is no exaggeration to say that this was an existential matter for Scottish clubs, with many of them telling us they were at real risk of going under unless the situation was resolved very quickly, so I'm pleased that the game has moved decisively.
"Whilst more than 80% of clubs agreed with the directors' written resolution, it's clear that others were strongly opposed.
"There has been talk of voiding the season, making emergency loans and so on, but what has been agreed today is not just the best way forward, it was the only realistic way forward and I now call on all 42 clubs to move forward in a constructive and positive way."
SPFL chief executive Neil Doncaster added: "Prior to this positive result, we were unable to make the vital end-of-season payments, which will provide a lifeline to so many clubs in the lower divisions.
"From our detailed discussions with clubs, many were facing an enormous cash-flow crisis. We have moved as quickly as possible to try to resolve this unprecedented situation.
"We've achieved the 75% agreement threshold in the Ladbrokes Premiership, Championship and Leagues 1 and 2 and will now be working as quickly as we can to get the end-of-season payments to members in the three lower divisions by the end of this week."
Earlier on Wednesday, Dundee – who found themselves as unlikely power brokers after their initial vote to reject the SPFL resolution went missing in electronic transit – had issued a statement calling for immediate reconstruction talks amidst mounting bitterness and public recriminations from rival clubs.
In a lengthy missive, Dens boss John Nelms insisted the Dark Blues would have voted "yes" in the first place had the SPFL offered the assurances around reconstruction they have now given.
Having secured them via his decision to ask for Dundee's initial vote to be disregarded, the Dee chief will see yesterday's events as victory.
"We do believe the [SPFL] has made mistakes in this process," said Nelms.
"Namely not taking into consideration any financial fallout to their member clubs and publishing of the incomplete ballot results, which has put Dundee FC in a position to receive criticism and undue torment.
"If what we achieved in our pause was presented by the SPFL in the first instance we would have voted in favour of the proposal.
"We would like to thank the fans for their patience, and most of the member clubs for their cooperation and support during this time.
"Make no mistake, we continue to have a daunting task ahead of us, but we are encouraged by everyday acts of kindness, resolution, and humanity that we are all sharing as we get through this together.
"Stay safe and hope we see you soon in a newly revamped league."