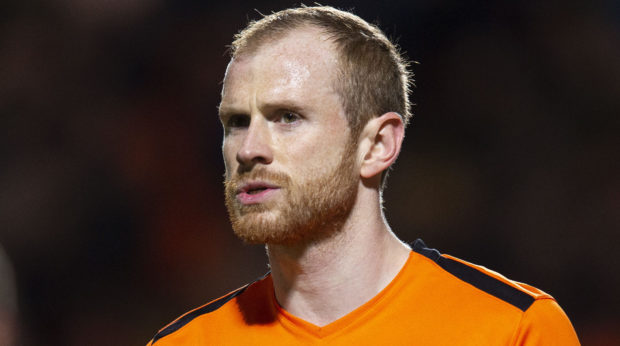 Dundee United skipper Mark Reynolds insists there is no reason why they can't emulate the club's 2010 heroes by winning the Scottish Cup.
United recently celebrated the 10th anniversary of that cup win under boss Peter Houston and Reynolds believes Robbie Neilson's current crop have the ability to do the same.
The 33-year-old former Aberdeen and Motherwell defender thinks the Tangerines are going places as they look forward to the Premiership next season.
"I see this as a club that in the next four or five years is going to have success," he said, speaking on The Dode Fox Podcast.
"We were confident we'd get promoted and we're confident we can go up into the Premiership and more than hold our own.
"In the cup competitions, we've got the players and a squad good enough to go cause problems and try to win a trophy.
"If you look at the last 10 years and the teams that have won trophies, it's been quite evenly spread over the seasons.
"Dundee United are celebrating the anniversary of the 2010 Scottish Cup win right now and there's no reason why the boys can't go and do that as well.
"It's exciting."
Reflecting on their Championship title win in last season's coronavirus-affected campaign, centre-half Reynolds thinks the key to their success was respect for the division.
Since a raft of new signings checked into Tannadice in January 2019, club captain Reynolds believes there has been an important culture change.
He added: "When we came in we treated the league with respect.
"When you speak to boys that had been before us or fans around the place it almost felt like there was a feeling Dundee United were too big for the league and we would get out of it just because we were Dundee United.
"But we were of the opinion we needed to give it the respect it deserved and treat every game equally.
"For most other teams it was their cup final playing us.
"It felt as though all season that every time we did slip up or drop points, the three or four teams roundabout us always either matched our result or did worse.
"We never lost many or drew many but when we did it seemed like it the results went for us every time when that happened.
"I've never been involved in a team where we always seem to get that break.
"It was getting to that part of the season where things were starting to line up and we were thinking everything was just falling into place for this to be the season."
Reynolds can pinpoint the moment where things changed for the Terrors as they all but wrapped up the league title with a 2-1 win over Inverness in February.
He continued: "There was a shift in consciousness for us.
"The whole season we were saying: 'Just one game at a time and putting points on the board,' but by November or December time we were 16 or 17 points clear.
"Nobody was really talking about how much we were extending it or how dominant we really were.
"We only really got the benefit of that when we had a wobble.
"Conns (Mark Connolly), Butch (Calum Butcher), Shanks (Lawrence Shankland) and myself, the more senior ones in the changing-room, have chats with breakfast in the morning.
"There was a shift one day from taking it one game at a time to: 'This is ours to lose now, we're in the driving seat and we need to use that to our advantage.'
"We had that lead and to lose it would've been the biggest capitulation in Scottish football.
"We knew we needed to accept that, step up and put it on our shoulders.
"We said: 'Look, it's ours to win, let's go get it done as soon as we can.'
"That Inverness game was a nail in the coffin which almost cemented it."
As much as their success was a team effort, Reynolds admits 28-goal Lawrence Shankland played a big part.
From being a "fat wee striker" at Aberdeen to a Scotland international, Reynolds is proud of the 24-year-old's progress but believes he always had the ability.
Of Shankland's signing for United, Reynolds recalled: "My first memory of signing Shanks was him turning up at training with his agent and we were getting absolutely battered in running in pre-season.
"Shanks could've joined in but he just stood with his hands in his pockets, smiling away.
"He came back for four or five days, just watching us running, then the last day we get the balls out to play games and all of a sudden Shanks turns up with his gear on ready to play.
"He timed it unbelievably towards the end of that pre-season, missed all the running and then swooped in.
"Butch and I drive in together in a car school to training over at St Andrews and we said that in the car: 'What a signing.'
"But getting the goals against Inverness (4-1 win on the opening day) was exactly what we needed because a lot of people were raising that question mark and Shanks absolutely knocked that out the park.
"There were people saying: 'It's too big a stage, it's too much pressure,' but that just set the stage for him for the rest of the season to go and absolutely destroy the league for us."