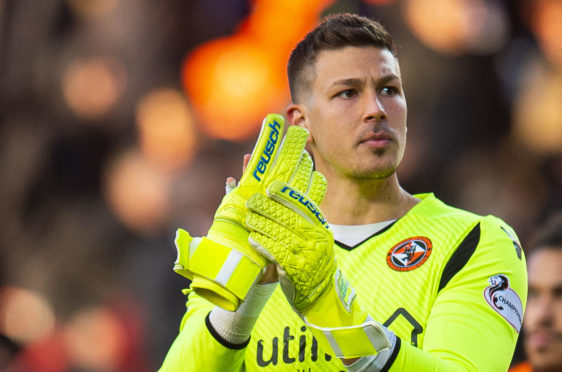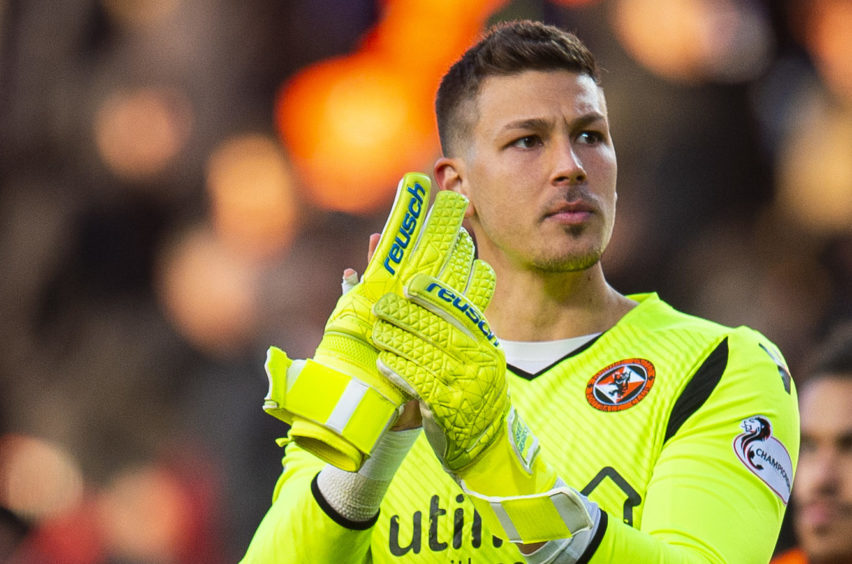 Not being able to return to his native Switzerland is one shut-out Dundee United goalkeeper Benjamin Siegrist didn't want.
The goalie, who kept 12 clean sheets last season as United romped to the Championship title, has been stuck in Dundee for months amid the coronavirus lockdown.
He has been kept company by partner Abby but admits it's been difficult not seeing his family back home.
The 28-year-old would usually spend time with them over the summer but knew any journey back to Switzerland would have been difficult.
"I'm still in Dundee, it would have been difficult to cross the border," the Tangerines No1 said.
"The Swiss border was closed right at the start and then there was the two weeks self-isolation.
"I thought about going home initially because it did look like football would be off for a while, but I didn't want to be stuck.
"Quickly the flights got cancelled so driving would have been the only option.
"If I'd done that it would have been a case of driving from Dundee, through France and Germany to get home, but those countries were closed, too.
"It would have been some drive and I would have had to find a hotel to sleep in.
"So there were loads of problems and it would have been too risky.
"I haven't seen my family since January. They were all set to come over for the final game of the season to see us win the title.
"I was looking forward to that because when you win something you want to share it with your family.
"So it was disappointing they couldn't do that.
"The Swiss border is open again, the lockdown is lifted but there is still self-isolation having to happen.
"I'm not the only one who hasn't been able to get home – Adrian (Sporle) has all the way back to Argentina to get to so he wasn't able to do that either.
"And there are the American lads who found it difficult as well. So it wasn't just me.
"I don't mind being away from home, it is something I have got used to.
"I do like spending my summers with the people I don't get to see regularly throughout the rest of the year. But I just think this one will have to be a bit different. There's nothing you can do about it.
"My partner is in Dundee, so I haven't been alone and she has been keeping me in check.
"Hopefully I will get to see the rest of my family at some point."
On the pitch, Siegrist also cursed not being able to celebrate the Tangerines' promotion with his second family after football was shut down.
He continued: "Obviously you want to win a title on the pitch and celebrate it with your team-mates and the fans.
"Initially I thought football would come back and we'd finish it, but that wasn't possible.
"So we didn't get the trophy day we were hoping for and that's a shame because we worked hard all year to get to where we were.
"During the season you see them more than your family and partner so they become your own little family.
"Everyone having the same goal and not being able to celebrate it is difficult."
However, the keeper is already looking forward to the challenge of next season and stepping up to test his top-flight credentials.
He added: "I am looking forward to the bigger test of the Premiership and seeing how we can compete against better teams.
"There are also a lot of new grounds for me to go to.
"We want to enjoy these big games and going across the country to different places.
"So far I have only played in the Championship so it will be a new experience for me most weeks initially.
"We need to make sure we're up to the task and enjoy playing the big teams.
"With the backing of our fans, taking them across the country, it should be a really nice test to look forward to."
PODCAST: Robbie Neilson will be lucky to make ONE Dundee United signing and Gordon Strachan doesn't speak for Dundee