In a Talking Football Championship special The Courier's sports writers Ian Roache, Neil Robertson and Eric Nicolson discuss the implications of Dundee United's defeat to Hibs, a resurgent Dunfermline and a plummeting Raith Rovers.
Q: With the Premiership boys putting their feet up at the weekend, there was no lack of talking points from the Championship. We better start with Friday night . . . what went wrong for Dundee United at Easter Road?
IR: Now, where do I start? They were on the back-foot from kick-off, handing the initiative to the opposition; they were vulnerable down both flanks, particularly to Chris Humphrey on Hibs' right; too many usually reliable players had off-nights; and they were totally punchless up front. Is that enough?
NR: It was a night where nothing went right for United and they just couldn't get going especially after conceding two goals in the first half hour. However, credit must go to Hibs for a terrific performance.
EN: You could criticise United's performance across the park. I expected Hibs to edge it but I also expected United to be stubborn and hard to break down. The first goal was a mess from their point of view and the game-plan was out of the window. There were three or four players who were OK but that isn't going to be enough against a Hibs side at full throttle. It didn't look like a game between two equals.
Q: United looked particularly exposed in the full-back areas. A concern for the second half of the season?
IR: It is but I would remind everyone that they won't be facing Hibs every weekend, indeed there is just the one home game against them to go now. I think it's fair to say that the full-back positions haven't been right all season regardless of the personnel.
NR: Former Dundee front man Martin Boyle and Chris Humphrey caused United problems all night long however the Tangerines can take heart from the fact that other sides in the Championship do not possess similar pace out wide.
EN: I think I mentioned a couple of weeks ago that a full-back would be Ray McKinnon's number two priority after a centre-forward. Friday night certainly didn't change my mind.
Q: Is it fair to say if Hibs play to their potential and United play to their potential, the title is going to be won by the men in green and white?
IR: It does look like that in the wake of the Easter Road result but will the Hibees manage to win all their remaining games? If you just looked at Friday in isolation you would be nodding your head to that question but they have dropped daft points just like the Tangerines have done.
NR: With Hibs snapping up Kris Commons and Humphrey as well as the return to fitness of Scotland midfielder John McGinn, you would have to say that having opened up a four-point gap on United, the Easter Road outfit are now firm favourites to take the title. However, like Ian, I do not see it being a procession and there may still be twists and turns.
EN: Man for man, the Hibs squad is stronger. And on Friday they showed they can come together pretty well as a team too. So, yes, Hibs at their best will get more points than United at their best.
Q: United have pulled back a bigger gap than this before but is it realistic to think they can do it again?
IR: It isn't over yet but United do face a challenge hanging on in there until the final clash of the Championship big guns at Tannadice on March 11. What they must not do is let the heads drop and risk losing against other sides. If they can go out and get a victory over Queen of the South on Saturday then that will calm things down.
NR: It is a big ask but United showed when they went on their 14-game unbeaten run that they have bags of resilience in their locker. McKinnon does not allow players to dwell on negatives and if anyone can instil the belief that the gap can be bridged, it is him.
EN: It's not impossible but it probably isn't realistic. Not because I expect United to fall away, more because Hibs are unlikely to falter. Having said that, this time last year Hibs were looking good, and they collapsed in the league.
Q: Peter Houston was talking up the prospect of going past his old club. Are United safe in second?
IR: Houstie seems to like mentioning his old club. I think his previous contribution was an exaggerated claim about the Tangerines' budget. Just to recap: United are eight points ahead of Falkirk, who are back in fourth position behind Morton. There is a smaller gap between bottom-placed Inverness in the Premiership and Ross County in the top-flight's top six.
NR: Yes. The former United gaffer was indulging in some wishful thinking.
EN: United will be second at worst. I'm not actually convinced Falkirk will be third.
Q: Talking of clubs who will now have half an eye on what's going on below them, that brings us on to Raith Rovers. What's gone wrong there?
IR: I was at the Fife derby and you never really thought at any stage that they would get back at Dunfermline. It was a bad day for goalie Kevin Cuthbert against Falkirk on Saturday but manager Gary Locke knows his biggest area of concern is the attack. For that reason, it was particularly unfortunate to see recent signing Ryan Stevenson suffer a nasty head injury.
NR: Raith traditionally suffer a mid-season bad spell but this slump is particularly worrying for the Kirkcaldy men. Rovers last won away back on October 29 and have now lost their last two games at Stark's Park. Locke will be hoping Stevenson makes a quick recovery and loan Ranger Ryan Hardie can make a similar impact to when he was at the club last season.
EN: Given budgets etc mid-table is probably where Raith should be. You're fighting a losing battle with fans if you try to use the 'perspective' word when their team is enduring the sort of run Rovers are on just now, though. If they don't get anything away at Morton on Saturday, there's huge pressure on the home game against Dumbarton because United and Hibs are up after that. I suspect Raith's season is at its crossroads – play-off battle at one end or the other.
Q: It's a different story across Fife. Are Dunfermline a better bet for the play-offs now than Raith?
IR: I was very impressed with the Pars at Stark's Park and in Kallum Higginbotham they had the derby man-of-the-match by a country mile. They then had to follow that up down at Ayr and got a terrific victory there. So it's looking good for them and the fans will be getting excited at being just a single point behind Rovers, albeit having played a game more.
NR: The Pars have put together an eight-game unbeaten run and they finally seem to have adjusted to life in the Championship. They are in the ascendant and a place in the play-offs is definitely within their grasp.
EN: I tipped the Pars for the play-offs at the start of the season and I still believe they'll get there. Apart from Hibs, they've probably got the strongest attacking options in the league. At last it's starting to show.
Q: It was a tough afternoon for the Raith boss but things are on a different level at St Mirren. What did you make of Jack Ross taking on one of his supporters after yet another defeat?
IR: The Buddies are a fine, traditional Scottish club with a great history so it's a shame to see them struggling as they are. Scottish football is too small to have a team like St Mirren in its third tier. However bad it gets, though, people should calm down and remember it's only a game.
NR: I think that just shows the incredible pressure the manager must be under. Certainly when you look at the players in the St Mirren squad it is incredible that they find themselves marooned at the foot of the Championship table.
EN: By all accounts he was quite calm when he went to speak to the supporter so I've no problem with it and I don't think the Saints fans will either. I'm glad you didn't ask me to discuss why they are in such a state, though. We don't have a supplement on a Wednesday.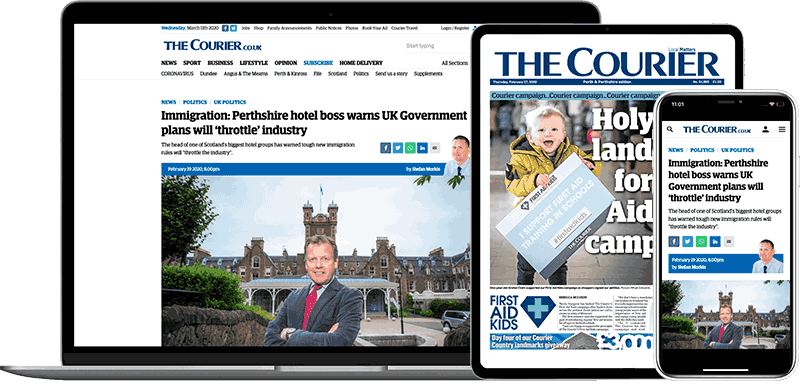 Help support quality local journalism … become a digital subscriber to The Courier
For as little as £5.99 a month you can access all of our content, including Premium articles.
Subscribe