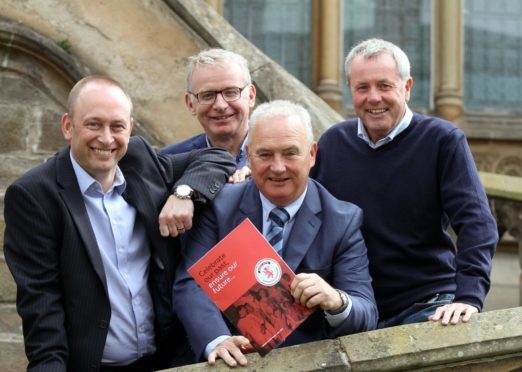 As any football fan knows, the best ideas always come to you while sitting in the pub having a pint after a game.
With that undisputed fact in mind, we should all raise our glasses to toast the new Dundee United Supporters' Foundation.
Seven ordinary United fans gathered in Frews Bar in the city as their beloved Tangerines headed towards relegation and contemplated the dire financial consequences that come with it.
There was anger and disillusionment among the wider fanbase about how the club was playing on the park and being run under chairman Stephen Thompson, culminating in protests during and after matches.
Rather than just mump and moan, though, these diehards decided to be positive and constructive.
Taking inspiration and valuable advice from the much-admired Foundation of Hearts, they formed a seven-strong steering group and put their plan into action piece by piece.
With the endorsements of legendary ex-players Finn Dossing, Willie Pettigrew and Billy McKinlay secured, the DUSF is being formally launched tomorrow at City Quay in Dundee and over 100 people are expected to attend.
Just as Taypools in the 1950s helped lay the foundation for success in the Jerry Kerr era, Jim McLean golden age and beyond, the DUSF hopes to provide the club with much-needed income if required all the way from the grassroots.
In return, they are looking for two DUSF seats on the Tannadice board as full directors.
Crucially, they stress they are "not a protest group about regime change" but over time they do "want to see fans having much more meaningful input in the running of the club through Foundation representation."
Steering group member John Gibson said: "We formed the Foundation because we are worried about the future of the club.
"We sat in the pub, crying into our beer, and pondered where the club was going.
"Of course, we could have just sat on our backsides and moaned but if something then happened to United we would have regretted it.
"Now, if something happens, then we have something in place to try to help. We will have been mobilised and people will know who we are.
"If nothing ever happens then that's fantastic.
"We are like a co-operative, a like-minded group trying to do what we can to help our club.
"We have looked at what happened at Hearts and have had a lot of help from Brian Cormack, who was one of the original members and chairman of the Foundation of Hearts. He is now retired but did the job that we are trying to do.
"They have been incredibly successful so we wanted to learn as much from them as possible."
His fellow steering group member Mike Evans, added: "The idea came about when we were sitting in the pub talking about United and the fact that they were plummeting down the league.
"This was before relegation so you could say we saw what was coming.
"There was a lot of discontent and many people were complaining.
"We asked ourselves what we could do about it, just as humble fans.
"What was happening at Hearts intrigued us.
"It seemed to be a model built on common sense and reasonableness.
"We thought we could do that, too, albeit maybe not on the same scale as at Hearts.
"They have 8,000 members, while the foundation at Motherwell has 1,500.
"We thought we could at least match Motherwell and maybe even go higher than that.
"So we thought it was doable.
"We weren't quite sure of the steps we needed to take but we knew we could get there."
Likewise, Martin Manzi, who joined Gibson, Evans, Graham McLelland, Marie Kiernan, Andy McCarle and Craig Simpson on the steering group, felt the need to be constructive.
"If you are a fan and love your club you can either complain or do something about it – we chose to do the latter," said Mr Manzi.
"We are going into this with our eyes wide open.
"It is going to be a slow burner and we are not expecting it to be a quick-fix.
"Ultimately, it is up to the United fans to support it.
"We can put the base of the Foundation in place but they have to build on it."
DUSF's number one objective is to "promote the success, financial security and stability of Dundee United FC, and for that purpose to provide a regular financial contribution to assist the club and to support its operational activities."
That cash will come into the Foundation from ordinary members paying a minimum of a tenner (or more if they can afford it) every month.
There is also a junior membership on offer at £2.50 per month (without voting rights), while they already boast 40 founder members who have pledged £500 or £1,000 for the commitment fund to help towards start-up costs – double the number they had hoped for.
The Foundation board would then decide whether or not they thought money should go to United. Only when the membership has given consent would funds be released.
Mr McLelland said: "I think it is important that it will be one member, one vote.
"It doesn't matter if you put £100,000 or £1,000 in you get one vote on how the money will be used.
"That is a key thing.
"The Foundation won't be passing on any money to Dundee United until it is agreed via a ballot of members."
DUSF hope to raise as much as £200,000 per annum, which they claim would be "the equivalent of a 15-20% increase in season ticket sales."
The conduit for donations will be the DUSF website, which is to be set up next week.
Mr Gibson added: "We have to earn the fans' trust.
"People don't know who we are yet.
"It is a matter of building up confidence."
With that in mind, the steering group have been meeting fans' groups and they do hope to persuade United to back them.
Mr Manzi said: "It would be good to get the club's support on this.
"Other foundations have been formed and operated in conjunction with clubs – Hearts, Motherwell and Kilmarnock."
Indesd, Mr Evans revealed he has already met United associate director David Dorward.
He said: "We would still hope Mr Thompson and the directors would support it.
"This is about Dundee United not anything about us.
"This is about the Foundation trying to put a monthly cash injection into the football club.
"I met David Dorward and we had a kind of semi-formal discussion about what it was about and presumably he reported back to the board.
"Then about three or four weeks ago when the fans' groups met directors Mr (Mike) Martin, Mr (David) McGrory and Mr Thompson we gave them the information pack.
"What was encouraging was that, at the meeting, the Dundee United Business Club in their statement said they fully supported the Foundation and asked Mr Thompson if he supported it.
"He reasonably answered that he didn't know enough about it. So the door is not closed.
"Why wouldn't they support it?"
The DUSF meeting takes place at The Quay, City Quay, Camperdown Street, Dundee at 2pm tomorrow.
Places can be booked via https://www.eventbrite.co.uk/e/dundee-united-supporters-foundation-an-introduction-tickets-35377550205