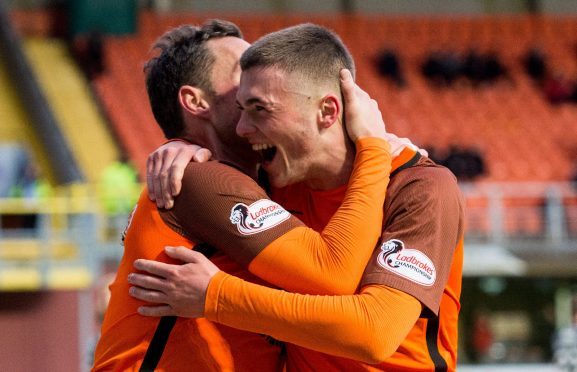 Jamie Robson now realises that winning the Championship with Dundee United can help him achieve his Match of the Day goal.
The Tannadice full-back freely admits that his head was turned by summer talk of a move to English Premier League side Southampton.
It affected his football for a while but Robson, still only 19, insists he is over it now and all he is thinking about is keeping United at the top of the table.
The Tangerines go to Glebe Park today to play Brechin on a real high after demolishing Falkirk last Sunday.
A major factor in that comprehensive 3-0 victory was the wing play of both Robson on the left and Stewart Murdoch on the right.
Those three points put the Tannadice men clear on their own at the summit and Robson wants to do all he can to keep them there and maybe sample the bright lights down south a little bit later.
Robson said: "It was difficult for me in the summer because I thought I was getting a move to England and I got a bit excited.
"One minute it was on during deadline day and the next it was off.
"So when it all fell through it did put me on a bit of a downer because everyone dreams of playing in the English Premiership.
"But it didn't happen and I have just had to get on with it.
"I wasn't desperate to leave or anything like that. It was just a case that a massive opportunity came along and then it didn't happen.
"It took me a wee while to come back out of my shell but I'm fine now and enjoying it here.
"I have realised that it's all about how you react. You just have to get the head down and work harder.
"You always watch Match of the Day as a child and think you'd love to play down south but you have to make it happen yourself.
"So it's all about playing well for United now and trying to stay in the team.
"If you do that then you never know what might happen, but my only focus is on United and performing well for the club."
As well as tormenting the Bairns up the left flank, Robson also chipped in with the Tangerines' second goal – not bad for a defender!
It was a finish that striker Scott McDonald would have been proud of, with Robson collecting a cross from Murdoch, taking a touch, spinning around and then slamming a low shot into the corner of the net.
He revealed that he got so excited that he forgot how to celebrate.
"I scored last season in a game against Ayr United so it had been a while since my last goal," said Robson.
"It was great to score because I had been awful at shooting practice during the week, really shocking.
"I would have struggled to score in a rugby goal, that's how bad it was.
"That's maybe the key for me – score goals after being terrible in training!
"As soon as I hit the one on Sunday I kind of knew it was going in, even though it seemed to take about 10 seconds for it to hit the net.
"I didn't know what to do when I scored as regards the celebration, even though I told my mum and dad I had one worked out.
"When it happened I just started jumping around like a wee kid and forgot what I was supposed to do.
"I still have one up my sleeve but I'll keep the celebration to myself because next time I will be more composed and will definitely do it."
Robson's strike was just one highlight of a game that saw United produce some excellent football in what was manager Csaba Laszlo's first league match in charge.
Now the hope is that the momentum carries through to Glebe Park this afternoon.
"It was a great performance from everyone – probably the best football we've played in a couple of years," said Robson.
"It felt good when we were on the pitch because we moved the ball around well and you could just feel we were playing well.
"It was a good day and the gaffer has us playing well. He's told us to be patient and not rush things.
"We have set a standard now. That's three wins on the bounce and we want to go on a run now."