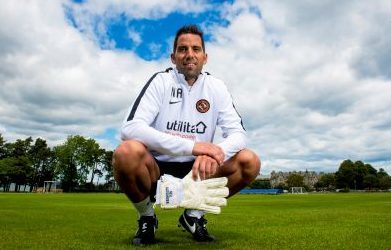 Neil Alexander has given up playing but still hopes to bring a winning mentality to the Dundee United dressing room.
The club's new goalkeeping coach hung up his gloves this week after an illustrious career that saw him represent Scotland three times, play in a Uefa Cup final for Rangers and make over 200 appearances for Cardiff City.
As Tangerines' fans will remember all too well, Alexander was between the sticks when Livingston got promoted to the Premiership via the play-offs in May and also took the step up to the top flight with Hearts in 2015.
The 40-year-old knows what it takes to win the Championship and will be passing on that experience to not just the club's goalies but the rest of Csaba Laszlo's squad too.
"It is something the manager has spoken about," said Alexander.
"It was one of the reasons he was keen to bring me on board.
"Obviously, I got promotion from the Championship with Hearts and managed it again with Livingston last season.
"All through my career I have been in a dressing room with a winning mentality.
"That's something I want to bring into the dressing room here – to get the boys to be winners on and off the park.
"No matter whether it's training, five-a-sides or head tennis, you should have that winning mentality that I've always been brought up with.
"I think I contributed that a lot to the Livi dressing room last year and if it's something I can help build here that will stand the club in good stead.
"Livingston just had an unbelievable spirit. The boys gave everything in everything they did. They backed each other up, worked hard and fought for each other.
"It carried us a lot throughout the season when things were hard. That spirit and determination amassed us a lot of points and got us over the line."
Alexander revealed he had every intention of staying on as a player at Livi for the forthcoming top-flight campaign had manager David Hopkin not left.
"Walking off the pitch at Partick Thistle after winning promotion, I had every intention of playing on," he said.
"I was thinking that maybe my last season would be in the Premiership and that would be a great way to go out.
"I had a fantastic relationship with David.
"I spoke with him just the other day.
"It (his departure) did have a big bearing. I think if he had stayed at the club I would still have been there.
"United came late on and gave me a great opportunity. It is a three-year deal, which is very appealing in terms of security for myself and my family.
"Coaching was always something that I wanted to get into and if it wasn't to happen this season then it would be next.
"I coached when I was Hearts and did a bit at both Aberdeen and Livingston so it was a natural progression for me to take this job.
"It is a natural step for me and coming in for the start of pre-season felt good.
"It is going to be an exciting next chapter of my life."
Alexander worked with United's two new keepers, Matej Rakovan and Ben Siegrist, at St Andrews yesterday as Csaba Laszlo's squad returned for pre-season training.
He is relishing the challenge of coaching the Slovak and Swiss, as well as Deniz when he recovers from injury.
Alexander added: "As a player, I always loved working with my goalie coach and I want that kind of environment here.
"You have a laugh at the right time but when you work hard you work hard.
"I could adapt to any situation and had they been here previously then that would not have been a problem for me.
"But having the two new goalies will make it a great learning experience for me.
"It is the first time I have worked with two foreign keepers.
"'There's a wee bit of a language barrier, although they do speak good English.
"There are obviously techniques they've been brought up with. I was brought up in a British culture.
"Their technique may be different so that's something I'll have to adapt to and work with. It's a good challenge for me."