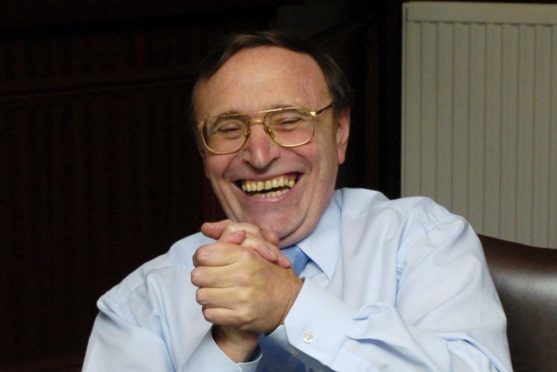 The Thompson era at Dundee United has ended, almost 16 years after it began with some fanfare at Tannadice.
On September 26, 2002, fervent United fan Eddie Thompson sat smiling before a packed media conference, accompanied by his son Stephen, and expressed his sheer joy at taking over his beloved club.
He had fought a protracted battle with Jim McLean to take charge of the Tangerines and finally persuaded the legendary manager to part company with his 42% shareholding. That took Thompson senior's stake in the club to over 50%, having also acquired the shares of then directors Scott Carnegie, Gibby Haggart and Jim Barrie.
Thus Eddie became the first outright owner of United in their history and appointed himself as chairman.
The new man said then: "This is a very special moment for myself.
"I have been working towards this goal for a number of years and at times thought that it would never happen. It is a great honour for me to become United's chairman and the first majority shareholder in the club's history."
Eddie put his heart, soul and several millions of pounds into United and his devotion only ended when he lost a battle with cancer, dying on October 15, 2008.
He had a stand at the stadium named after him and I found him to be someone with integrity, whose love of United was absolute.
Eddie was even quoted as saying: "You can change your wife, your house, your car but you can never change your team. Chairmen come and go, boards come and go but the fans remain. They are the one true constant. I've just been a custodian of the club."
Stephen took over as chairman and would remain in charge for almost a decade, stepping down to make way for Mike Martin last March.
His sister Justine also had a stint on the board before selling her shares to Martin, while Eddie's wife Cath has been a respected figure at Tannadice, transferring the family shares to Stephen and Justine in November 2013.
The Thompson era has ended on a negative note, with the club spending a third season at least in the Championship and fans unhappy with his stewardship.
Nevertheless, as he walks away from United for good, Stephen can look back on happy times too.
I was privileged enough to sit with him at Tannadice the day after United's Scottish Cup win over Ross County in 2010 when all we had for company was a shiny bit of silverware sitting between us on the boardroom table. That was a very good time.
United also played some brilliant football during his time as chairman, enjoyed European involvement and, including his father's time in charge, made it to four other national finals as well as the victory over County.
With the business deal finally completed, it is now over to the new owners to try to bring the good days back to Tannadice.