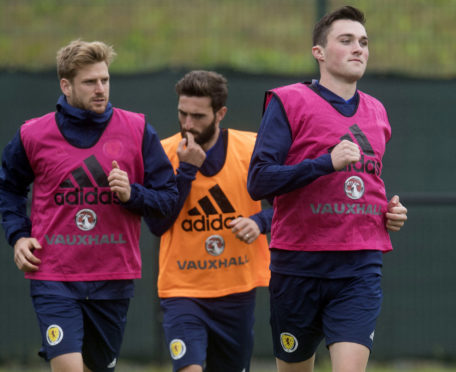 Pride, satisfaction, regret, anger, frustration – Dundee United fans will probably feel them all when Scotland play Belgium tomorrow night.
At a time when the club is as far removed from the days of Sturrock, Narey et al as it has ever been, the tangerine influence on the national squad is as strong as it has ever been since those very same glory years.
Andy Robertson, Johnny Russell, John Souttar and Stuart Armstrong make up a quartet of former United players in Alex McLeish's squad.
All it needs is Ryan Gauld to fulfil his potential and the full band will be back together.
"Seeing boys from United like Johnny, Andy and Soapy in a Scotland squad after all those years, it's great how it's turned out," said Armstrong.
"It was a young team we had. It was exciting. It was a very young team actually. There were a couple of months where we scored four or more in every single game. We conceded four as well! It was exciting for the fans and it was exciting to be a part of.
"This will be a big week for John. Everybody remembers being called up for the first time and their first involvement with the squad. It's an exciting time.
"He's a really nice guy and I'm happy to see him get this recognition.
"I think he was only 16 when he played his first few games for United. He showed a lot of composure for a young player back then and he's become a very good player."
Gauld may be the forgotten man at the moment but Armstrong doesn't expect that to last.
"I've always loved playing with Gauldy," he said. "Again, he was very young when he was playing at Dundee United.
"He went to a massive club (Sporting Lisbon) and that can go different ways. I've not seen too much of him since but I think he's had a couple of good loan spells.
"It would be good to see him in the future."
From Russell's arrival to Souttar's departure, the Tannadice careers of the four of them spanned almost a decade. Name-checking their biggest influence at United will be different for all, though.
"For me, it was Stevie Campbell," said Armstrong. "I think Soapy and Gauldy had a different relationship with different youth managers.
"Andy came in as a first team player under Jackie McNamara.
"I don't think it was down to one person. It was just the opportunity for young players to go and express themselves and be free on the pitch."
Newly-appointed captain Robertson will make sure he gets the deference he deserves from Armstrong.
"I'm rooming with him," he said. "He's been asking me to clean his shoes….it's gone to his head!"
The Liverpool left-back was the obvious choice for skipper as far as Armstrong is concerned.
"It's a very good choice," he said. "I've known Andy for years. He's the type of player who leads by example and gives his all for the team.
"He's someone who is very well liked in the squad and it's a very good choice.
"The one thing I've admired about Andy is that he's the same player if he was playing for Dundee United as he would be if he was playing a Champions League final.
"He'll always be consistent."
Armstrong's career post United has taken him to Celtic and now Southampton, where he is trying to establish himself in Mark Hughes's first team.
"It's always challenging when you go to a new club, a new environment," he said. "It has taken a bit of time to get used to the different styles. But it's a fresh challenge and I'm excited about that.
"With Celtic, there is an expectation to win every single game and that's the way it has been for me for the past three and a bit years. To go from that to not being expected to win the league and fighting a different sort of competition is something to get used to.
"You are programmed that way. Celtic dominate every game, but I need to accept that it's not going to be like that down there. It's going to take some time but change is always a good thing and I'm looking forward to this new experience.
"With Dundee United and then Celtic, it was eight years of playing the same teams over and over again. The fixture list excites me, going to these new places, new stadiums that you have watched on the TV. That's exciting.
"The time was right. The summer before, I had some thoughts about it but I had had one season with Brendan Rodgers and I wanted another.
"I knew in the back of my head that, ultimately, the time would come when I wanted a fresh challenge, and if I didn't take it, I would probably have regretted it. It was about changing for a bit of experience and trying something new."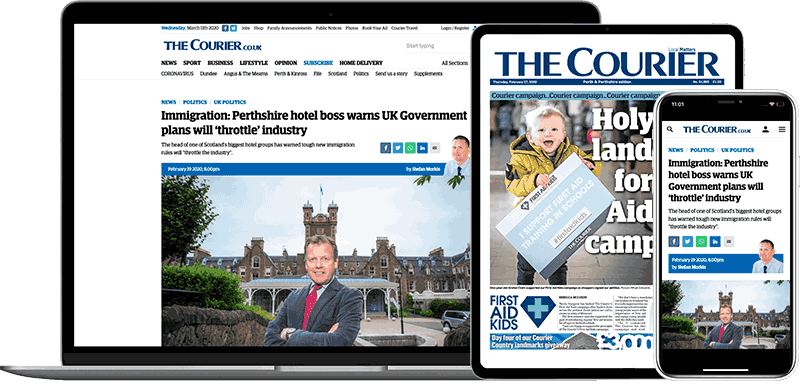 Help support quality local journalism … become a digital subscriber to The Courier
For as little as £5.99 a month you can access all of our content, including Premium articles.
Subscribe