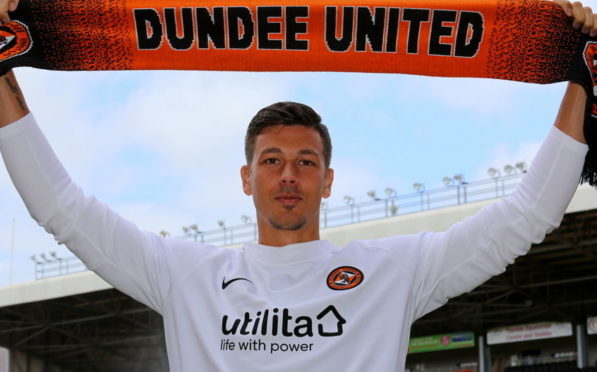 Shockproof Dundee United keeper Benjamin Siegrist can keep calm and carry on because he is so well prepared for matches.
The Swiss goalie is looking for his fourth consecutive clean sheet tonight when the Tangerines welcome Alloa to Tannadice in the Championship.
If Robbie Neilson's rejuvenated team can keep the momentum going and make it five wins and a draw under their new manager then they will move just three points behind leaders Ayr United and jump over Ross County into second spot in the table.
Siegrist's performances between the sticks have been a big part of that revival – he has only conceded only two goals under Neilson – and he was singled out for particular praise by his boss after an accomplished shutout display against County that saw the big man pick cross after cross out of the air.
---
---
The giant 26-year-old disclosed that the reason he can be so self-assured under pressure is that nothing comes as a shock to him.
So thorough is United's training under Neilson that he expects the unexpected and has been taught how to deal with it.
Siegrist said: "There should be nothing that happens in a game that we have not prepared and trained for.
"As a result of the work we have done, I will have seen it all before.
"I should know what to do.
"There are no surprises on match days because we have gone through everything with the manager.
"He has put all the different pictures into our heads.
"Also, in the specific goalkeepers' training we go through all the scenarios so there should be nothing to surprise you when it come to a game."
Siegrist admitted he noticed his boss's post-match praise, with Neilson claiming one of the occasions when he came out to claim a cross was as good as a goal.
"I read that and it's nice," he said.
"The gaffer has told me that before when we have played previous games and been under the cosh.
"It's encouraging to hear him say those things but it's part of my job.
"It is good for me because that shows I am going into the right positions and making good decisions.
"When you are in the last 10 minutes and the opposition and trying to get the ball in the box, if you come out and claim the ball that makes it easier for the defenders."
While Siegrist revealed just how well prepared he feels for games, he admitted he is still learning and looks to some goalkeeping greats for tips on how to improve.
He added: "I always felt Thibaut Courtois (the Real Madrid and Belgium number one) was someone to really respect and admire.
"I remember when he first came into Chelsea and he was only 21 or 22 but surprised everyone by eventually replacing Petr Cech, who was one of the top keepers at the time.
"He was excellent at coming out and collecting crosses and he was doing that in the English Premier League.
"I try to look and see what boys like him do during games and learn from that.
"I want to learn all the time.
"When I was younger, Gianluigi Buffon (the legendary Italian goalie) was my idol.
"He is a cool, calm guy who never gets stressed out.
"He represents calmness in the game, which is important.
"You also look at some of the keepers they have currently playing in England like Ederson at Man City or David de Gea at Man United and even some of the English goalkeepers like Jordan Pickford.
"They are all so good with their feet and make unbelievable saves.
"I try to pick out the best bits from different people.
"I think that's how I go about learning to be better."
United, meanwhile, have a decision to make over the fitness of captain Fraser Fyvie.
The midfielder hurt his hamstring against County and a scan confirmed the dagame was not oo serious.
However, boss Neilson could be tempted to rest him and keep him for the crunch clash against Ayr United at home a week on Friday.
Frederic Frans, Callum Booth and Paul Watson, all of whom had been injured, are expected to be available.