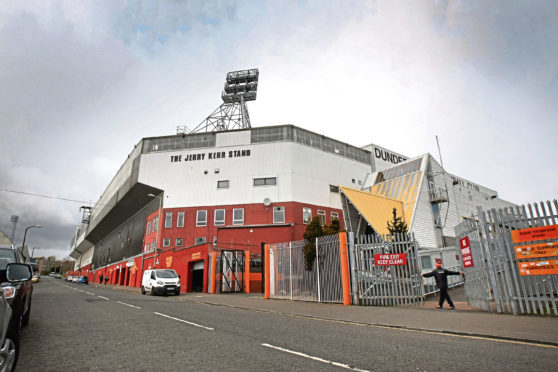 The Federation of Dundee United Supporters' Clubs have been reassured the proposed takeover of the club is still on the cards.
Members of the federation met with United chairman Mike Martin and other leading Tannadice shareholder Jimmy Fyffe last night and were told that an "American-based bid" remains the preferred option of the board despite the matter dragging on.
In a summary of the meeting issued via social media, the federation said Martin and Fyffe stressed that the proposed buyers had "no links" to Tim Keyes and John Nelms, the American owners of city neighbours Dundee.
The federation stated: "As detailed previously we met with Mike Martin and Jimmy Fyffe tonight (Thursday) and whilst a more detailed members update will follow next week we are mindful 'the takeover' is a subject you are all interested in, therefore we will summarise this aspect of the meeting now.
"Whilst no definite statement was made (with words being chosen carefully) it appears an American-based bid is the preferred option for the current board based on them having sufficient cash backing to move the club forward now and in the medium and long term.
"This party has no links to the owners of our city rivals, and are not looking to merge or ground share at any point in the future.
"These potential new owners have undertaken a due diligence on United and likewise United have undertaken a due diligence on them.
"Both exercises did not uncover any reason to halt progress with the discussions.
"The likely timescale for a successful conclusion was said to be measured in weeks not months.
"Other potential owners/investors are also on the scene should these talks stall."
Despite ongoing concerns over the club's financial health while it remains in the Championship, there was also reassurance given there.
The federation's summary added: "There is no chance of administration and that is why the talks can proceed at a pace which suits both parties.
"We would have liked to have been able to be more positive and indeed suggested the board should make a statement in relation to all the rumours currently circulating, which they said they would consider.
"Planning for this season continues as the current board's preferred option is to remain as shareholders after the share sale and continue to help manage United in some way."