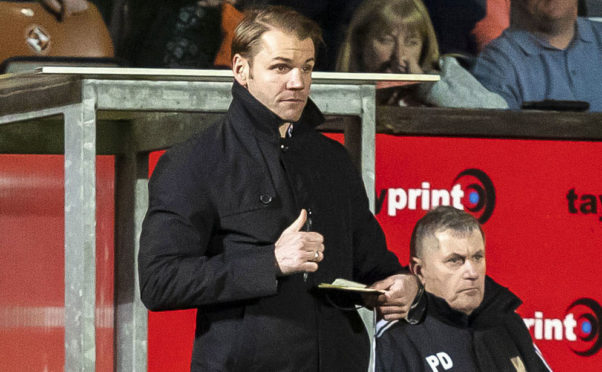 Dundee United boss Robbie Neilson has revealed the areas of the team he wants to strengthen in the January transfer window.
Saturday's match up in Inverness was the manager's ninth in charge since he took the reins at Tannadice.
He has had time to fully assess the players he has at his disposal and is now looking to add – but Neilson insists he will only try to sign quality not quantity.
He said: "I know what I would like to get in.
"I am not going to go crazy and bring loads in – I don't think we need that for the squad.
"We do need a defensive midfield player to give us more options in there and maybe one more attacking player.
"From there it will be dependent on what's available.
"But those are the two areas we are focusing on to get people in."
---
---
Neilson admitted there are funds available whether the proposed long-running takeover saga finally comes to a conclusion or not.
And the manager admitted it is vital to strengthen his squad because he is sure Roy McGregor, chairman of one of United's title rivals Ross County, will be opening his cheque book next month.
He said: "There will be money available for me if things progress or they don't.
"Whether that means I have to shift a couple of people out on loan then so be it.
"But we definitely have to get a couple in.
"I would expect Roy up at Ross County to put his hand in his pocket, that's for sure.
"They are in a decent position and have a good squad at the moment.
"But they probably need another couple in just to boost them and he will do that.
"Ayr and Ross County are both good teams so our job is to stay close to them until January and then hopefully recruit a couple that can help us push on to start winning the majority of games and overtake them – that's the plan."
Neilson admitted he does not envisage wholesale changes to Championship squads in the window.
He added: "Everyone wants a striker. They say they want X, Y or Z.
"But it is difficult to get them in. We are not going to be on Sky Sports on transfer deadline day spending X amount on players.
"I don't think anybody in this league is going to be like that either.
"So there will be one or two decent strikers going around and it will be about who can get them in.
"I don't think there will be much change in the league.
"People can say they want to move 10 out and bring 10 in. But the hardest part is moving the 10 out. "If you look at Falkirk, Ray (boss McKinnon) is maybe looking to get out six or seven but realistically it is very hard to do.
"To get your ones in you have to shift this lot out and you can't do it.
"Especially when a new manager comes in, he can say, 'Right, we need to do X, Y and Z'. But ultimately it is difficult to do X never mind Y and Z.
"So I don't think there will be much movement in any of the squads."