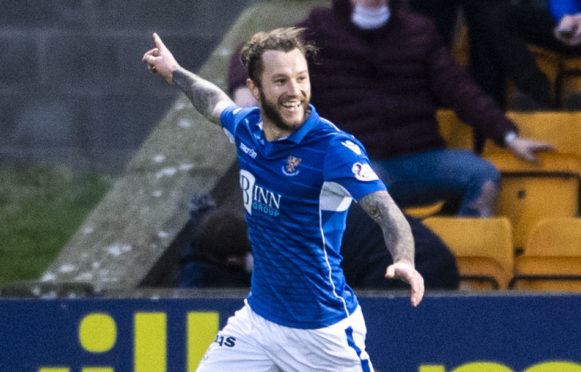 With two goals scored and shots coming in from all distances and angles, the "Stevie May of old" was on show at the weekend, according to Tommy Wright.
And after the St Johnstone striker's throwback performance against Hearts, his manager has now tasked him with showing some throwback consistency.
"It was like turning the clock back six years," said Wright.  "It looked like the Stevie May of old and I'm delighted for him.
"He has now got to do that on a consistent basis. I've seen the signs since we came back from the break.
"In training he has looked sharper and, on another day, he could have had a hat-trick.
"I always believe he will score goals. I've seen people write he has lost a yard of pace and mobility, but not what I've seen. Saturday was the perfect example.
"I want him to be selfish because the selfish Stevie May is when he's at his best."
One player whose selflessness has definitely been an asset is Chris Kane. The goals might not be flowing for May's strike-partner but he has become a key member of the team of late.
"Stevie was helped on Saturday and he'll be first to admit it," said Wright.
"Even though Chris Kane doesn't get a goal, he was the perfect foil for him.
"Kano gets unfair criticism. With any front two, you are very lucky if both are going to be scoring all of the goals.
"We would like more goals from Kano but his work-rate for the team and bringing people into play takes the pressure off. It gets you up the pitch.
"Callum Hendry is probably just a wee bit behind Kano in terms of experience in how to play that role. But we know what Callum does in front of goal.
"I'm happy with what I have got. I've got a good blend of two youngish strikers and an experienced one."
The next game for May is against his old club Aberdeen tomorrow night.
Wright said: "I always say to a player when going back to a club that I'm their manager now and they've only got to keep me happy. I pick the team.
"He doesn't have anything to prove. Some may use it as motivation personally but it's not something I ask my players to do.
"I think that can add pressure. It didn't work out for him for various reasons at Aberdeen.
"The one thing Derek McInnes will tell you is that Stevie worked extremely hard for him. I do think he is now is a better all-round player."
Meanwhile, Liam Gordon has an "outside chance" of being fit for Saturday's Scottish Cup tie at Ayr but certainly won't be considered for Pittodrie.
"There was no damage to his neck or head," Wright reported. "But he was concussed. We will follow the protocol for concussion. He could make Saturday if he meets it.
"The first stage is a day without any symptoms. There are daily tests.
"It's been implemented here for quite a long time and it's something as a manager that I've always been aware of.
"It is a sickening thing and we watched it back. I could only watch it once.
"He got released from hospital on Saturday evening but he is definitely out of Wednesday.
"There is an outside chance that he will make the Ayr game. The likelihood is he will be fit for Motherwell."
It will be a case of wait and see regarding a few others.
"Drey Wright will hopefully do some light training today," said Wright.
"We've got Liam Gordon out, Murray Davidson out and Liam Craig is ill but that can change in 24 hours.
"Scott Tanser went off on Saturday with a thigh problem. We've got the two new lads, but it would be good if Drey was available for selection."
Deadline day loan signing Isaiah Jones trained for the first time yesterday and Wright believes he will bring a "spark" to the team out wide.
"A friend of mine had mentioned him to me," he said. "I watched loads of footage and spoke to Middlesbrough about him.
"We had other options, more experienced ones. He was on a list of three or four who we thought we could get.
"He has non-league experience so has played senior men's football. He is tough, quick and direct.
"He can also play left or right side. It's a big challenge for him but I think he is someone who can provide a spark either starting or from the bench."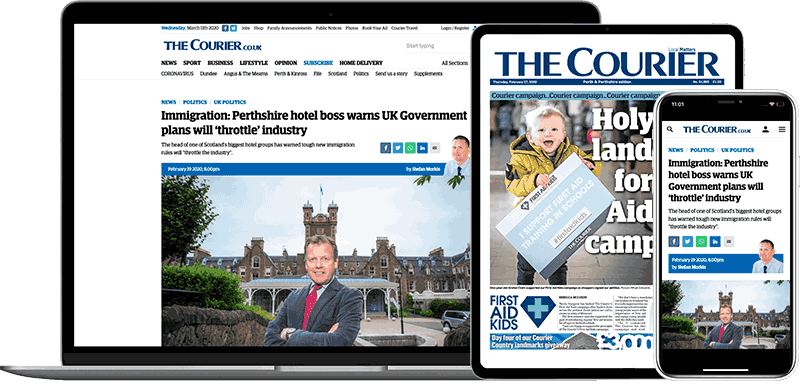 Help support quality local journalism … become a digital subscriber to The Courier
For as little as £5.99 a month you can access all of our content, including Premium articles.
Subscribe