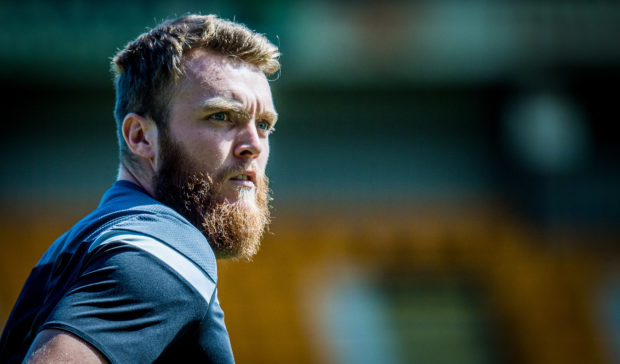 Rearranging a wedding that had been long in the planning was more than enough stress for Zander Clark to deal with as the enormity of the coronavirus pandemic kicked in.
And seeing an e-mail drop with a fitness programme for the football hiatus brought it home to the St Johnstone goalkeeper that this really could be a long, hard shutdown.
Most importantly, Clark and fiancée Robyn were able to move their big day from the close-season of 2020 to the close-season of 2021 with minimum disruption.
And from a more selfish point of view, there was more relief when Saints' sports scientist Alex Headrick gave him a goalkeeper-specific lockdown routine that wiped away the dreaded prospect of months of 5k runs.
Clark recalled: "When Bod (Headrick) first sent an email about running 5ks, I was thinking: 'I don't run 5k in a season let alone in one go!'
"That quickly got knocked on the head and as the weeks went on he was giving the goalkeepers short, staff stuff.
"I was like everybody else when the season stopped – a bit naïve to how serious it was going to be.
"We all hoped we'd be back in after three or four weeks and we'd get the show back on the road kind of thing.
"It didn't take long to realise that wasn't going to happen and the situation was a lot more serious than that."
As far as his June wedding was concerned, Clark and his partner bowed to the inevitable at just the right moment.
"We hummed and hawed for a while about whether to postpone the wedding," he said. "It was the same as the football – we were holding out hope that there would be an improvement after three or four weeks.
"We got in touch with the venue to see what dates we could have next year and we got one for the close-season. We did it just in time. We rearranged ours at the back of two on the Monday and later that night the country went into lockdown. We managed to get everything switched for 12 months down the line.
"It was a decision we didn't want to make but it definitely turned out to be the right one."
Apart from the welcome diversion in fitness plans, the life of the Saints goalkeepers in lockdown wasn't any different to the outfield players.
"As far as a ball was concerned, I saw one on the Friday we stopped and then didn't see another one until the day we came back," said Clark.
"You couldn't meet up with anybody obviously and there was no way I was going out and volleying balls off the side of the house – I'd end up smashing a window and the wedding would be cancelled, not just postponed!
"It felt like a lifetime until we got back into training.
"When we did get back eventually, the differences for keepers weren't as noticeable because we're used to working in small groups anyway. Nothing really changed."
Clark has been used to playing under a manager in Tommy Wright who liked him to vary the way he started the team's attacks and the same will be the case with new boss Callum Davidson.
"Things are very similar," he said. "It was a big plus that the manager knows the majority of the squad. It's new but not new, if you know what I mean.
"It's been pretty seamless.
"He'll want to put his stamp on the team obviously but from my point of view I don't expect a big change.
"It was about picking the right option when I was playing the ball out under the previous manager – whether to go long or look for a defender – and I would imagine it will still pretty much be the same.
"When we get back into our friendlies that will become clearer.
"You don't want to over-complicate things and get yourself into trouble but we've got players who are comfortable on the ball.
"You need to have confidence in your defenders and I definitely have that with the boys in this team. First and foremost, they're great defenders, but they're happy to receive the ball as well. Not only can they then see the next pass, they can execute is as well."
You would think that keepers might secretly be relieved that they will have an empty stand behind them for the start of the Premiership season but Clark will miss having to deal with the banter that is part of their match day.
"I enjoy that believe it or not!" he said
"You get a good laugh with some of the stick that comes your way – and at the right times you can give a bit back.
"I'll miss it. Sometimes it keeps them quiet, sometimes it means they're on your case for the whole game!
"Not having that banter will take a bit of getting used to. The friendly games coming up will help get us all into that mindset."
Saints faced Hibs in a warm-up match yesterday, with two more bounce games after that to get them ready for the season-opener at Tannadice.
"I've never played a first team fixture there," said Clark.
"My debut was against United at home when big Al (Mannus) got sent off.
"A derby match first game would have been a brilliant atmosphere but obviously that won't be the case.
"It's a game of football. We'll be focused on making sure we get off to a good start.
"United have got good players but it didn't matter who was going in as their new manager, Shankland was always going to be their main threat. I can't see that changing."
St Johnstone boss Callum Davidson expects first two loan signings to push for starts