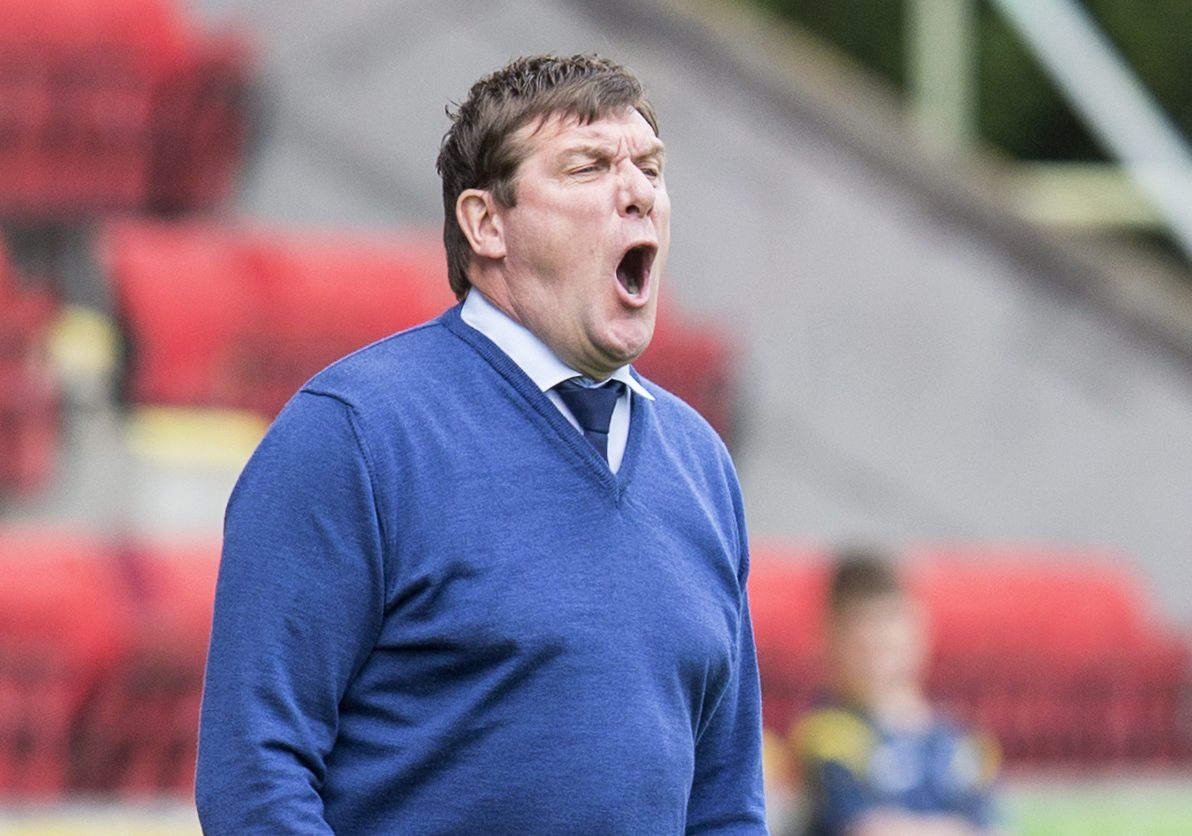 Tommy Wright came up with a tactical surprise to deal with Celtic before the international break and he might have another one up his sleeve for the visit of Hibs tomorrow.
Stefan Scougall dropped out of a winning team at Celtic Park to allow the St Johnstone manager to play two right-backs to counteract the left flank threat of Kieran Tierney and Scott Sinclair.
It could be a case of horses for courses once more against Neil Lennon's men.
"Stefan coming out of the team at Celtic Park was tactical and we might have something for this weekend as well," said Wright.
"We always try to look at what is the best 11 for the game in question.
"I just felt against Celtic our wide players would have been doing too much defending and could have left us exposed.
"Stefan has been getting better with the more minutes he has been getting on the pitch. But at Celtic we went with slightly different personnel and a different formation as well."
Ex-Saint Danny Swanson could be one of the players Wright is attempting to negate, of course.
"I believe Danny was injured or ill before the break," he said. "But whatever team they put out we know it will be a strong Hibs side full of quality."
As expected, Murray Davidson will be available, with Blair Alston missing out again.
Both Alan Mannus and Paul Paton returned to training yesterday after another successful double-header with Northern Ireland.
Mannus was in fine form for Saints before the break and Wright believes he and Zander Clark are proving to be strong assets again.
"Zander got in last year after Alan was ill and did great for 30-odd games before being injured," he said. "Alan responded extremely well and it shows what a good professional he is.
"Zander started in Europe but I hadn't really made up my mind on who would start in the league. But that decision was taken out of my hands with Zander picking up an injury.
"Alan has been excellent again this season. He works extremely hard and is very reliable.
"They both know the situation and I genuinely don't think there's anything between them. They bring the best out in each other."
Hibs are thriving under Lennon, who has signed a new three-year contract at Easter Road. Their recent success story certainly hasn't come as a surprise to Wright.
He said: "The size of the club is evident in their recruitment over the summer, adding to a squad that was good enough to win the Championship and get to a cup semi-final.
"They have a squad that is strong in depth and quality. So you'd imagine they will have a good season.
"Neil has assembled a strong group of players there and on paper you could argue they are in a position to challenge the teams which finished second and third last year.
"But Neil knows how tough this league is. You need to be right at your game or you drop points.
"Neil went to Bolton in difficult circumstances after leaving Celtic. Like any manager he wanted to get back in quickly but he waited for the right club. He knew he was going to a Premiership club in terms of the set-up at Hibs.
"Neil knew if he could get it right they would get back to where they feel they belong and with being successful the fans have got right behind him and the club has been able to invest. It was a good fit for Neil and a good fit for Hibs."