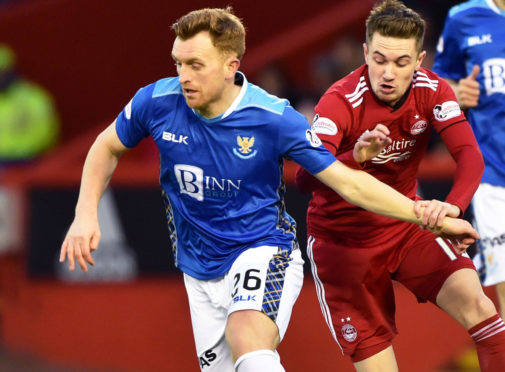 Liam Craig is preparing the ground for a career in football after his playing days are over.
But the St Johnstone midfielder won't be distracted from one of the most enjoyable spells of a 16-year stint in the professional game.
Craig, who is thriving in a holding role for Tommy Wright's Saints side, has signed a contract extension for another season.
And the recently-elected SPFA chairman and part-time McDiarmid Park coach is making sure he gets the most out of what is left of his time on the pitch, as well as setting up life on the other side.
"I've said before that as far as I'm concerned, I'd be happy to finish my playing career here and I'd feel lucky that I've spent so many good years at St Johnstone," said the former Hibs and Falkirk man.
"I'm delighted to get another year and now I want to concentrate on building on what has so far been another very good season.
"I'm doing the A licence just now, as well as working with Maybs (Alan Maybury) with the reserves.
"The coaching and management side of things is something I want to get involved in.
"As you get older you start taking more of an interest in what happens behind the scenes at training and on match days. I've enjoyed watching games from the side with Maybs and having an input.
"A week after I turned 16 I was involved in full-time football. That's all I've ever known since.
"I do think I've got a lot to give back when I do finish playing – and I've got one eye on the future – but I want to keep going as long as I can."
Craig added: "This is the best run of starts I've had since I left here to go to Hibs.
"I take inspiration from the likes of Steven MacLean and Kenny Miller. And a conversation I had with Russell Latapy stuck with me – that you play for as long as you can at as high a level as you can.
"But, like I say, I do have one eye on the future.
"When I came back here at 28 I didn't have any other offers and that was when it hit home that I had to look at what I was going to do after playing.
"The reality is it's another year-long contract. It's alright saying 'I want to play for another three or four years' but when you're hitting 33 and 34 and a good coaching opportunity comes up, you would have to think about it.
"As long as St Johnstone want me and I feel I can give something to the team, I'll keep playing. Hopefully there are two or three years left at this level."
An intelligent player who can keep the play moving with long and short passes, Craig's success in dropping deeper comes as no surprise.
"This sitting role has brought out the best in me," he said. "I can talk and organise and help the younger players.
"There are a lot of good attacking players round about me and full-backs getting high up the pitch. That certainly makes a midfielder's job easier.
"There are big games coming up and it's exciting to be part of this team at the moment."
Craig has earned his new deal, according to his manager.
"Liam has had a really good season and it's great to get him sorted with a year's extension," said Wright.
"He's playing a lot deeper in that central area and his experience and quality is showing. We aren't asking him to get forward as much now. Liam provides a buffer for the defence and reads things well.
"Liam grown into the role as the season has progressed and keeps the game ticking over for us."
Wright, who will make a late call on Chris Kane after he took a knock on his calf in midweek, is wary of a Tynecastle backlash after Hearts' shock home defeat to Dundee.
"Craig (Levein) has had a bit of a pop at them and I'm sure he is expecting a bit of a reaction so we have to be ready for that," he said.
"But I am concentrating on getting our performance levels back up to the pre-break standards. If we do that we can go to Tynecastle and get all three points.
"We can go there with a lot of confidence having won six away games in a row.
"We've 11 clean sheets in 14 games so we are in good shape. That helps you win games.
"But I think we have to move it up a level in terms of how we are with the ball.
"We haven't reached the pre-break heights yet. We have to tidy-up wee bits to our game."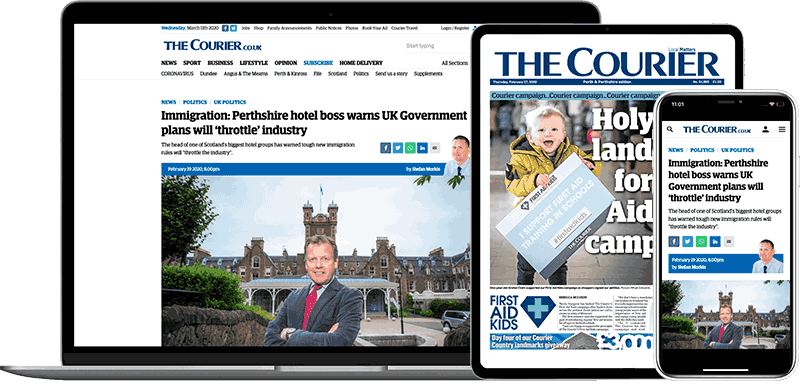 Help support quality local journalism … become a digital subscriber to The Courier
For as little as £5.99 a month you can access all of our content, including Premium articles.
Subscribe